How Have Education Costs Changed Over the Years?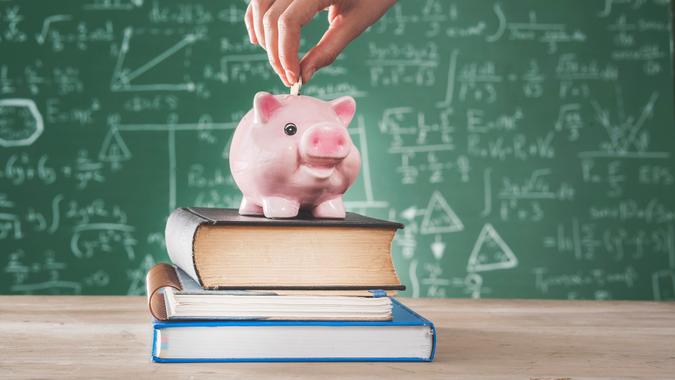 seb_ra / Getty Images/iStockphoto
Paying for college is an expensive prospect for many levels of education, but it didn't use to be that way — over time, college costs have risen quite significantly. College tuition and costs were once affordable, according to Guide2Research.com. In 1963 you paid only about $1,286 per year, at a four-year college (or about $10,555 when adjusted for inflation today). But now, those prices are exponentially higher.
See: Explore the Cost of Education in the United States
Find Out: Can You Afford Education in America at These Prices?

"In constant 2018-2019 dollars, the NCES reports average total tuition, fees and room and board for full-time undergraduate students at four-year colleges was $12,811 by 1985," said Nicole Hopler, lead marketing manager at Optimal, a higher education research publisher. "By the 2018-2019 year, [the cost] was $28,123, an increase of 119.5 percent after adjusting for inflation."
And you might be surprised to find out that public colleges and universities have had the steeper increase (by percentage) versus private colleges, she said. Between 2008-2009 and 2018-2019, prices for undergraduate public schools rose by 28%, versus just 19% at private institutions. "This is likely due in part to a decrease in public funding," Hopler said.
Make Your Money Work for You
Did You Know: What It Really Costs To Attend America's Top 50 Colleges
Interestingly, average tuition fees for school years 2019-2020 and 2021-2022 have seen the lowest increase in 30 years, according to Guide2Research.com. In this period, increases were as little as 1.1% and as high as 2.1%. These lower increases are likely a result of the COVID-19 pandemic when many students were forced to attend school virtually, and colleges could not justify price increases.
Price Increases by Type of Institution
The cost increases are different by type of institution, according to data gathered from the College Board. Although by percentage public schools increased more, by dollars, it's private schools that have had a larger price increase. Public two-year colleges showed the lowest 10-year change in tuition fees. For the school year 2020-2021, public two-year college tuition and fees were $3,770, only a meager $510 higher than it was 10 years ago. Public four-year colleges were slightly higher, with tuition and fees at $10,560, $1,490 more expensive than 10 years ago. It was private, nonprofit four-year colleges that had the most significant increases, averaging $37,650 for tuition and fees, an increase of $5,830 compared to 10 years ago.
Find Out: 20 Jobs Where You Can Make $60,000 Out of College
Be Aware: 15 College Degrees That Won't Make You Money

The State Matters
Where the college or university is located has an impact on increases in costs as well, according to College Board. While the average cost of tuition and fees for in-state tuition in the school year 2020-21 was $3,770, some states were significantly higher. The three states with the highest tuition and fees are Vermont, $8,600; New Hampshire, $7,100; and South Dakota, $7,090. The states with the lowest average tuition and fees were California, $1,430 and New Mexico, $1,940.
Make Your Money Work for You
The states with the highest five-year percentage change in in-district tuition and fees were Wyoming (43%), Nevada (23%) and Mississippi (22%).
Prepare Now: What You Need To Make To Attend College in Your State
Online Learning
One of the few places where tuition and fees have decreased is online programs, according to Hopler. "Average online program costs have been kept lower," she said. "Since 2017, online tuition rates have dropped almost 8 percent…Public colleges' online programs specifically have lowered rates by 23.18 percent, costing $10,537 for the 2020-2021 school year, on average." This makes online education more affordable, she said. "It can be worth it for many looking to save on tuition."
Less Demand for University Degrees
Another factor that may continue to shape the cost of education is that many people are not finding the high cost of education worth what they encounter in the job market, according to Jake Ramirez, a representative for Springboard, an online learning platform for tech careers.
"According to the latest figures from the U.S. Department of Education's office of Federal Student aid, outstanding federal student loan debt totals over 1.5 trillion dollars," Ramirez said. "At the same time, almost 40 percent of American employers say they cannot find people with the skills they need, while 43 percent of college graduates are underemployed in their first job. That means, for some careers, the value proposition of traditional higher education is plummeting."
Make Your Money Work for You
Instead, he said, according to a recent report by SwitchUp, high-quality alternative online programs such as coding boot camps are an attractive proposition. "[They] can fill the skill gap more effectively than traditional programs by training students quicker and at about 10 percent of the cost with similar results."
Other Education-Related Costs
Other grade levels of school also bring costs that are on the rise, including elementary, middle and high schools. According to a KPMG survey of 1,000 participants, parents are expecting to pay more for school supplies this year than last year, by about 9%. These dollars include apparel, footwear and general school supplies. Retail experts also confirm that inflation is driving up the cost of these items. According to the Labor Department's May report, as reported by CNBC, prices are rising faster than they have in nearly 13 years.
But the price of supplies has been increasing for the past decade or more by as much as 88% for elementary school students and 68% for high school students, according to the Huntington Backpack Index, an annual survey of the cost of school supplies and other expenses compiled by The Huntington National Bank.
More From GOBankingRates
Last updated: Aug. 11, 2021