How Much College Will Cost in 10 Years — and Ways To Plan Ahead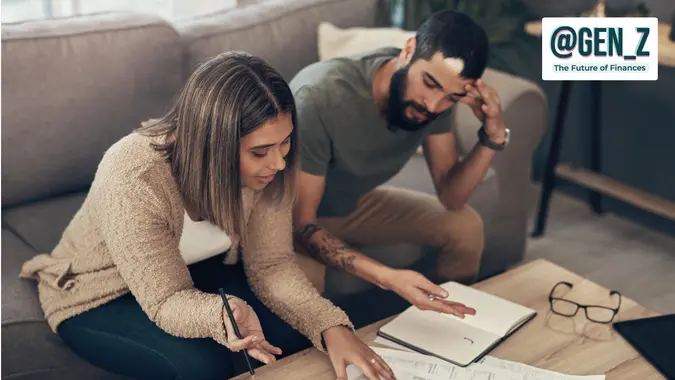 PeopleImages / iStock.com
The sticker price for a college education can be quite shocking.
In 2020-21, the cost of tuition and fees for a full-time student at a public four-year in-state school was $10,560, according to the College Board. For out-of-state students at a four-year public school, it was $27,060, and $37,650 at a four-year private nonprofit school. And that doesn't include room and board.
See: Didn't Get Your Child Tax Credit? Here's How to Track It Down
Read More: Prices Surge 5% as Inflation Rises with No End in Sight
So what will college expenses look like for the class of 2032, the kids who entered third grade this fall? If you're the parent of a child in elementary school, take note. You can't count on a full-ride athletic or academic scholarship.
"While no one knows what college is going to look like in 10 years, we do know that prior to COVID, the cost of higher education was going up at an untenable rate for most Americans," said Ksenia Yudina, the founder and CEO of UNest, a mobile app designed to help parents save for their kids' future. "Assuming rates continue to increase 5% per year, that means that in 10 years, the average cost for a four-year program will be over $150,000. That's compared to about $88,000 today.
Make Your Money Work for You
"COVID has certainly accelerated certain trends, and parents are increasingly beginning to question what the future of higher education looks like, but the most important thing you can do is plan ahead."
Their Impact on Money: Gen Z: The Future of Finances
More Tips: A Parents' Guide To Saving For Education
So, just how do you plan for such a big-ticket item while balancing all of your other expenses? It isn't easy, but it isn't an unachievable goal to send your child to college, either.
"Don't panic. Plan," said Patricia Roberts, the chief operating officer of Gift of College. "Don't let the current cost of higher education and projected costs cause you to feel there's nothing you can do to prepare or that the possibility of covering even a portion of the costs is insurmountable. Remember you don't need to save the entire projected cost, and whatever you are able to save will be that much less that your child will need to borrow and repay with interest."
Make Your Money Work for You
Take a Look: Explore the Cost of Education in the United States

529 Plans
A 529 plan is a savings account to be used for the education expenses of the beneficiary. A parent, grandparent or other loved one can open it and contribute money for a child's education expenses, whether that be college, private school tuition for K-12 students or student loan repayments. There are tax advantages to a 529 account. For example, no income taxes need to be paid on earnings while the money is in the account, and when it's withdrawn to pay for qualified education expenses, you won't pay federal taxes — and many states won't assess tax, either.
There are ways to boost those 529 savings, too. Look into whether your employer offers a 529 plan as a financial benefit or, Roberts said, ask your employer to consider matching your contributions or adding the plan as a benefit. She also recommended automating your savings into a 529 or any educational account you start.
"Payroll deduction is a great way to go," Roberts said. "Individuals who contribute to 529 plan accounts from their paychecks save on average 75% more than those who contribute from checking or savings accounts."
Make Your Money Work for You
Important: Don't Disregard Community College — Here's How It Can Set You Up for a Better Financial Future
UTMA Transfers
Parents can also look into setting up a Uniform Transfer to Minors Act account to supplement savings for college. Under the accounts, donors can give up to $15,000 in assets tax-free per year, and a percentage of the earnings on that income will be taxed at the lower rate applicable to young people. The UTMA is a route Yudina recommends, as it can be used for more than educational expenses down the road. That's a benefit if students and parents choose not to spend on a traditional four-year college education in favor of vocational training or other less expensive courses.
"We found that UTMAs are the best option for most parents due to the enormous flexibility they offer," she said. "Unlike a 529, with a UTMA, you can use the money for anything child-related, without penalty. Whether it's a laptop, swim lessons, education, or even for a future down payment on a home."
Prepare Now: How Much Kids Could Save by Investing Their Piggy Banks

Outside the Box
With today's work-from-home economy, parents have more mobility than ever before. Tuition and fees at state universities vary widely by the state, so maybe a move is in your future to save on college expenses.
Make Your Money Work for You
In Vermont, for example, the average in-state tuition and fees were $17,510, but in Wyoming, the price was $5,790, according to the College Board. While you don't have a guarantee that such a rate disparity will exist 10 years from now, it's something to consider.
For those who are ready to embrace currencies old and new as part of their savings plan, some experts recommend gold, and there's anecdotal evidence about investigating cryptocurrency as a potential funding source.
"A grandparent buying gold at the amount of the cost of education to a college of their choice in 1985 would be able to sell their gold and send their grandchild to the same college today," said Joseph Sherman, the CEO of the Gold Alliance. "Gold is a store of wealth which preserves purchasing power. When looking for a secure way to ensure preservation of wealth over long periods of time, especially-long term intergenerational preservation of wealth, physical gold should be the first answer."
Make Your Money Work for You
As for cryptocurrency, in August, The Dallas Morning News told the story of a local 14-year-old boy and his 9-year-old sister who decided not to operate their summer lemonade stand that usually made about $400 for their college fund. Instead, they turned to mining Ethereum and made $32,000 in one month, partially with assistance from a YouTube video. Given the newness of Ethereum and no long-term track record, it still bears watching at the very least.
More From GOBankingRates
Last updated: Sept. 23, 2021
Make Your Money Work for You