How To Determine the Right Amount To Borrow as a College Student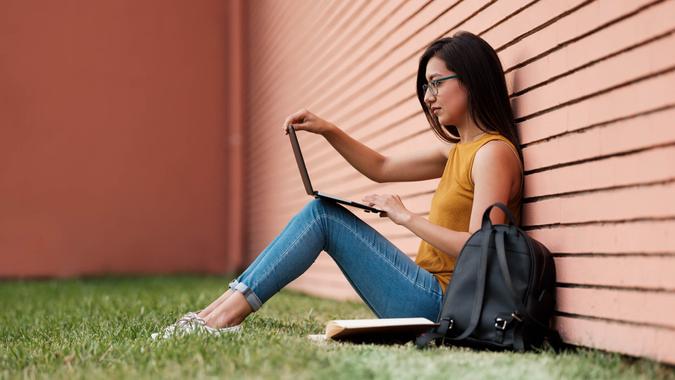 aldomurillo / Getty Images
The 2021 school year is right around the corner and many students will soon have to decide how much to borrow for college. While student loans help students pay for college classes, the monthly bill following graduation is a major cause of stress. 
College: 15 Rich Influencers Who Didn't Need a College Degree
Money: 21 Budgeting Tips for College Students
According to higher education expert Mark Kantrowitz, the average student loan payment is $400 per month, reports CNBC, which makes it difficult for people to save for their future. Experts advise students to borrow cautiously. Anna Helhoski, a student loan expert at NerdWallet.com, told CNBC that borrowing the total cost of your degree isn't financially feasible for most people and when it comes to student debt, there's the chance of "biting off more than you can chew." 
A majority of students rely on loans in pursuit of a degree. According to data from the Institute for College Access & Success, seven in 10 college seniors graduate with nearly $30,000 in debt per borrower, as noted by a separate CNBC report. 
Make Your Money Work for You
Read: 11 Colleges With the Most Billionaire Alumni
See: The Best Place To Retire in America Are All College Towns
Betsy Mayotte, president of The Institute of Student Loan Advisors, told CNBC that she advises to not borrow more than the average starting salary for your career of choice. "Every $10,000 you borrow ends up being around $125 per month, every month, for 10 years," she said. "Finally, don't ever borrow assuming loan forgiveness."
Meanwhile, Helhoski recommends planning for student loan payments that don't exceed 10% of your expected after-tax monthly income for your first-year post-graduation. She also advises using any federal student loans available before using private loans. She added that federal student loans carry borrower protections such as the chance for debt forgiveness and repayment options based on your income, reports CNBC.
More From GOBankingRates