How To Save Money on Textbooks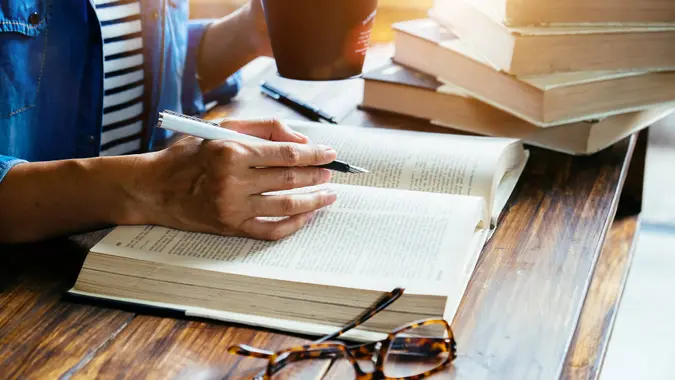 mirtmirt / Shutterstock.com
With back-to-school season in full swing, the costs of education essentials can quickly put students and their families under financial stress. After paying tuition and necessary housing fees for attending university, there are still many extra costs, such as textbooks, that students need to find a way to afford.
Find Out: Will Student Loan Forgiveness Include Parent Plus Loans?
Don't Mess Up: This Credit Score Mistake Could Be Costing Millions of Americans
Thankfully, GOBankingRates has this year's students covered. Check out these money-saving hacks that'll make your budget stretch this fall and allow you to afford all the necessary expenditures this back-to-school season requires.
Use the University Library
In order to get your textbooks for free, check out your school's library. Popular textbooks are typically available in limited quantities for students to check out or use during library hours. Due to the restricted numbers, it's best to visit the library to see if they have the books you need before school starts or as early as possible into the year in order to reserve books before other students.
Make Your Money Work for You
Rent Textbooks
You may never use a textbook that's required for your class again. Therefore, unless you know you will be able to use a textbook for many classes, renting books instead of buying is an option for students to consider. Renting textbooks is significantly cheaper than buying, and students can enjoy the freedom that comes with only having to pay for the book as long as they need it.
"Renting is one of the easiest ways to save on textbooks and there are a number of ways to do it," said Julie Ramhold, a consumer analyst with DealNews.com. "Chegg is one of the better-known sites for renting textbooks, and they offer a free eBook for select titles that you can use while you wait on your physical book to arrive. Chegg says you can save up to 90% by renting over buying, but obviously, your mileage may vary. Either way, it's best to check out all options before deciding on a particular route."
Share Textbooks
If you have some friends in a class who are all interested in saving some money on the course textbook, consider purchasing one and sharing it with a few classmates. While it might be difficult to have a group of four people all trying to read the textbook at the same time, your group could share photos of pages and take turns taking them home in order to share information while saving money.
Splitting the expense of textbooks with classmates will allow you to learn more responsibility, build a relationship with new classmates and have the opportunity to obtain the most out of the class without sacrificing your budget.
Make Your Money Work for You
Take Our Poll: Do You Think Student Loan Debt Should Be Forgiven?
Search Outside the University Bookstore
While purchasing textbooks from the university bookstore may be convenient, oftentimes shopping around and comparing prices can result in finding textbooks for less.
One of the best places to buy textbooks if you're looking to save money is on Amazon. The site often features fantastic sales on books as well as several format options — paperback, digital, hardcover, etc. — so that you can find the book that works best for your budget and learning style.
Buy Used
Before buying the textbooks you need for full price, consider shopping for used books to enjoy major savings without the extra cost.
"Buying used is another easy way to save," Ramhold said. "However, these are also the first copies to disappear because they're the first pick for many students, so if there aren't any used copies available locally, check online. Sites like Chegg offer used copies of select textbooks, but know that even buying used will be more expensive than renting."
Make Your Money Work for You
Be sure to also check out your university's Facebook group to find local students selling books they no longer need and pick up the book yourself to avoid extra shipping and handling fees.
Hold Off on Buying as Long as You Can
Typically, when a course requires students to purchase an online textbook, there is a buffer period of anywhere from seven to 21 days where students can access textbook materials for free. Be sure to take advantage of this buffer period and hold off on purchasing until you know for certain you will be staying in the class and will require textbook access.
"If you don't mind a bit of a gamble, wait until your first day of class before you buy a textbook," Ramhold said. "You may find out that the teacher has decided not to use a textbook or that they'll allow you to use an older version rather than having to purchase something brand-new. Or you may even decide you don't want that particular class or teacher, so you may be able to drop the class and not lose any cash on a book you no longer need."
More From GOBankingRates
Make Your Money Work for You