Experts Weigh In: What if Parents Can't Afford To Pay for College?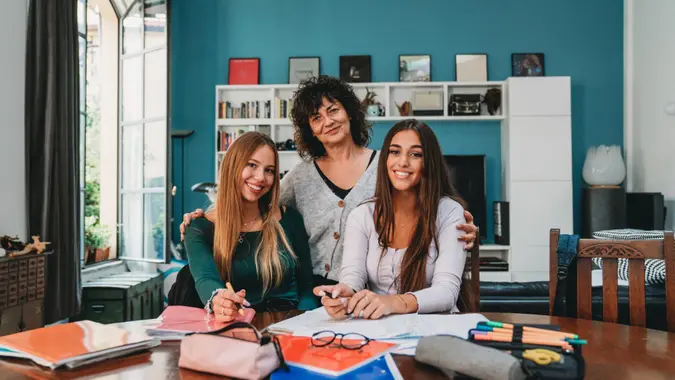 FilippoBacci / Getty Images
College is expensive, and quite frankly, you may not be able to afford it. If one of your children wants to continue their education post high school, it might have you feeling simultaneously proud and panicked.
See the List: GOBankingRates' Best Banks of 2023
More: 3 Ways Smart People Save Money When Filing Their Taxes
Discover: 11 Grocery Items To Buy at Dollar Tree
During the 2020-21 school year, the average tuition and fees at a public, four-year university was $9,400 per year — rising to $37,600 per year for a private, four-year university — according to the National Center for Education Statistics. Given those numbers, you're certainly not the only parents unable to bankroll this expense.
Kalee Boisvert, host and financial advisor at Wealth and Wellness Podcast, was raised by a single mother who wasn't able to contribute to the cost of her college tuition. However, she still managed to complete a four-year degree program without taking out any student loans or debt of any kind.
"For parents unable to pay for their child's education, I first want to tell you that is completely OK," she said. "Don't get too down on yourself if it just isn't in the budget."
Make Your Money Work for You
She said she is proof that it is possible for your child to receive a college education without you having to foot the bill.
Want to find out how she made it through college debt-free? Here are seven tips for parents from Boisvert and other experts to help support your child's college ambitions, without paying their tuition.
Be Their Room and Board
Going away to school might be fun, but living independently is expensive. Therefore, Boisvert suggested letting your child live at home rent-free while they attend a local school.
"I was able to live at home during university, which meant I essentially had no living expenses," she said. "And my mom was even kind enough to lend me her car on occasion, because the lemon I bought at 16 unfortunately only made it through my first year of classes."
Seek Out Scholarships
Essentially free money for college, Boisvert recommended searching for scholarships that could alleviate all or at least some of your child's financial burden.
"There are many of these programs out there, so start looking into them early to ensure you don't miss any deadlines when the time comes to apply," she said.
Make Your Money Work for You
Take Our Poll: How Much of a Tax Refund Do You Expect in 2023?
Be Supportive in Other Ways
Helping your child through college doesn't have to involve money. If you don't have cash to spare, Boisvert said lending your time to your child can also be invaluable.
"My mom stepped in as my study buddy for my hardest courses," she said. "I would make myself flash cards when a big exam was coming up and have her quiz me in the evenings leading up to test day."
Boisvert added that her sister has a fabulous eye for detail, so she served as a proofreader for her term papers — a truly family affair.
"Their support was priceless in getting through those hectic semesters," she said.
Share Your Financial Knowledge
"You have years of life practice paying bills and stretching a paycheck that your teen or young adult hasn't yet experienced," Boisvert said. "The biggest risk to your child taking out student loans is going overboard with the amount of loans they get."
Make Your Money Work for You
Therefore, she said if your child is going to be paying their tuition with student loans, you can help them create a realistic budget.
"Think of your role as their trusted financial partner that truly has their best interest at heart," she said. "With years of experience, there is certainly wisdom you can pass on to set your child up for financial success."
Help With Ancillary Expenses
If you're unable to help cover tuition or room and board, Patricia Roberts, chief operating officer at Gift of College, Inc., said to keep in mind that there are other expenses your child will face. She recommended helping as much as you can with costs like books, supplies and computers.
"Opening a dedicated account, such as a 529 college savings plan, and contributing even small amounts over time can be a real help to a student when the time comes to pursue education after high school," she said.
Guide Them Toward a More Affordable College Plan
"The best advice I have for families who will not or cannot take on debt for college is to talk to your student about enrolling in the local community college, where the basic requirements can be completed," said Mary Banks, director of admissions consulting at Quad Education.
She said this strategy is used by students across the wealth spectrum, as the courses are usually transferrable — assuming the student performs well academically. During these two years, she said the student can work while going to school and if possible, the family might also try to put a little extra money aside and/or help the child secure loans.
"Transferring to your state colleges or universities is also often less costly," she said.
For reference, the average cost of tuition at a public two-year university was $3,900 per year during the 2020-21 school year, according to the NCES.
Motivate Them Now
It can be hard for high school students to understand the importance of getting good grades and participating in extracurricular activities. Therefore, Gerald Grant III, retirement planning specialist at Equitable Advisors, suggested giving them a little extra motivation.
"Incentivize your children to perform better at the high school level, so they can qualify for scholarships and grants," he said. "Many students that graduate in the top 10% of their high school class may qualify for a full or partial scholarship."
As a parent, you want to do everything in your power to help your children achieve their dreams. If college is part of their future plans and you can't afford to pay tuition, implementing these strategies will allow you to offer meaningful support that will boost their success.
More From GOBankingRates
Make Your Money Work for You