Experts: Is Private School Worth It?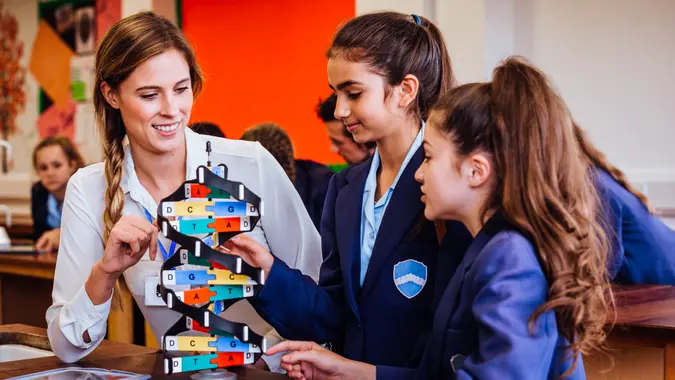 SolStock / Getty Images
Few topics are as intensely personal — and more recently, political — as education. Historically, the masses went to public schools while the elite paid for private education, which bought their children a fast track to competitive universities and cushy careers.
See the List: GOBankingRates' Best Banks of 2023
Discover: 3 Ways Smart People Save Money When Filing Their Taxes
More: GOBankingRates' Best Checking Accounts 2023
But in 2023, does a private school diploma still carry the same prestige as it once did, and do parents really have to pay tuition to send their kids to a decent school?
"As with many things, the answer to public vs. private schools is 'it depends,'" said Laurie Kopp Weingarten, CEP, president and chief educational consultant of One-Stop College Counseling. "It depends on which private schools and which public schools are being compared. There are good and bad to both."
With that in mind, let's review the options more thoroughly.
Make Your Money Work for You
First, Which Kind of Private School Are You Considering? 
According to Weingarten, private schools can be divided into two categories: day schools, where the student still resides at home, and boarding schools, where students live full-time. The latter requires a much bigger commitment both financially and socially. 
"Not all students are mature enough at the age of 14 to live away from home," said Weingarten. "And even if they are mature, it's still not right for all students." 
Private Schools Tend To Put Fewer Students in Better-Equipped Classrooms
One of the main benefits of private schools is that they tend to have fewer pupils per classroom, and as every educator knows, low teacher-to-student ratios are the foundation of a nurturing, attentive and effective school environment. 
"It's wonderful for the teachers to be able to mentor their students and to get to know them on a more personal level," said Weingarten. "In many cases, with fewer students per class, they can more easily tailor the lessons, homework, tests and evaluations to the needs of their students."
Take Our Poll: How Big of a Sign-Up Bonus Would It Take for You To Change Banks?
It's not just class size. Proponents of private schools insist the entire experience is more enriching. "Private schools typically have more money to spend, which enables the schools to have better supplies, equipment, technology, more educational field trips, beautiful campuses and more counseling support," said Weingarten.
Make Your Money Work for You
Of course, all those amenities will cost you. 
Even the Average Private School Costs 5 Figures Per Year
You pay for your local public school through your property taxes whether you send your kids there or not, but other than that, it's free. Private schools, on the other hand, are anything but.
"Religious private schools are typically the most reasonable," said Weingarten. "Secular day schools run the gamut in pricing based on where you are located." 
According to Private School Review, the average private school tuition for 2022-23 is $12,271. However, for the most prestigious schools, you'd be lucky if that buys you a single marking period.
"I've seen some as high as $60,000-plus per year," said Weingarten. "Adding boarding schools to the mix, the price can exceed the cost of many colleges, coming in at $70,000. That will surpass most families' ability to pay, especially if they are planning to pay for college." 
Weingarten added that many private schools offer scholarships, but they tend to be highly competitive.
Make Your Money Work for You
So, Does $50,000 for 4 Years of High School Buy a Spot at a Great College? 
Anya Ilkys, founder and principal college consultant at College Starpoint, has seen many families enter private education with unreasonable expectations that led to buyer's remorse — especially when it comes time to apply for colleges. 
"The first question the family needs to ask themselves is 'why are we doing this?,'" said Ilkys. "If the answer is something along the lines of, the student will probably have smaller classes, more personalized attention, a unique curriculum, teachers who are not as underpaid and overworked, etc., then yes, private school education will probably be able to check off a lot of those boxes.
"But if the goal is to get into a better college or to have a leg up in the admissions process, then no, that's not how it works. A student from a private school gets evaluated against other students from private schools. So, in order to shine in the admissions process, the student needs to really shine among their classmates. In a lot of cases, it is difficult to accomplish at private schools."
The Student Matters More Than the Alma Mater
The consensus is that excellent students will stand out to college admissions officers no matter their background.
"If a family decides to send their child to public school, which most U.S. families do, even if the public school is not terrific, if the student is motivated and conscientious, they can still be competitive for every top college in the country," said Weingarten.
On the other hand, universities often frown upon private school kids who had every opportunity to succeed but didn't apply themselves.
"I personally have never met a college admissions officer or a job recruiter who would tell me that they value the name of the institution more than what the student presents on their transcript, activities list and resume," said Ilkys. "It's very important to remember that it's not the name of the school, private or public, that's going to matter in the process. It's what the student has done with that education, what opportunities they took advantage of, and how they made an impact while there."
More From GOBankingRates
Make Your Money Work for You