Are These Pricey School Alternatives Worth It?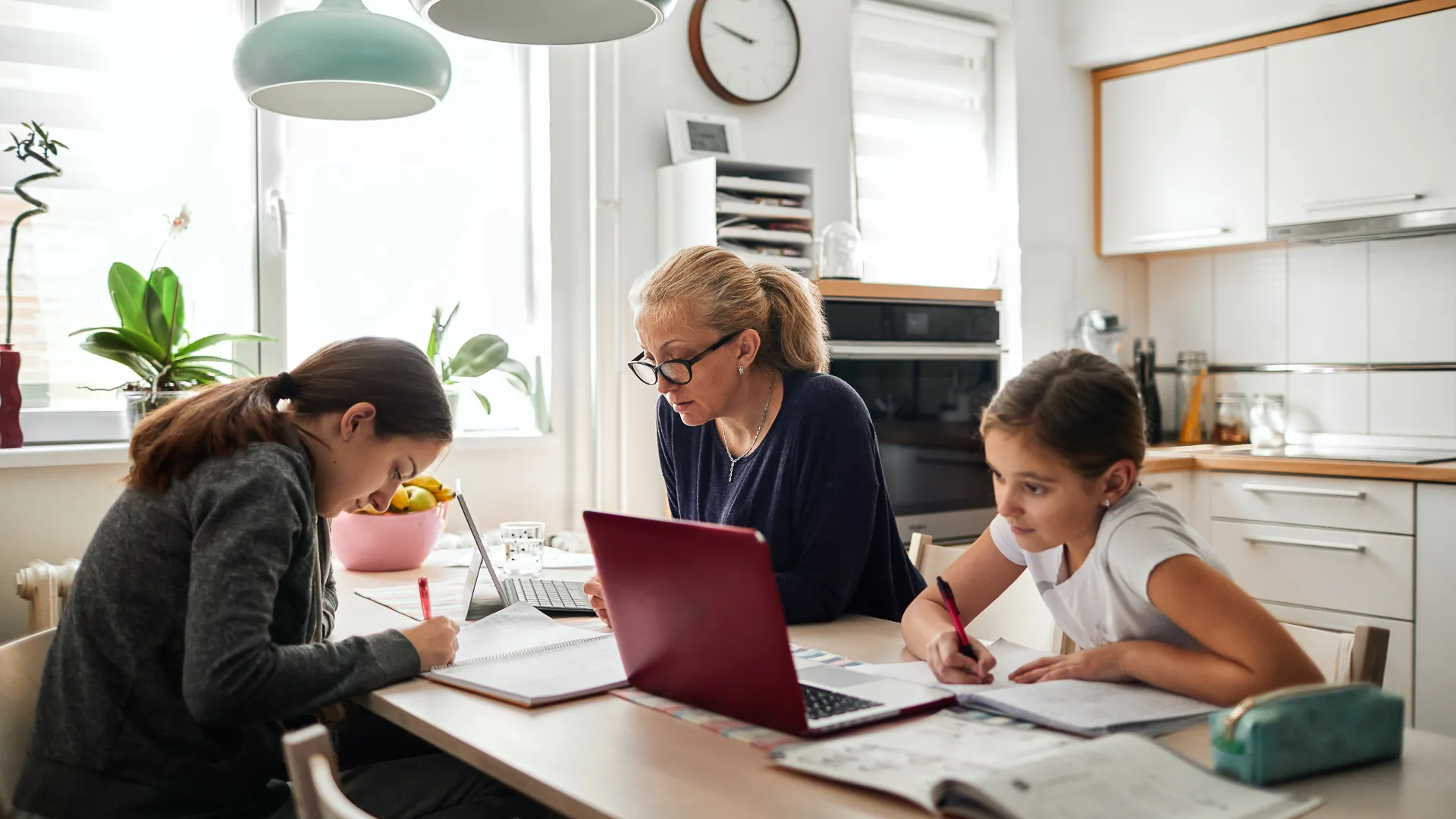 Several large school districts — including those in Atlanta, Houston, Los Angeles, Phoenix and suburban Washington — have announced that they will start the school year with entirely remote classes, The New York Times reported. Some parents are not too keen on the idea of online-only learning, while others don't feel safe sending kids to schools that are opened. This has led many families to seek alternative options like homeschooling or communal education "pods." Here is what some of these options entail — plus, the price tag that comes along with them.
Option 1: Form an Education 'Pod' and Hire a Private Teacher
One option that some parents are exploring is to form groups of children in the same grade, or "pods," and collectively hire a teacher to provide homeschooling. This gives children the opportunity to socialize with peers in a much smaller setting. And when a private teacher takes care of the instruction, it gives the parents the opportunity to work or spend other time away from their kids.
The schooling could take place in a neutral, rented space, in one family's home or rotating between the participating families' homes.
How Much an Education 'Pod' With a Private Teacher Will Cost
The cost of this kind of schooling would depend on how many families participate and where the schooling takes place. Renting out a neutral space would add an additional expense.
A certified teacher with top-notch experience costs $100 an hour or more, according to Care.com. The average American school day is roughly seven hours, so a full week of schooling would cost about $3,500. If the "pod" consists of four families, it would end up costing each family about $3,500 a month. One education specialist told The Washington Post that the cost of a trained public school teacher could be as much as $100,000 for the year.
Make Your Money Work for You
Option 2: Form an Education 'Pod' and Hire a Private Tutor
Tutors can be a more affordable option than a private teacher, and this option becomes even more affordable when you split the cost with others.
How Much an Education 'Pod' With a Private Tutor Will Cost
The cost of a private tutor varies based on both the tutor's experience level and where you live. For example, a high school student may charge as little as $10 an hour (though high school students are likely unavailable as they will have school of their own during the school year), according to Care.com. The cost of a college or graduate student starts at $25 or $30 an hour, and trained tutors could cost $50 to $100 per hour, The Washington Post reported. Tutors will likely cost more in major cities than in more suburban areas, according to Care.com.
One tutoring company based in the Philadelphia suburbs, Teacher Time to Go, is offering a package of three hours of tutoring, four days a week at a cost of $480 per week per family, The Washington Post reported. If two families join, the cost is $720 a week total for up to six children.
Option 3: Virtual Learning Groups
To make online learning more of a social experience, some families are banding together to form virtual learning groups. In this scenario, families will take turns hosting groups of students as they tune in to their school-provided online lessons together. Parents can take turns supervising, and may even teach supplemental lessons.
How Much a Virtual Learning Group Will Cost
This is perhaps one of the lowest-cost options as it utilizes instruction provided by the school. However, this still requires a computer and internet access.
Computers typically cost between $600 and $800, according to Statista, and internet access costs an average of $60 a month, USA Today reported.
Option 4: Virtual Learning + After School Study Groups
Families may also opt to do daily online lessons at home, and then join with other families for after-school study groups or other after-school activities.
How Much Virtual Learning + After School Study Groups Will Cost
The cost of this option will depend on exactly what the after-school activities entail. If it takes place at home and is supervised by a rotating group of parents, this won't cost anything extra. But if a teacher, tutor or other expert is brought on to conduct the after-school studies or lead another activity, the price can go up.
Make Your Money Work for You
Option 5: Homeschooling
Some parents are choosing to eschew their kids' school curriculum for a more personalized homeschool program. Choosing a homeschool program allows for more flexibility and allows the parents to have more control over what their child learns and how they are taught. Some parents might opt for a faith-based program, or one that involves more outdoor activities and less screen time.
How Much Homeschooling Will Cost
The cost of homeschooling will depend on a number of factors, including the curriculum you choose. The price can vary from around $50 to $500, according to the Smart Money Mamas blog. Some curricula include all of the books and materials you need, while others require you to purchase materials separately. You may be able to get all the necessary books at your local library, which would save you on material costs.
You will likely want to supplement your teachings with "field trips" as well, though these can be to free places like your local park, and you can check for discounted tickets for other destinations like a zoo or museum.
Overall, the Smart Money Mamas blog said you can expect to pay $500 per child for a year of homeschooling.
Option 6: Alternative, Nature-Based Schooling
Perhaps you don't want to have your child sitting inside a classroom with a number of other students every day, but you feel comfortable with them learning in an outdoor environment. If this is the case, you might see if there is a nature-based program in your area. For example, Florida's Verdi EcoSchool is an urban farm school that teaches students academic concepts through activities like gardening and cooking.
How Much Alternative, Nature-Based Schooling Will Cost
The cost of this type of schooling will depend on the school and whether your child attends full-time or part-time. Verdi EcoSchool's full-time nature immersion program, for example, costs $9,600 per year.
The Future of Education in America
Details of the Senate Republicans' $1 trillion coronavirus relief package are still being worked out, but it is expected to provide $70 billion in new funding for elementary and secondary schools, USA Today reported. According to the paper, half of the funding will be distributed on a per capita basis and the rest will be awarded to schools that reopen this fall.
Meanwhile, Democratic presidential nominee Joe Biden released his own five-point plan for how schools should safely reopen amid the pandemic. His proposal calls for Congress to pass a $30 billion emergency education package that would be used to fund building upgrades and sanitation protocols ahead of students' return to schools, NPR reported. Biden's plan also calls for expanded contact tracing, improved coronavirus testing and setting national safety guidelines before any students return for in-person instruction.
Make Your Money Work for You
What Should Parents Do?
With so much up in the air, it remains to be seen what school will actually look like for the 2020-2021 academic year. But with classes — online and in-person — set to resume shortly, parents don't have much time to decide what schooling option is best for their family and their finances. And sometimes what's "best" might be out of budget, leaving many experts worried that homeschooling and education pods will widen the education gap and favor children of privileged backgrounds.
There is no right or wrong option, and ultimately, parents will have to choose for themselves what is "worth it" for the upcoming school year.
More From GOBankingRates