4 Signs a College Scholarship Is Actually a Scam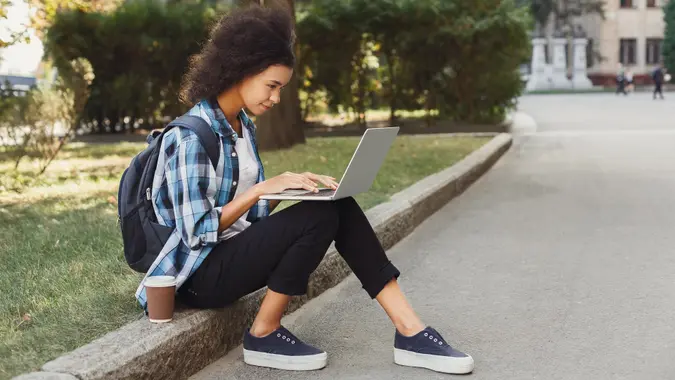 Prostock-Studio / iStock.com
Applying for college scholarships can help offset the cost of higher education, and there are a seemingly endless number of companies and organizations offering scholarships to students. While most of these are legitimate, from time to time, you may come across a college scholarship offer that's actually a scam. These scammers may be after your personal information or even your money.
Explore: GOBankingRates' Best Credit Cards for 2023
Discover: How To Get Free Gift Cards From Your Everyday Purchases
Save: 11 Grocery Items To Buy at Dollar Tree
To avoid these scams, it's important to know what signs to look out for that could indicate a scholarship isn't legitimate.
The Description Is Full of Typos and Grammatical Errors
One sign of a potential scam is "if there are a lot of typos in what is written, just like scammy emails," said Jennifer Finetti, director of student advocacy with ScholarshipOwl, a platform for finding vetted scholarships.
Make Your Money Work for You
Words that appear to be written with foreign spellings could also be a sign of a scam, she said.
It Requires You To Pay an Application Fee
"If you see a situation where a scholarship is asking you to pay a fee to apply for it, that's something else to keep an eye out for," Finetti said.
You shouldn't have to pay money to get money from a legitimate scholarship provider.
Take Our Poll: How Do You Think the Economy Will Perform in 2023?
It Asks for Certain Personally Identifiable Information
If a scholarship asks you to submit certain personally identifiable information, such as a Social Security number, as part of the application process, this can be a red flag.
"A real scholarship would never ask for that kind of identifying information," Finetti said. "However, it could be at the time the student is selected for a scholarship, there may be identifying information that is requested for tax purposes. But it's never, ever requested at the time of the application, and if it is, you definitely don't want to apply."
Make Your Money Work for You
Finetti notes that asking for other personal information, such as an email address, is not a sign that a scholarship is illegitimate.
"Some people think that if a scholarship is trying to get student data, that could be seen as a scam, but businesses might offer scholarships to not only satisfy their philanthropic needs but also to introduce the brand to the consumer," she said. "There are scholarship providers that are interested in getting data in the hopes that one day that person might be interested in their products or services. That does not mean it's a scholarship scam."
The Provider of the Scholarship Seems Fishy
"The best way to check and vet a provider would be to really examine the website where they heard about the scholarship," Finetti said. "You want to look at the various pages of the website, not just the page where the scholarship is listed, to get a better sense of who that provider is, what they care about and what they're offering. Look for telltale signs like typos or misspellings."
Make Your Money Work for You
If the website the scholarship is posted on seems fishy, Finetti suggests calling any listed phone numbers, if available.
"If it goes to voicemail and you try a couple of times and no one ever calls back, that's something that you should be concerned about," she said. "Or if when you call, the person who answers sounds like they're in a call center, that's also something else that you should be wary of. There's nothing wrong with trying to call a number that's on a website just to get a feeling for who that provider is and what they're all about, especially if you are suspicious."
How To Find Legitimate College Scholarships
There are many ways for students to find legitimate college scholarships to help them pay for their educational needs.
"Students can find them online by doing their own scholarship searches," Finetti said. "The safest way to avoid scams is to apply through a recognized scholarship service, like ScholarshipOwl.com or other similar services, where instead of just Googling scholarships and applying to anything willy nilly that they find, they go to a site that prescreens and vets scholarships the way that we do."
If you're unsure about whether or not a scholarship seems legitimate, don't be afraid to ask for help.
"If there's something you have questions about, ask somebody else," Finetti said. "Sometimes students don't know how to really check a website out. They can ask a parent or teacher or school counselor to check out the website and do some investigating to see if it's worth applying for."
More From GOBankingRates
Make Your Money Work for You