Why Is the American Education System So Expensive?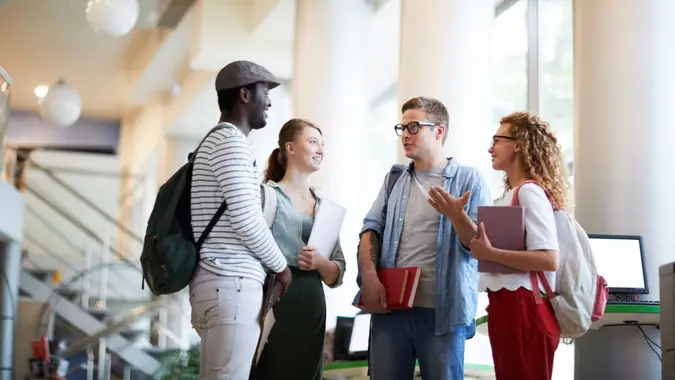 shironosov / Getty Images/iStockphoto
No matter what kind of education you're seeking as an American student, there's no denying that it's expensive. From preschool to college, families and students everywhere are having to shoulder ever-increasing costs just to have access to education.
Take a Look: Explore the Cost of Education in the United States
Discover: What It Really Costs To Attend America's Top 50 Colleges
But why is an American education so expensive, and why do costs keep increasing each year with no relief in sight? To answer these questions, here's insight gathered from industry experts as well as information from some of the latest research on tuition inflation.
Find Out: How To Ask Your College for More Financial Aid

Why Is Preschool So Expensive?
Parents first experience the heavy burden of tuition costs when they enroll their child in preschool. The average cost of child care, which includes early education, is more than $8,000 annually, according to the Economic Policy Institute — a figure which exceeds the in-state tuition for public universities in many U.S. states.
Overhead expenses are part of what causes preschool to be so expensive. Child care is subject to heavy regulations, which include rules ranging from the required square footage per child to the extensive safety measures that must be met. Plus, equipment must be maintained, repaired or replaced to meet standards. Insurance and fees also play a part in overhead costs, but the biggest expense is labor.
Make Your Money Work for You
Each U.S. state has regulations that limit the caregiver-child ratio. For example, in California, regulations stipulate one caregiver to every four infants and one teacher to every six 2-year-olds. And each caregiver or teacher must be paid an hourly wage. According to the Bureau of Labor Statistics, the median hourly wage for a preschool teacher is $15.35 per hour or $31,930 per year, which can add up quickly.
Prepare Now: What You Need To Make To Attend College in Your State
Why Are Private Elementary and High Schools So Expensive?
According to howmuch.net, the average high school tuition in the U.S. continues to elevate due to rising employee compensation expenses. Not only do schools have to pay more to recruit and retain quality educators, but they also are hiring more administrative staff members, especially those who specialize in academic counseling and coaching and can assist students in getting accepted to college.
Additional factors driving more expensive tuition are added school amenities, programs and equipment. Kevin Walker, publisher of CollegeFinance, said that students and families have come to value a residential experience when it comes to schools.
Make Your Money Work for You
"That's true even of independent day schools: Even though students might not live on campus, it's an important part of the experience that families expect," Walker said. "It's definitely true of boarding schools and colleges (both private and public). Right or wrong, students expect an attractive, stimulating and comfortable place to live while learning. Athletics is also an important part of what parents and students are seeking. To support an athletics program, schools need fields, ballparks, pools, rinks, stadiums, etc. It is expensive to build and maintain dormitories, grounds, dining halls and the many other buildings on a campus. Those costs end up as part of tuition in most cases."
Get a Deal: The Best Colleges With Tuition Under $20K
Why Is College So Expensive?
Rachel Coleman, an independent education consultant at College Essay Editor, said that the reason college is so expensive is due to a few primary factors.
The first is a decrease in financial support. "State funding for two-year and four-year colleges has decreased, leaving students to pick up more of the cost of college rather than it being subsidized by the state," Coleman said.
Another factor is what colleges are offering to remain competitive. "All the non-academic parts of a university have expanded (administrators, career counseling, social services, mental health, etc.) as colleges try to one-up one another to offer the most exciting goodies to entice full-pay students," she said.
Make Your Money Work for You
Financial aid also plays a part in educational expenses. "The existence of financial aid and government-guaranteed student loans means that few people are paying the sticker price for an education, " said Coleman. "Some education experts (though not all) attribute the hike in tuition prices over the past 50 years to this dynamic." (I.e., colleges are increasing tuition because they know the federal loan subsidies will ameliorate how the buyers of education will experience the increase — a very similar dynamic to hospitals raising prices on medical procedures because they know they're covered by insurance and because the true cost is not actually experienced by the customer).
See: These Elite Colleges Went Virtual — But Raised Tuition Anyway
The Case for Tuition Inflation
According to a report by economist Beth Akers of The Manhattan Institution, this hike in tuition prices goes deeper than the most apparent costs, such as added administrative staff, competitive amenities, easy access to student loans and higher salaries. It's due to tuition inflation. Akers found that in the past 20 years, the average sticker price of tuition and fees for full-time enrollment in a private four-year college has increased by more than 50% beyond inflation. And public four-year colleges and two-year colleges have experienced similar cost increases.
Aker's report outlines four possible reasons for the inflation. The first is that many students (and their parents) place far too much emphasis on the return on investment when it comes to paying for a college degree. Everyone knows at least one person who paid thousands for a degree that they aren't even using. But people still believe that getting a college degree equals future success, what Akers calls the "golden ticket fallacy," which drives tuition inflation.
Next, because colleges don't offer a transparent menu of costs, it's hard for students and parents to comparison shop when it comes to colleges. Financial aid is not awarded until after a student is accepted to college. This lack of transparency also helps colleges avoid competing with one another for student enrollment based on cost.
Discover: What It Would Really Mean To Cancel Student Loan Debt
Another possible reason tuition inflation exists is due to the lack of competition. Akers reported that many students attend local colleges instead of moving across the country. This means that these students will likely only have a few choices of colleges — either local or within commuting distance — which restricts competitive pricing that could occur in a larger marketplace.
Finally, Akers pointed out that in other industries, a provider that charges prices that are much higher than its competitors will eventually have to lower its prices or be driven out of business. Unfortunately, among colleges, this isn't the case. Alternative models of education that could offer cheaper tuition to students have significant barriers to entry, including a lack of access to provide financial aid to students. To provide federal financial aid, educational institutions must be accredited, which would be difficult for a provider with a nontraditional education model to achieve. And without federal funding, these new institutions would not be able to compete with traditional institutions.
More From GOBankingRates
Last updated: Aug. 10, 2021
Make Your Money Work for You