13 Things the Lakers Can Teach You about Finance
In tribute to the Los Angeles Lakers' 15th NBA championship title, here are 13 things (in honor of Laker great Wilt Chamberlain) the Lakers can teach you about finance.

Play both ends of the court. When the Lakers lost game 3 of this year's finals, Kobe didn't blame it on poor offensive execution as analysts suggested, but rather a lacking defense. You need to play both sides of the court to win.
Lesson Learned: You'll need to learn how to invest in opposite directions and hedge your investments if you want to take advantage of up and down swings in the market.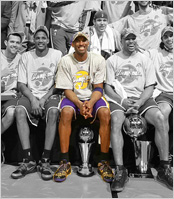 Don't build a one man team. The Lakers made this mistake when they split up Shaq and Kobe, and the result was several lackluster seasons with trade demand from Kobe at the end of it. Although the Lakers didn't have a choice because of the growing feud, they were aware of it from the start and should have made key moves to bring in help before the split.
Lesson Learned: In order to grow your portfolio into a winning one, you'll need a variety of investment products that will perform well.

Diversifying is key to success. Kobe's from Italy, Gasol's from Spain and Odom's from New York. The differences in their attitudes, styles and work ethic all combined to produce a championship team this year. It doesn't get more diverse than that.
Lesson Learned: Don't put all your eggs into one basket. As witnessed in the past year, every investment can tank at once, but diversifying means that certain parts of your portfolio will rebound faster and emerge stronger.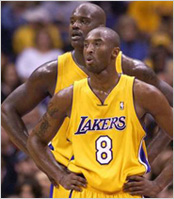 Even a superstar needs help. We've all heard it before: Kobe couldn't win without Shaq, and Jordan couldn't win without Pippen. This year, Odom and Gasol decided to show up to the finals and give Kobe the help he needed instead of taking a vacation like they did last year against the Celtics.
Lesson Learned: Sometimes your portfolio just needs some real help. Hire a CPA or financial planner to help you on the winning track. It's a team effort!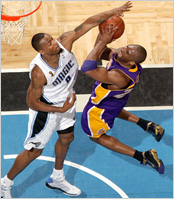 Doing too much can hurt you. In the 3rd quarter of game 5 of the NBA finals, the Lakers outscored the Orlando Magic 30-18 in the second period, but Bryant scored only four points. And that's all he needed to help them move on and win. Unlike his former self who tried to do too much and hurt the team, Kobe let the pieces fall into place as designed and it worked magnificently.
Lesson Learned: You shouldn't overdo-it when it comes to asset allocation. The market, especially the current one, will have its swings, and timing the market can hurt your gains. It's proven that most of the profits to be had from stock market investing come from only a few key days that you could miss out on if you're jumping in and out.

Go with what you know. While everyone was saying Derek Fisher had seen his best days as a player, was too old to compete and contribute anything valuable, Phil Jackson never lost confidence in the player he had depended on countless times in the past. And he was rewarded big time, as Fisher hit a 3-pointer to tie the game in game 4, followed by another shortly after to clinch a decisive victory that gave Los Angeles the momentum they needed to go the rest of the way.
Lesson Learned: You might hear about the newest ETF or other investment vehicles, but it doesn't mean you should try them. Stick to what you know and believe in, an investment mantra that's worked well for Warren Buffett. Didn't you see what happened when people heard about these new things called CDOs?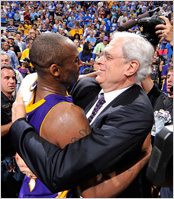 Everyone needs a great coach. We've mentioned the whole Shaq-Kobe thing, but maybe we should be saying Kobe couldn't have done it without Phil Jackson. The triangle offense that Jackson incorporated into the Lakers offense allowed Kobe the room he needed to shoot and pass in an effective system. Kobe tried going at it alone when Jackson left Los Angeles after the 2004 finals loss. Result: great stats and a losing team.
Lesson Learned: When you first start trying to grow your portfolio, seek a friend or acquaintance that is more knowledgeable to guide you. Personal finances can be complicated, so having an experienced finance guru on your side will help out immensely.

Looking good on paper will not produce results. Case-in-point: Kwame Brown. Standing at 6'11 and 270 lbs, Brown was looking like a monster center in the making. He wasn't. The Lakers traded him after a few unsuccessful seasons where he failed to develop as a player.
Lesson Learned: We've all made bad investments based on how well they were projected to perform, but somehow the results failed to materialize in our bank accounts. Be careful and do as much research as you can on new companies or investments you're considering.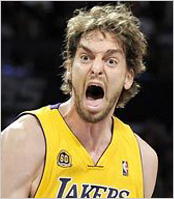 Nothing is ever for sure. Remember when you first heard that Karl Malone and Gary Payton were coming to Los Angeles? Sure you do. You and all your friends were high-fiving because of the championship they along with Shaq and Kobe were guaranteed to bring to Los Angeles. Only it didn't happen. Too many talented players on the team caused ego problems that lead to an embarrassing defeat.
Lesson Learned: Don't count all your eggs before they've hatched. It was true for that stacked Laker lineup, and it'll be true for any investment you make. Be sure to assess risks, and don't ever believe that any investment is a sure thing.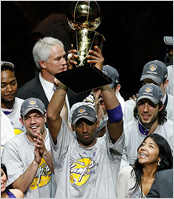 Focus on the bigger picture. When Kobe demanded to be traded and the team was in shambles, Los Angeles Lakers General Manager Mitch Kupchak took the most blame for not bringing Kobe the help he needed. Rather than panicking, Kupchak made decisive moves like acquiring Andrew Bynum and bringing back Derek Fisher to help his superstar. He also all but stole Pau Gasol from the Memphis Grizzlies. The result was ultimate vindication in winning the 2009 NBA finals.
Lesson Learned: Like Kupchak, you shouldn't let a obstacles stand in the way of financial success, no matter how big. Everyone will lose at some point, but eventually you'll do well if you stay disciplined in your investment strategy.

Always have good reserves. The Lakers bench ultimately delivered this year. While they haven't been impressive, they were the difference in last year's finals. The Celtics had a much deeper bench that produced while the Lakers didn't, resulting in a disappointing loss in the final game.
Lesson Learned: Establish emergency reserve funds that you can depend on. If your main sources of income are depleted, at least you won't find yourself out of the game.

All good things come to an end. It happened to the Showtime Lakers, and it'll happen to every subsequent winning team. But that doesn't mean you can't rebuild and start a new dynasty, and that's exactly what many NBA analyst expect can happen with Kobe's young Lakers team.
Lesson Learned: All good things must come to an end. Despite that one investment making you a killing for a number of years, sometimes it's good to recognize that you can't profit from it forever. You'll need to set up an exit strategy or develop a new strategy to continue staying ahead. Look what happened to GM and Chrysler's stock despite them being industry giants in the past.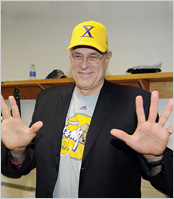 Define your own success. With 10 rings, Phil Jackson has proven himself to be the winningest coach in NBA history by dethroning Red Auerbach, who has 9 championship titles as a coach. When asked how he compares himself to other legendary coaches, Phil insists that he measures his own success personally and not in relation to others.
Lesson Learned: Don't worry about how much others are making or what they're driving, and be content with your own personal success. Getting into a spending war and trying to keep up with the Jones's is how everyone goes broke. Set up financial goals that are applicable to your personal situation.
And while this last tip didn't make our list, it's still a good one.
Don't make a rap video dissing other players. When Shaq won the 2006 finals with the Miami Heat and Dwayne Wade, he made a now infamous rap video at a night club asking Kobe how his *** tastes.
Lesson Learned: Okay, so there's no real lesson to be learned here except being humble in victory. Shaq how does karma taste?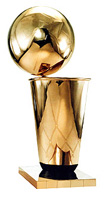 Congratulations to the 2009 NBA Champions.
Lakers fans, follow @lakersnation or join their community at Lakers Nation.