3 Reasons Why One Direction Is a Terrible Influence on Kids' Savings Habits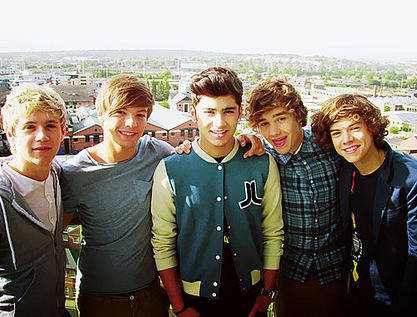 In this tough economy, saving money is not just critical for adults, but kids too! Even if children don't have an income yet, teaching kids about money is crucial for establishing the skills needed for responsible money management later in life.
If you've taken the initial steps to help your kids build a savings account, you're on the right track. You'd better just hope that they're not fans of One Direction. Why? Because the immensely successful English boy band is a terrible influence on kids' savings habits.
Who Is One Direction?
Anyone who is or knows a female age 5-95 has heard of One Direction. If somehow haven't, here's a brief introduction to one of the most popular boy bands in the world right now.
One Direction is a five-member English-Irish pop boy band based in London. Members consist of Niall Horan, Zayn Malik, Liam Payne, Harry Styles and Louis Tomlinson. The group was first seen as individuals in the seventh season of The X Factor in 2010, later being put together as a group to compete in the same season.
Though they came in third place on the show, they were later signed to Simon Cowell's Syco Records. Impressive story, indeed! But even more impressive is the success the group has attained since their song "Forever Young" was leaked to the public.
Since making their official debut in 2011, One Direction has found enormous success. The guys snagged the top spot on the Billboard 200 chart twice in one year, most recently for their sophomore album, Take Me Home.
Racking up tons of cash in the process, the group pulled in £26.3 million in 2011, which converts to roughly $31 million.
Why Teaching Kids about Money Is Impossible Thanks to One Direction
With all of the money the boy band is raking in, one would think these young men would have a positive impact on children saving money. Unfortunately, they have a terrible influence. Here's why:
1. Their Songs Are Must-Haves
No kid who's in love with this group is going to want to pass up buying their songs. While music can be heard on free sites like YouTube, there's nothing like adding music to your own playlists for your iPod or smartphone.
Right now, One Direction's albums are averaging about $13 on iTunes, as well as at retailers like Target and Walmart. Though kids earn an average of $15 per week in allowance, according to the American Institute of CPAs, that week's worth of income could be placed into savings account instead.
2. Their Performances Are Must-Sees
One Direction is not unlike other bands that specialize in giving their fans a great show. Of course, fans have to pay for those shows — and tickets aren't usually cheap. If you or your kids want to save up to see a performance, you may have to pay anywhere from $20 to $100 per ticket.
It's nearly impossible to set money aside when dishing out cash for concerts (along with the goodies that must be purchased before and during the performance), making a One Direction obsession an expensive one.
3. They Spend Money Like It's Going Out of Style
As a young group, the members of One Direction should be saving the wealth their amassing to maintain their lofty lifestyle once their 15 minutes of fame are up. Instead, they throw cash around like it's always going to be there.
In May, One Direction made headlines for accumulating a $22,000 cell phone bill while on tour. And when rumors circulated that One Direction's Harry Styles purchased a $200,000 Ferrari, TMZ turned to former boy band member, 'N Sync's Lance Bass, for words of wisdom. His advice came in six words: "Save your money. Save your money!" Followed by the suggestion only a seasoned, smart investor can provide, "Invest in something that will make you money."
It turns at that the expensive vehicle was actually a car hired for a few hours while Styles was in California for a weekend, but the hundreds spent could have been saved rather than spent on a few hours of fun.
As a huge pop sensation that has captured the attention of just about every young person in the country (and quite a few adults, too)  One Direction makes teaching children about money and instilling positive money management skills extremely difficult. The good news is despite all of the examples these pops stars provide otherwise, you are still your children's number one role model who can show them saving for the future is the best way to go.
Image: British One Direction