This $300 Skeleton Is Now a Viral Star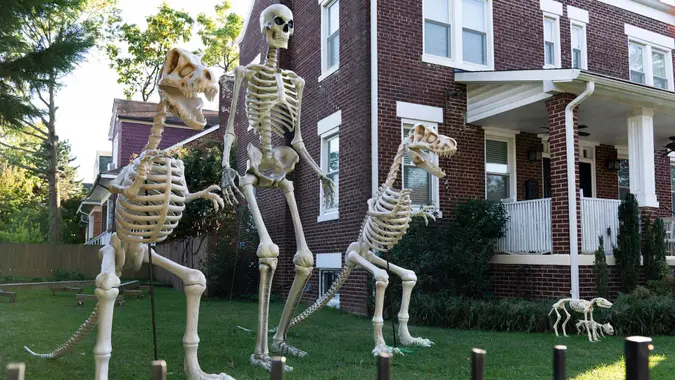 Jacquelyn Martin/AP/Shutterstock / Jacquelyn Martin/AP/Shutterstock
In a time fraught with important decisions, nothing is more pressing than the question of what you should be putting on your lawn this Halloween season. Pumpkins are classic. Black cats? Very cool. But for anyone trying to really impress — and permanently scar — the people passing by their holiday décor, there's no choice but Home Depot's giant 12-foot skeleton.
Only two problems: One, it costs a whopping 300 bones and, two, the skeleton is completely and hopelessly out of stock. Although that may be OK for anyone who's terrified of giant bone people with glowing LCD "LifeEyes."
Though no one expected the skeleton to become a viral sensation, it quickly sold out when it debuted on Oct. 1. Suddenly it was everywhere — including Kourtney Kardashian's Instagram (the spookiest place of all!). Even brands got in on the fun. Everyone from Budweiser, which bought its own skeleton, to 1-800-Contacts, which had to use a modified stock image because it was late to the game, employed the giant, bony monstrosity to promote their products. Hey, skeletons need affordable contacts, too!
Make Your Money Work for You
Anyone trying to get this set of humongous bones into their backyard or living room — Home Depot insists that the skeleton is ideal for indoor use —  is out of luck for now. The skeletons are all sold out for the year at Home Depot. But there's always eBay and Amazon? At least if you're willing to drop up to $1,600 for the privilege of having the best yard — or, again, living room — in the neighborhood. But maybe prices will drop as soon as Halloween is over, just like they do on candy. Then all you'd have to do is figure out how to incorporate a giant skeleton into your Thanksgiving, Christmas and New Year's decorations. And you'll also have to figure out how to keep it from coming to life and ravaging an entire town … but we'll deal with that problem when the skeletons are back in stock!
Check out other Halloween shopping you can do in the meantime.
More From GOBankingRates
Make Your Money Work for You