Apple Store's Worst Deals? Employees Reveal 3 Tactics That Make You Spend More Money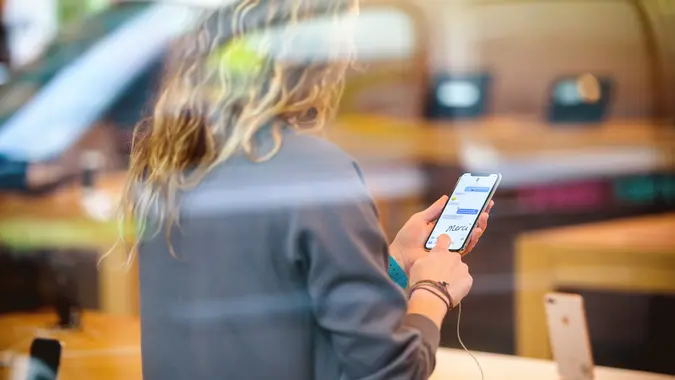 AdrianHancu / iStock.com
Apple has stormed the world with its sleek technology and holds dominion as the most valuable company in the world, worth $2.64 trillion dollars as of March 30. Apple products are in such high demand (the iPhone alone courts over 1.5 active billion users) that it seems Apple doesn't have to do much to convince consumers to buy them, which is why you seldom see an Apple sale or discount.
But make no mistake: Apple has a bottom line like every other corporation, and it is impassioned to make more and more money. To do so, it uses underhanded tactics to push consumers into spending more than they may have set out to. Apple employees have spilled the beans on these less than noble methods.
1. Pushing Certain Products Over Others
In the market for a Macbook Air but find yourself being persuaded to buy a more expensive Macbook Pro? This isn't an accident. Though Apple salespeople make no commission off products and therefore don't have a monetary incentive to upsell you, they do have goals and metrics within their retail teams that puts the pressure on them to push certain products over others.
Make Your Money Work for You
In a 2019 interview with ZDNET, a former Apple senior store employee said, "The direction or pressure for employees to sell a certain product comes from the retail leadership team." They added that retail leadership teams receive "a performance bonus based on quarterly sales results, a fact which is never explicitly revealed to the frontline teams."
2. Offering a New Device Buy Instead of Fixing the Old Device
Salespeople on the retail frontlines may also end up talking up new products simply because they're burnt out. A reported former employee Mark H. Delfs on Quora said, "We basically were turned into iDevice swapping robots. We only had a few minutes per customer. Over 90 percent of the time it was an argument on why we couldn't give you a new device."
Employees tasked with repairing one's device will also sometimes sway them into calling it a day on the gadget in need of service and opting for a newly refurbished version instead.
3. Sneaking in AppleCare+
AppleCare+ is Apple's warranty program. Its cost varies depending on the device and the extent of coverage a consumer selects. Though AppleCare+ is an option, it can feel like a must when talking with Apple salespeople. This, too, is no accident.
"A few employees will tell you that to help you sell AppleCare to your customers, you basically just don't give them the choice," one TikTok user and Apple insider said, as reported by Best Life. "You present the phone with the final price, including AppleCare."
Make Your Money Work for You
Learn: Have An Older Verizon Cell Phone Plan? Your Rates Are Likely Going Up
Find: Can Apple Stock Reach $1,000?
Consumers could possibly walk away with an iPhone purchase and AppleCare+ without even realizing it until they see the charge on their monthly bill.
More From GOBankingRates
Make Your Money Work for You