7 Best Tech and Electronics Deals at Best Buy in January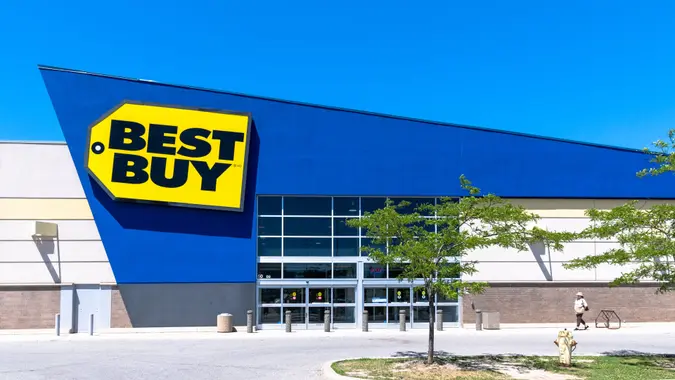 BobNoah / Shutterstock.com
The holidays are over, and with them, holiday deals, which might make it seem like a bad time of year to shop for any new electronics or tech that you didn't find under your tree. However, retailers need to keep bringing customers in, and places like Best Buy know that the first month of the year is a time when many people invest in themselves, their careers or their education.
All of those things tend to benefit from electronics and tech these days. If you're looking for a great deal, we've found seven of the best for you at Best Buy in January.
Cell Phone Accessories 
If you didn't receive any of those important cell phone accessories over the holidays, now might be a great time to purchase them from Best Buy. From wireless charging docks and charging cords to selfie sticks and more, Best Buy is offering 20% off a variety of well known items and popular brands online.
Apple AirPods, Refurbished
With a variety of noise canceling headphones on the market for some years now, it might seem like AirPods are just unnecessary. However, anyone who feels that way probably just hasn't tried them.
Light and barely there in your ears, Apple AirPods are a hit with people of all ages. They're great for not only listening to music, but also podcasts or streaming movies. You can get a pair of refurbished, second generation Apple Airpods for $94.99 at Best Buy right now. That's $35 off their regular price — and it comes with four months of Apple Music for free and three free months of Apple TV+.
Make Your Money Work for You
Lenovo IdeaPad
Lenovo's touch screen IdeaPads are great for college students or remote workers who need to travel between an office and their homes. Best Buy is offering two great deals on these touch pads in January.
The 15.6″ laptop has a smart, dual-core, four-way i3 processor, 8 GB of memory, an Intel graphics card, and only weighs a tad bit over 4 lbs. For just $299.99 ($200 off!), you also get three free months of Microsoft 365. For a slightly faster, sleeker and more efficient version, the 15.6″ touch screen laptop, with an Intel Core i7 and 16GB memory is $649.99 ($150 off) and comes with Amazon Alexa built in.
LG OLED 4K UHD Smart webOS TV
Ready to take your TV and movie watching up to the next level? You can't find a better deal on TVs than the LG, 48-inch class A2 OLED Smart TV at Best Buy.
Originally $1,299.99, you will save half and pay just $649.99 for this TV that includes an α7 Gen5 AI Processor. It's already set up to stream from your favorite platforms, including Netflix, Prime Video, Apple TV+, Disney+, HBO Max and over 300+ free LG Channels.
Epson EcoTank Color Printer
With more people working from home, and many households containing students of multiple ages, there are more papers to print. If you're in the market for a new printer, check out Epson's EcoTank color printer, on sale for $399.99 ($150 off) at Best Buy right now. The EcoTank has unique high-capacity ink tank technology, with enough to print 7,500 pages with black ink, or 6,000 in color.
Make Your Money Work for You
Samsung Wireless Earbuds
If you're not an Apple user but still like the sleek look that comes with wireless earbuds, Samsung's Galaxy Buds Live not only bring high quality sound, but noise canceling technology too. You can get these earbuds in multiple colors and styles for $30-40 off this month.
SimpliSafe Shield Home Security System
If you've been meaning to beef up your home security, Best Buy is offering a super deal on this SimpliSafe home security system. At just a hair under $200, it's $80 off its regular price right now.
More From GOBankingRates