Here's What It Costs to Attend the Winter Olympics 2018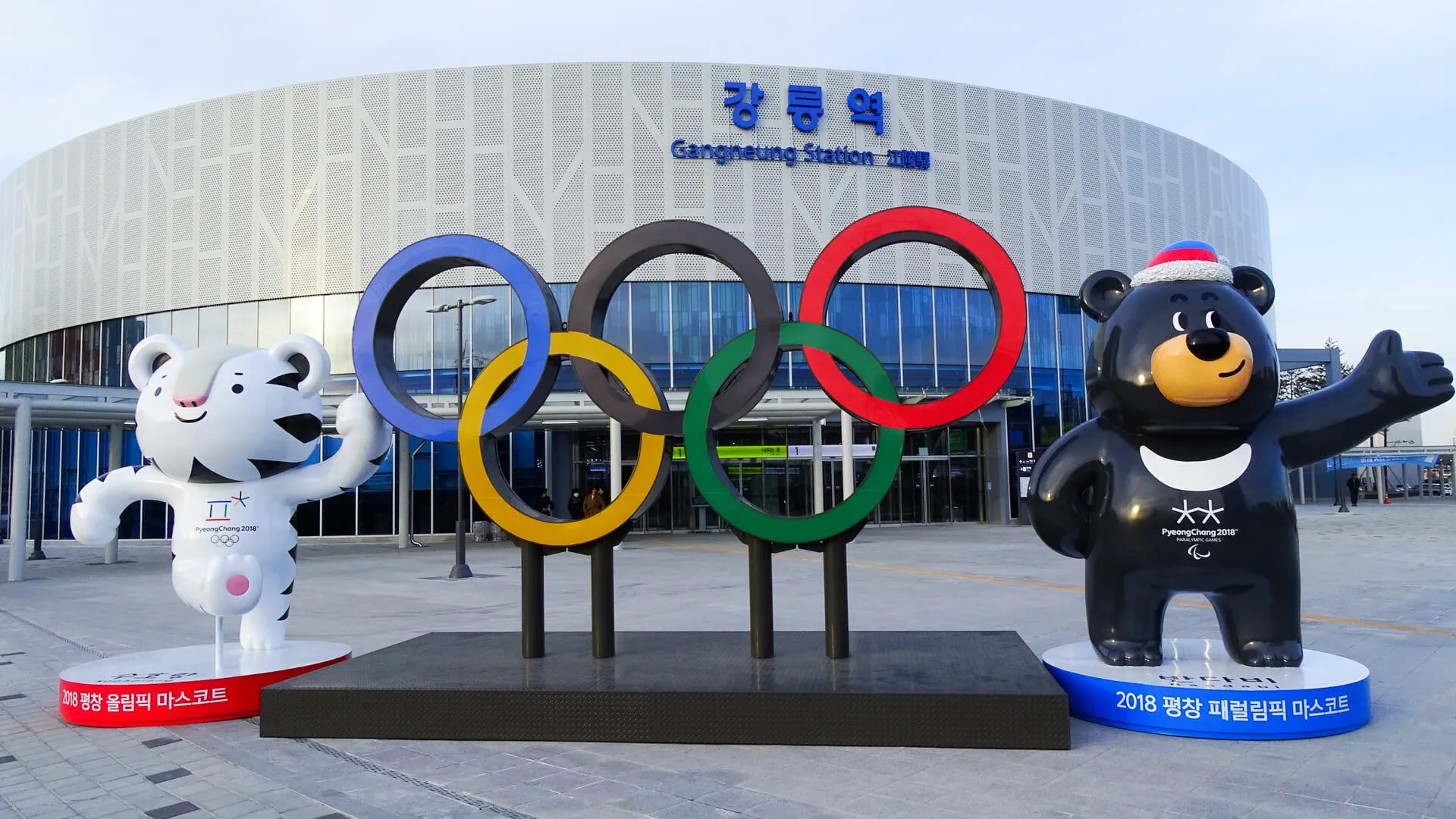 The stage is set, and the entire globe is waiting for the 2018 Winter Olympic Games to kick off in Pyeongchang, South Korea. On Feb. 9, 2018, the best athletes from over 90 different countries will make their claim for gold.
If you crave the adrenaline of Olympic-caliber action, you're in luck. GOBankingRates broke down how much it would cost you to attend this winter's Olympic games in Pyeongchang. If you want to get close to the action, read on to see how much the cost of this winter getaway would be to South Korea.
How Much It Costs to Attend the Winter Olympics 2018
The beauty of the Olympics is that it brings together people from every pocket of the world. But, different pockets of the world means you'll be paying for your trip with different types of currencies. Overall, the average cost to get to the 2018 Pyeongchang Games is roughly $3,000 USD but that might differ depending on which country you call home. This total includes:
Airfare
Lodging
Food
Event tickets
Transportation
Here's cost information based on several different geographic examples, but make sure you double check the cost to fly from your country. Each person's travel cost will vary, depending on where their flight is originating, how far in advance they booked their lodging and which events they choose to attend.
Make Your Money Work for You
Flight to Winter Olympics Location: $250 to $1,850
GOBankingRates compiled the average price data for flights originating from 25 different countries during the week of the 2018 Winter Games. Not surprisingly, some flights are more painful than others. But with the right strategy, you might be able to snag a cheaper flight than you thought.
Tokyo residents will have shell out an average of $248 to score a seat to the games. However, if you're coming from Lagos, Nigeria — trying to root on the first Nigerian bobsled team in history, perhaps — you better be prepared to shell out a hefty chunk of change — on average, tickets cost $1,850. In the U.S., prices hover around the $1,000 mark for most major cities on the East Coast. In Los Angeles, you could hop across the Pacific for $650.
Lodging in Pyeongchang: $1,302 to $1,862 Per Week
You made it to South Korea, but unlike the Olympians, there isn't an Olympic Village waiting for you. Many South Korean tourism websites are reporting majorly overbooked rooms or extremely inflated rates for the resorts closest to the games. However, many higher-rated hotels have popped up in the vicinity in order to accommodate locals.
One room at a 2.5-star hotel would cost about $186 per night, and a slightly upgraded three-star would cost nearly $80 more. Although those rates might seem affordable to some, Olympic travelers are should act fast before the rooms are all gone. Always a strong final option, Airbnb units are available for a range of price points. Do some research before booking, however, as online booking scams are likely to increase surrounding the Olympic games.
Make Your Money Work for You
Transportation in Pyeongchang: $50 to $200
Now that you've arrived, you still need to get around. Pyeongchang is actually a county with over 500 square miles. That means that from one event to the next could potentially be upwards of a half hour apart.
The organizers of the 2018 games came prepared though — creating an interactive webpage outlining the easiest modes of transportation from each sports venue to the next. Featured on the official Pyeongchang 2018 Winter Olympics website, the tool outlines the methods of transport and which stops are needed to get where.
Good news for those looking out for their wallets: Olympic ticket holders can ride the provided spectator shuttle buses free of charge on the same day of the event. Riders are also encouraged to download the official Pyeongchang 2018 mobile app, which outlines the travel schedules. For those looking to lodge a little further from the action, KORAIL is offering a foreigner-only commuter pass available for the games. For about $158, you can get unlimited rail rides throughout South Korea along the KTX railway from Feb. 1 to March 25, 2018.
Food: $6 to $18 Per Meal
There's a number of options for meals during the Olympic games, from grabbing a quick snack at one of the Olympic venues to venturing out into the greater Pyeongchang region for a more upscale dining experience. And fortunately for those traveling with a large appetite, several sources indicate food is one of the more affordable commodities during the South Korean Olympics.
Quick-serve meals clock in at around $6 per person and full-course meals from mid-range restaurants are around $18 per person, according to cost estimation site Numbeo. If your taste buds are trending to the more adventurous side, Bucket List Events recommends a number of well-known eateries in the Pyeongchang region including the decade-old Paldo Myeon Ga.
Make Your Money Work for You
Winter Olympics Ceremony Tickets: $205 to $1,400
Arguably the biggest spectacle of the Olympic games, the full experience wouldn't be complete without catching a glimpse of the torch passing to Pyeongchang. Unfortunately, that taste of Olympic glory will set your wallet back at least $205.
The opening ceremonies and closing ceremonies both take place at the PyeongChang Olympic Stadium. It's $205 just to get into the door for either, and if want a better view of the action, the tickets feature a tiered pricing scale. Tickets for the closing ceremony are significantly cheaper than that of the opening.
Winter Olympics Tickets: $141 to $1,739
Now, finally, let the games begin. The cheapest way to purchase tickets for the Pyeongchang games is to bundle them. With the wide scope of events and heats for any given race, certain time slots are double booked — making it impossible to be able to see every event in the Games. If you're an American, your ticket purchases will be funneled through a website called CoSport, since only a certain number of tickets are allotted for foreigners versus South Korean citizens.
On CoSport, you'll find the option to bundle your tickets or purchase each individually. For $141, you'll be able to see early rounds of women's ice hockey. And for $1,739, you'll get to see the men's ice hockey playoffs and medal ceremony.
Watching the Winter Olympics From Home
For many others, a trip to Pyeongchang simply isn't in the cards. If you still want to root on your country's athletes from home, there's no budget-friendlier way than opting to indulge in the Winter Olympic action from the comfort of your own couch. The Olympic games will yet again be televised by NBC, opting to air their coverage across all NBCUniversal networks. In addition, the events will be streamed live on the official NBC Olympics website and the NBC Sports app.
Up Next: The Richest Athletes Competing in the Winter Olympics 2018

Methodology: GOBankingRates compiled aggregate data for flight prices from Feb. 8 to Feb. 25, 2018, via Google Flights originating in 25 major cities globally with the destination of Pyeongchang, South Korea. All prices reflected here are estimates, and GOBankingRates cannot guarantee these price points due to the changing and individual nature of travel.

BEFORE YOU GO
See Today's Best
Banking Offers