How Fantasy Football Is Keeping You Broke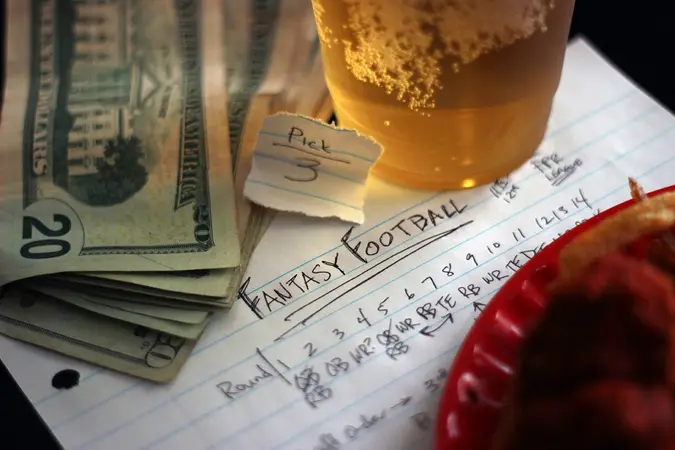 It's officially football season, which means it's also officially fantasy football season, too.
Two of the biggest daily fantasy sports powerhouses — DraftKings and FanDuel — are dealing with a major insider trading scandal that involves at least one DraftKings employee who allegedly cheated and won $350,000 on FanDuel. Although these accusations might lead to stricter regulations in daily fantasy sports down the line, FanDuel and DraftKings will likely still profit from this highly lucrative business.
Currently, both companies are both valued at more than $1 billion, reports Bloomberg. And Forbes reported last year that the Fantasy Sports Trade Association (FSTA) found that 33 million Americans play fantasy football each year. But similar to casino gambling, the real losers seem to be the vast majority of participants who pay to play a game stacked with odds that all but guarantee they will lose money in the end.
Daily Fantasy Sports: Big Money, But Not for the Masses
Instead of drafting a team once and then playing a long season that culminates in a championship — like with traditional fantasy sports — daily fantasy sports allow participants to play brief, auction-based games that offer frequent payouts and daily prizes. Almost all of those prizes, however, are gobbled up by a tiny percentage of "sharks" at the top of the daily fantasy food chain.
Daily fantasy sports was an industry in its infancy in 2012. But by the end of 2015, nearly 4 million Americans will participate in daily fantasy sports, reports Tech Insider. And, the industry is expected to grow to $31 billion in player entry fees by 2020, according to the New York Business Journal.
Make Your Money Work for You
Clearly, the daily fantasy sports industry is thriving, but what about the actual players — how much of the pie do they get for participating in this multibillion-dollar industry? In a survey of 1,400 daily fantasy sports players, Eilers Research found that 70 percent of fantasy sports players actually lose money, reports Tech Insider. And, just 10 to 20 percent of entrants win anything at all in the most popular tournaments, reports the New York Times
The daily fantasy sports industry also has its sharks and minnows. Skilled players ("sharks") have a huge advantage over amateurs ("minnows"). A portion of the top 1.3 percent of daily fantasy sports players paid an average of $9,100 in entry fees, according to research published in the Sports Business Journal. This elite group of fantasy "sharks" earned a 27 percent return on their contributions, pocketing $2,400 each. Meanwhile, the bottom 80 percent — the "minnows" — spent an average of $49 on entry fees and lost about half of what they contributed.
It's true — fantasy football has turned some lucky players into very rich men (the overwhelming majority who play are male). The Fantasy Football Championship — a top tournament hosted by sports betting site FanDuel — for example, gave away $7 million dollars in prizes in 2014, including $2 million to the first-place winner. But, is the cost to play daily fantasy sports, including fantasy football, worth the potential payout?
Related: How Much Money Will You Win by Betting on Your NFL Team?
How Much Players Spend on Fantasy Sports
According to the FSTA, the average fantasy sports player is better educated, and 47 percent of participants live in households that earn more than $75,000 a year. Sixty-six percent are men, and the average age is 37. Seventy-three percent declare their favorite fantasy sport is fantasy football. And, players these days are willing to pay more on fantasy sports than in previous years.
Make Your Money Work for You
Source: FSTA "Numbers at a Glance" & Sports Business Journal
On all fantasy sports media products, Americans spend an estimated $800 million each year, reports Forbes.
Debt and Fantasy Sports: Who's at Risk?
Although it's not legally classified as gambling in every state, fantasy sports players stand to win or lose money based on the predicted outcome of an event. In order for one person to win, another has to lose. Based on this reality, gambling addicts — or recovering gambling addicts — are at a heightened risk for crushing losses, especially when it comes to daily fantasy sports.
"On the continuum of gambling, fantasy sports is up there with investing," said Keith Whyte, executive director of the National Council on Problem Gambling. "But the closer you get to daily fantasy, the more it starts to resemble day trading and high-risk trading."
The risk of debt is just as high with daily fantasy sports as it is with any other category of problem gambling.
"The financial harm is significant," said Whyte. "People risk more than they can afford to lose, and then lose more than they can afford. They dip into money that was meant for bills. They are not able to stick with limits they set for time and money spent on fantasy. They borrow money from friends, they put it on credit, [and] they go into bankruptcy."
One of the big problems with fantasy sports, Whyte said, is that people think it's a game of skill and overestimate their abilities. "And if they have a bad run of luck, they believe they are only one big win away from getting it all back," he said. "They believe that the only way they really lose is if they stop gambling."
Dr. Kimberly Young, founder of The Center for Internet Addiction, is an author and psychologist who has been studying online addiction for more than two decades. She suggests that daily fantasy sports, like daily fantasy football, add a higher degree of danger for people prone to gambling problems because, unlike season-long traditional fantasy sports, daily fantasy sports work on a format of frequent bets and payouts.
"People can do this 24/7 instead of over a season," she said. "The addictive properties multiply when you get instant reinforcement and instant gratification."
As a university professor, she sees one demographic who is at particular risk — college students, who are already on shaky financial ground and might already be facing hefty debt from student loans. "It's definitely something I see with my own students," she said.
Read: 5 Best and Worst NFL Players When It Comes to Money
Fantasy Football Is Bad for Business
Fortune reported last year that fantasy football might be costing businesses a staggering $13.4 billion dollars every single season. An estimated 18.3 million people play fantasy football for two hours a week while on the clock at work, resulting in $895 million paid every week to workers who aren't working. That's $13.4 billion over a regular 15-week season.
According to Whyte, lower productivity at work and poor job performance are common symptoms of problem gambling — and fantasy sports is no exception. "They can become preoccupied and lose control," said Whyte. "All other activities start to narrow, and fantasy sports becomes the only pastime." Like most online gambling, "the vast majority of fantasy takes place during work hours."
And Dr. Young said that although many employers put limits on what sites employees can access on their work computers, problem gamblers can easily access fantasy sports sites through apps on their smartphones.
The barrage of advertisements on TV and sports websites might imply average football fans are winning big prizes from daily fantasy sports all the time  — but they're not. No matter how much you might know about football, if you're an amateur fantasy sports player, you're at a critical disadvantage the moment you pay your entry fee.