"Fifty Shades of Grey" Trailer Previews the $40 Million Film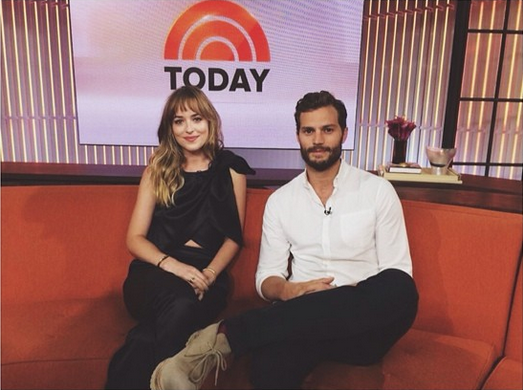 The trailer for "Fifty Shades of Grey" was released today, and includes some steamy scenes between the protagonists. The trailer, which was deemed "too hot for TV" according to TODAY, advertises the movie based on the wildly popular erotica trilogy by E. L. James.
The new trailer features scenes between the main character of the book, Anastasia Steele (played by Dakota Johnson), and her love interest, the handsome and wealthy business mogul Christian Grey (played by Jamie Dornan). "Fifty Shades of Grey" has a release date of Valentine's Day 2015, and already is expected to be a huge hit for its studio, Focus Features.
The franchise already made news this week when Beyoncé released a teaser of the trailer on Instragram over the weekend, featuring an exclusive new version of her popular song "Crazy in Love."
"Fifty Shades of Grey" Franchise by the Financial Numbers
The sexy "Fifty Shades" trilogy has been a huge success worldwide, going from a self-published book based on James' "Twilight" fan fiction to an international phenomenon that has sold millions of copies. From its humble beginnings, the franchise has become a huge moneymaker worth hundreds of millions of dollars.
Here's a rundown of the impressive finances of the "Fifty Shades of Grey" franchise.
$4.99: The current price listed on Amazon for the Kindle version of "Fifty Shades of Grey."
$95 million: E. L. James' earnings in 2013. James was the top-earning author that year according to Forbes, outperforming big names like James Patterson, "Hunger Games" author Suzanne Collins and "Harry Potter" billionaire J. K. Rowling.
100 million: The number of copies of the "Fifty Shades" series sold worldwide, as of February of this year, according to The New York Times.
$100,000: The amount per hour that fabulously wealthy character Christian Grey makes, or so he says in the books, according to Business Insider. Assuming a typical 40-week work schedule (2,080 hours a year), Christian Grey would bring home around $208 million a year.
$5 million: What Universal Pictures and Focus Features paid for the movie rights to "Fifty Shades of Grey," according to Yahoo Finance.
$40 million: The production budget for the "Fifty Shades of Grey" film, as reported by the Los Angeles Times.
Photo credit: dakotajohnsons Instagram account