These Are the Free Comics You Can Get on Free Comic Book Day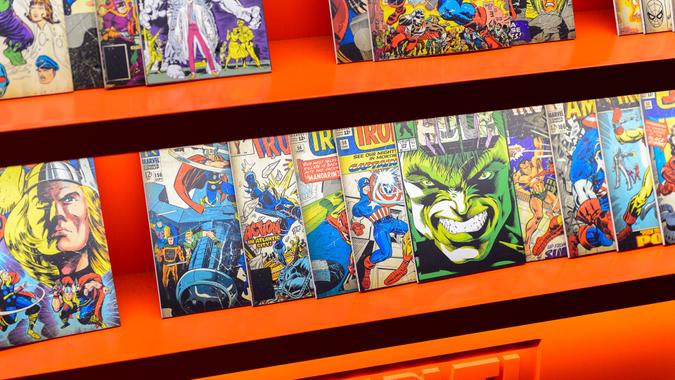 Anton_Ivanov / Shutterstock.com
The vintage comic books that fetch seven figures at auction — on Dec. 17 of last year, "Superman" #1 sold for $2.6 million — didn't start out as vintage. They started out as new-release comics that anyone could pick up for a pittance or maybe even for free — if they got lucky. On May 7, you can get lucky with a free copy of what could be tomorrow's million-dollar vintage treasure on Free Comic Book Day.
Find Out: 10 Things You Always (and Never) Should Buy at the Dollar Store
See: Surprising Things You Can Buy With Food Stamps
What Is Free Comic Book Day?
Twenty years after its founding in 2002, Free Comic Book Day (FCBD) has grown into one of the most hotly anticipated events in the industry. In 2022, FCBD is back to its traditional pre-pandemic scheduling of the first Saturday in May, when comic book specialty shops across the country give away comic books at no charge to anyone who walks through the door.
Make Your Money Work for You
Not all comic book shops participate, but thousands do. Each has its own rules and policies for how many copies you can get of which comics, but chances are good that on May 7, you can walk out of your local specialty shop with at least one free comic. Visit FreeComicBookDay.com for a store locator of participating shops.
POLL: Do You Think the Government Should Increase SNAP Benefits?
Pick From a Hand-Curated Selection
The Free Comic Book Day Retailer Selection Committee is a panel that represents every corner of the industry, including shop owners, publishers, artists, suppliers and distributors. The committee is responsible for choosing titles, which publishers then give to retailers at cost, who, in turn, give them away for free on FCBD.
This year, the committee chose 46 titles, 11 of which are highly coveted Gold Sponsor titles. The other 35 are all-new Silver Sponsor titles. 
Marvel has one Gold and two Silver titles. Although DC titles didn't make it through the panel, the publisher is advertising its own release of "Dark Crisis" #0 for adults, "Galaxy: The Prettiest Star" for teens and "DC League of Super-Pets" #1 for kids to coincide with Free Comic Book Day.
Make Your Money Work for You
Some of the most hotly anticipated Gold-tier titles include:
"Stranger Things/Resident Alien" from Dark Horse
"25 Years of Buffy the Vampire Slayer" from Boom! Studios
"Teenage Mutant Ninja Turtles FCBD Special" from IDW Publishing
Here are a few of the hottest Silver-tier comics:
"TRESE" from Ablaze
"Avatar: The Last Airbender/ Legend of Korra" from Dark Horse Comics
"Disney Masters Donald Duck & Co. Special" from Fantagraphics Books
Know the Rating System Before You Head Out
Whether you're scoping out comics for yourself or an aficionado among your family or friends, it's important to understand the color-coded banners that each chosen title receives and the age/maturity rating those banners represent.
Green is for everyone, including children, teens and adults
Blue is for teens — those titles are appropriate for young people ages 13 and up
Red is for mature audiences only and appears on comics meant for adults ages 18 and older
More From GOBankingRates
Make Your Money Work for You