How Much Does the Average Super Bowl Party Cost?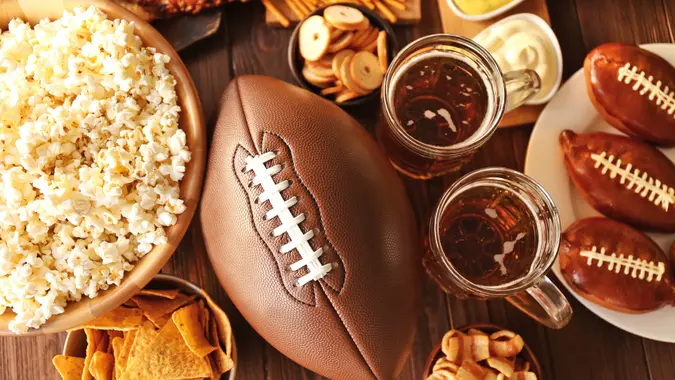 ©Shutterstock.com
Super Bowl LVII, which will pit the Kansas City Chiefs against the Philadelphia Eagles on Feb. 12, is right around the corner, and if you're one of the 103.5 million people planning to throw a party, it might cost you more this year. But while food-at-home prices are up 11.8% so far this year, you can still score big on some party food items, which are surprisingly less expensive than last year.
Costco's Best Deals? Employee Reveals 10 Standout Buys for Your Money
See: 3 Ways Smart People Save Money When Filing Their Taxes
This year, total spending on food, drinks, apparel, decorations and other purchases for the day is expected to reach $16.5 billion, or $85.36 per person, according to the National Retail Federation (NRF). That's up from $14.6 billion and $78.82 per person in 2022.
Some party throwers are planning to spend a little bit more money than last year for a specific reason. Katie Dolan, Eagles superfan and a communications consultant at CMAND, said "it is solely because I have a horse in this year's race."
All in all, she plans on spending $390 (paid by two people) for a party with about 15 attendees.
"We definitely would be spending more money if our friends weren't also contributing food and drinks, but that's part of the fun of sporting events – it's a community activity. Everyone pitches in. Certainly, we're probably spending more money than folks in a lot of parts of the country, but we're dealing with NYC prices (on top of my fan fervor)," she said.
Take a closer look at some of the expected costs and where you can save.
Chicken Wings and Guacamole Cost Less in 2023
In terms of what party food will cost less this year, chicken wings are the winners.
The Jan. 6 price had whole chicken wings at $2.65 per pound, down from a staggering $3.38 per pound for the week of the Super Bowl in 2022, according to a Wells Fargo report.
"It might be old-school, but the wing formation should make an appearance in this game. Fans will eat it up, whether at home or in their favorite pub or restaurant," Michael Swanson, Ph.D., Wells Fargo chief agricultural economist, said in the report.
Another party food winner will be guacamole, as avocados have a 20% price decline from last year.
For Eagles fan Dolan, the food budget is $250 — or where most of the money will go.
"Most of the people coming to the party are bringing some of their own signature foods whether that's dips, cheese boards, pigs in a blanket, or meatballs, but with about 15 people coming over, we're also purchasing pizzas, wings, and then making some dips of our own," she said.
Beer Is Expensive, So Make It BYOB
Now, in a bit of bad news for beer lovers, the Super Bowl party staple has increased 11% since last year, while in comparison, wine and spirits are up only 3% and 2%, respectively, according to Wells Fargo.
One way to go about it is to throw a BYOB party, like Dolan who plans to spend $80 on drinks in total. Or as Wells Fargo recommends in order to save some money, "make a batch of cocktails and/or sangria and use an array of fruits on the side for garnishes."
Other party food items that have increased include mozzarella sticks, which are up an eye-popping 27%, crackers are up 17%, tortilla chips are up 5% and soda is up 2%, according to Pattern.
But it's not only party food items that saw their prices jump, paper products such as paper plates are up 15%, while plastic cups are up 12%.
Take Our Poll: What Are Your Financial Priorities in 2023?
Decorations? What Decorations?
Finally, while food and drinks are where Americans spend the most of their money for Super Bowl parties, with 79% of the total amount spent, they also budget for decorations, according to the NRF.
Team apparel takes 12% of the total budget, while decorations represent 7%.
Dolan said she plans to spend $0 on decorations, as "the best part of being an Eagles fan is that I already have all of the gear I need." Her Raiders-fan boyfriend, however, decided to purchase Eagles gear ahead of this game, spending $40 on an Eagles hat and a shirt off of Amazon, "not official NFL gear – which definitely makes a difference pricewise," she said.
"Other than sporting team colors ourselves, we weren't planning to decorate much, as most of our friends are just in it for the commercials and food," she added.
More From GOBankingRates