How Much is FuboTV and Is It Worth It?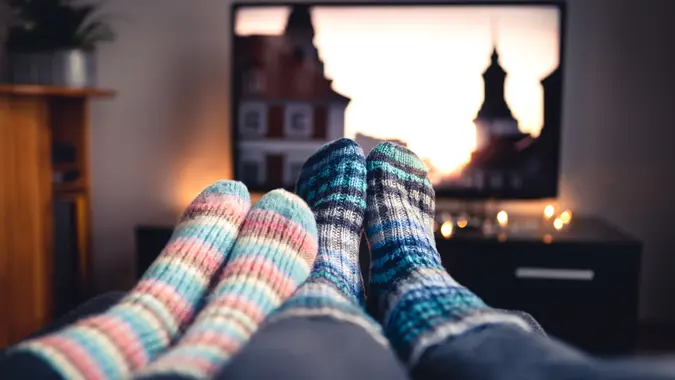 Tero Vesalainen / Getty Images/iStockphoto
Numerous streaming platforms available today are giant entertainment companies that offer the best alternative to expensive cable TV packages. Sling, Hulu and YouTube TV are some of the popular services that offer access to your favorite shows as per different pricing plans. 
FuboTV is another streaming service that has grown popular since its debut in 2015. The plans price range from $69.99 a month to $79.99 a month. Here's a quick breakdown of FuboTV's cost for each subscription plan and whether it's worth it.
How Much Is FuboTV a Month?
FuboTV offers four main subscription plans plus add-ons. Find out a plan that best meets your needs and budget.
Pro Plan: $69.99/Month
FuboTV's Pro plan features more than 20 Disney-owned channels, including ABC, ESPN and FX. You can enjoy 120 channels and over 100 sporting events. You also access Cloud DVR storage of up to 1,000 hours. You can also stream on up to 10 devices at once.
Make Your Money Work for You
Elite Plan: $79.99/Month
FuboTV 's Elite plan comes with 175 channels. It combines the FuboTV Starter plan channels with 44 additional sports and entertainment channels such as MLB Network, NBA TV and ESPNU, as well as 11 news channels.
With this plan, you'll also get up to 1,000 hours of Cloud DVR space and stream on up to 10 devices at once.
Latino Quarterly Plan: $32.99/Month
FuboTV's Latino Quarterly plan is for a Spanish audience. It comes with over 30 channels, including ESPN Deportes HD, BeIN Sports and Fox Deportes. 
What separates this plan from the other subscription plans is that it's prepaid every three months — every quarter of a year — for $99. This plan gives you 250 hours of Cloud DVR storage in addition to allowing you to stream on three screens simultaneously.
FuboTV Premium Add-ons
Apart from the primary FuboTV plans, there are several add-ons you may want to consider based on your preferences.
Showtime: $10.99/Month
Showtime is the premium channel you get from cable entertainment companies and cord-cutting services, and FuboTV offers the same service. When you subscribe to Showtime, you get nine channels, including Showtime Extreme, Showtime Showcase and Showtime Family.
Make Your Money Work for You
Starz: $8.99/Month
The Starz subscription gives you access to all STARZ live channels, shows and movies.
Epix: $5.99/Month
The Epix plan resonates well with movie fans looking for more content. The plan gives you a high-quality section from classic and recent classic films.
AMC Premiere: $4.99/Month
If you enjoy AMC's programs, you might want to consider AMC Premiere. Here you get access to TV episodes of top AMC series as well as ad-free streaming of your favorite shows.
Premium Channel Bundle: $20/Month
This FuboTV plan offers premium channels, including Starz, Showtime and Epix.
FuboTV Additional Packages
Here are more channel add-ons offered by FuboTV.
Sports Plus With NFL RedZone: $10.99/Month
If you're passionate about sports, this is might be the channel you need. It features impressive athletic coverage and allows you to watch shows such as Sports Plus, NBATV, NFL RedZone, NCAA games. the SEC Network, and ESPN U. some of the featured channels are featured in the FuboTV plan. 
Make Your Money Work for You
Fubo Extra: $7.99/Month
If you're looking for the most substantial of FuboTV's add-on packages, go for Fubo Extra. The plan comprises over 40 channels from different genres. Here you will find everything from shows, and movies to news, sports, music and kids' entertainment. You should note that this package is already part of the FuboTV elite plan. 
International Sports Plus: $6.99/Month
FuboTV's International Sports Plus package is your option if you're a soccer freak. The subscription gives you access to Fox Soccer Plus, and you can enjoy them in English and Spanish-language versions.
Adventure Plus: $4.99/Month
This plan is for anyone who loves the outdoor life. The plan features the Sportsman Channel, the Outdoor Channel, MAVTV Outside TV, InsightTV and World Fishing Network.
Latino Plus: $19.99/Month
This plan allows you to enjoy Fubo's Spanish-language channels offered in one package, which includes more than 16 sports and entertainment channels. 
TV5Monde: $9.99/Month
This French-language television station features rugby, Ligue 1 Conforama soccer and related French news. The content is aired with English subtitles. When you subscribe to the channel, you access French movies from TV5Monde Cinema On Demand.
Rai Italia: $9/Month
Whether you are an Italian expat or are interested in Italian culture, Rai Italia has your interests covered. The plan includes content around news, drama, Italian sports and documentaries.
Portuguese Plus: $14.99/Month
If you speak Portuguese, this plan offers a selection of channels for you and Brazilian viewers.
Here's a step-by-step guide on how to subscribe to FuboTV.
Follow These Steps:

Go to the official FuboTV website.
Tap on the "Start Free Trial" button.
Provide your email and set a unique password. You can also use the single-sign-on provision.
Choose your preferred package to begin the free trial.
Pick your add-ons and extra entertainment packages.
Tap the "Continue to Last Step" icon.
Provide your payment details.
Does FuboTV Include Cloud DVR?
FuboTV comes with a cloud DVR functionality as part of the Pro and Elite plans.
A cloud-based DVR lets you record live shows and consume them offline later. Therefore, you can record your favorite movies, TV shows, or sporting events and watch them at your convenient time. The Pro package has 1,000 hours of cloud DVR storage, and if you need more, you can increase this capacity with add-ons and other upgrades. Before you commit to add-ons, you might want to whether Pro or Elite suits your needs best. Both packages come with 1000 hours of cloud DVR storage capacity. This gives you access to more channels at a lower price than the increase in DVR upgrade.
Takeaway

FuboTV, as a streaming service, has numerous plans that target various sections of the population. That means you can choose a package depending on your budget, language and location. Take your time to go through the different plans available and settle on one that best meets your needs.
Make Your Money Work for You