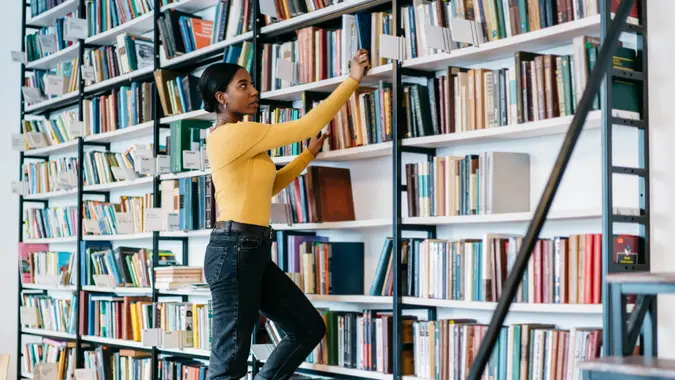 GaudiLab / Getty Images/iStockphoto
You're trying to get back into reading, but when you head to the bookstore, you're hit with a bit of sticker shock. The average cost of a novel is between $13.95 and $17.95. Even more for a hardcover. If you pick up a few books in one shopping trip, you could easily spend $100 — and you don't even know if you'll like them! 
The good news is there are plenty of ways to get free books, so you can save your cash. Here are some of the best ways to score your next read, free of charge.
Hit Up the Library 
There are more than 17,000 public libraries in the United States. Whether it be the physical book or a digital copy, surely one of the country's many libraries has a book you'd love reading. All you have to do is get a library card. As long as you return the book on time, there's no cash required.
"The beauty of our digital age is that it has democratized access to knowledge, including books. Public libraries are a great way to start with free access to physical and digital books," says Chad Willardson, founder and certified financial fiduciary at Pacific Capital. 
If you're looking for a specific book, chances are if your closest branch doesn't have it, another one does. "Even if they don't have the book you're looking for, they can likely get it for you from another branch," says Derek Sall, founder and lead at Life And My Finances. 
Check Out Library Apps
If you don't want to go to the library, you don't have to, thanks to apps that make it easy to browse books, audiobooks, e-books and more. "Many libraries have apps now where you can check out free e-books and audiobooks. My local branch has Hoopla. Others I have heard of are Libby and Open Library," Sall says. 
Make Your Money Work for You
For Hoopla, you'll need to have a library card and an email address to register. Libby is an app, which you'll also need a library card to access. With Open Library, you don't have to have a library card to access their books. You can just create a free account on the website and "borrow" books for free. 
Keep an Eye Out for Free E-books
Just because you can't hold it in your hand doesn't mean it's not a book. Sites like BookBub let you search for a title and show you where you can get the e-book version of it for free. You can also look for free e-books on Amazon, Apple Books, Google and Kobo. 
Join Trading Sites 
Sall says there's an opportunity to trade books with other readers online, using sites like BookMooch and PaperBackSwap. BookMooch lets you list books you don't want anymore, then when you mail them to people who want them, you receive points. You can ask others for books with your points. PaperBackSwap works similarly, except you don't need points to request books. 
Give Reviews
Your opinion is extremely valuable, and might even be worth an entire book! Sites like NetGalley distribute advance copies to reviewers in exchange for a book review. 
Although anyone can request these advance reader copies, or ARCs, you're less likely to receive one if you don't already have a platform for book reviews. Starting an Instagram, Twitter or TikTok account and regularly posting book reviews makes you a better candidate to receive ARCs. The higher following you have, the more likely a publisher will be to send you ARCs.
Make Your Money Work for You
Keep in mind that hard copies of ARCs are limited, so if you're fine with e-books you'll have a better chance at scoring those. Another factor on sites like NetGalley is your feedback ratio — that's the percentage of books you give feedback on. If you receive a bunch of books and only review a few, for example, you will have a very poor feedback ratio and publishers won't trust you to review their books. One way to help boost your ratio is to only request books you know you'll read.
Look For Little Free Libraries 
Next time you're looking for something to read, take a walk in your neighborhood. You'll likely find many Little Free Libraries.
"You can borrow books or perhaps exchange one of your books for one in the case," Sall says. You can check out the Little Free Library website to find locations. If there aren't any nearby, don't worry. There are probably plenty of people in your area that would be willing to exchange books with you. "You could also swap in your community by joining book swaps and book clubs," Willardson adds. 
Stop at Garage Sales
Your neighbor's sales might have your next favorite book, and you might not have to pay for it. "Head around to your local garage sales late in the day. People really don't want to lug a bunch of stuff back into their houses — especially heavy books. First, ask if they'd be willing to let some of them go for free. At worst, you'll have to pay a few cents for them," Sall says. 
More From GOBankingRates