How I Host an Amazing Potluck for Under $100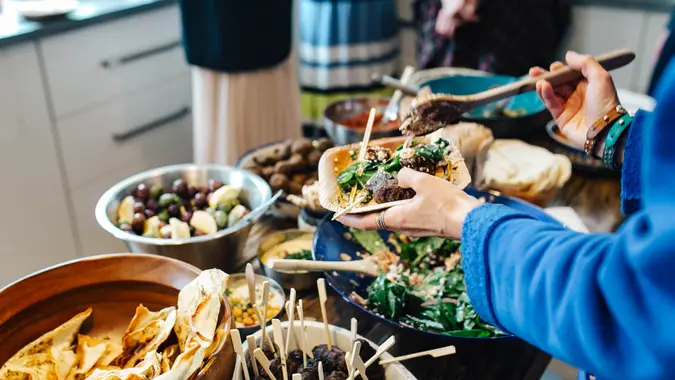 Karolina Grabowska STAFFAGE / kaboompics.com
Do you love entertaining but don't have the budget to pay for everything yourself? If so, I have the perfect solution for you.
I host a lot of potlucks at my house as a way to get people together without spending a ton of money. They are really popular and easy for everyone because the only thing guests need to do is bring one item. In exchange, they get to feed their entire family and have fun.
Click to read more about potluck-style and other ways to save money on family get-togethers.
Consider a Theme
We like to host potlucks with themes, so it's easy for everyone to think of something to bring. Some of our family's favorite themes from years past include: Fiesta, Breakfast for Dinner and Patriotic: Red, White and Blue.
You can tie the potluck dates to special occasions or holidays, or hold them "just because." The Breakfast for Dinner idea works practically any time of year, while a patriotism-themed potluck is perfect for Memorial Day, 4th of July and Labor Day.
More on Holiday Feasts: A Budgeter's Guide to Hosting a Holiday Dinner
What You Need
In order to host a potluck, you only need to provide a few things yourself:
The location — your place, either indoors or outside
The main dish — either a casserole recipe or meat
Drinks
Plates, cutlery and napkins — disposable or not
The Cost Breakdown
In my experience, the cost of providing these things has always been less than $100. It can even be less if you're good at grabbing supplies when they're on sale and saving them for later.
Make Your Money Work for You
Based on the potluck I hosted most recently, paying full price for a 20-person guest list, here is the cost breakdown.
20 disposable dinner plates and 20 dessert plates, plastic cutlery and napkins. Cost: $14
For drinks, you can fill pitchers with ice water free of cost. Tea is also a great, cheap option that stretches far, as it is water-based. Since it's a potluck, everyone expects to contribute their fair share, so this is also a good opportunity to make it BYOB (bring your own beer or alcoholic drink of choice). Cost: less than $5 for the tea
The cost of the main dish will depend on the number of ingredients and type of protein you choose. You can budget less for chicken and more for steak, for instance. Cost: $30-$70
As for the location, since you'll host at home, the cost is free.
Related: Cheap Foods to Throw on the Grill This Summer
Cook and Serve
We always opt to provide the main dish because it's easy for us to cook it in our house. I would rather do that than ask someone to make it elsewhere and transport it. Remember to make enough to serve a single portion to everyone with a little to spare. That said, every other attendee will bring a dish, so you don't have to fill everyone up using your dish alone. One serving of your dish per person is plenty.
For us, this has meant a large batch of taco meat, plus toppings and 30 tortillas for the fiesta-themed event, four large quiches for the breakfast theme and 20 hamburgers, 20 buns and condiments for a 4th of July cookout. You can make a bit extra just in case, but don't feel the need to overdo it.
Make Your Money Work for You
Tip: Depending on the number of people coming, you can cut down on your out-of-pocket cost even more by asking one person to bring condiments or toppings, and another person to supply cutlery and napkins. In my experience, guests with busy schedules actually love this option because it allows them to participate without having to make something ahead of time.
Thinking outside of the box and creating a fun, low-cost experience for everyone will allow you to make more memories with friends and family without breaking the bank. Who doesn't love that?
Read More: How I Made a Last-Minute Seafood Dinner for 10 — for Less Than $100
More From Our Smart Money Squad: