Inflation at Disney: How Much More The Happiest Place on Earth Now Costs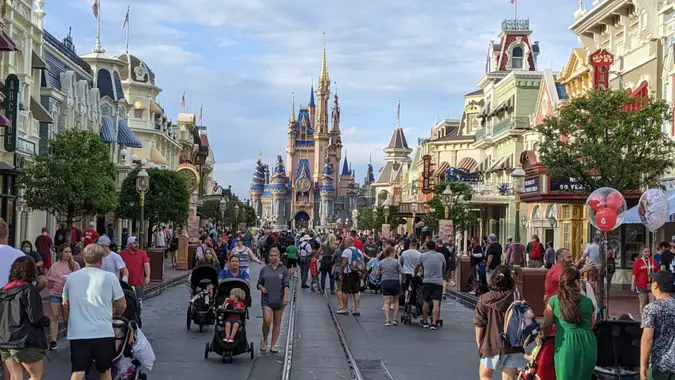 Tim Brown / Getty Images
Money can't buy happiness, and yet the Happiest Place on Earth just keeps getting more expensive to visit. Disney World announced its ticket prices would increase as of Dec. 8 — some by north of 12%.
The current price for a one-day, one-park ticket is between $109 and $159, depending on demand, but come Dec. 8 that range will now also factor in the park you visit. Three out of the four theme parks will be pricier to go to, with Magic Kingdom and Disney's Hollywood Studios both seeing more than a 12% increase in ticket prices.
In October, Disneyland increased the price of its top one-day, one-park ticket (Tier 5) to $169, up from $159.  Tier 6 tickets went up from $164 to $179. Consumers buying Park Hopper passes now pay as much as $244 per ticket.
Ticket prices aren't the only goods going drastically up at Disneyland and Disney World. Let's have a look at which other items inflation is hitting hard at the most magical (and increasingly expensive) place on Earth. 
Parking 
When Disneyland hiked prices of admission in October, it also increased daily parking rates by 20%.
Dole Whip at the Tropical Hideaway  
"Even smaller items people consider part of the quintessential Disney experience have seen a price increase," said Leona Bowman, who runs the travel blog Wandermust Family. "For instance, having some pineapple Dole Whip at the Tropical Hideaway is a must for many, but even this snack has had a huge price increase of 50 cents to $6.49."
Make Your Money Work for You
Bengal Barbecue
"One example of some menu items increasing their prices includes the popular BBQ spot in Adventureland called Bengal Barbecue," said Michael Belmont, owner of The Park Prodigy, an online travel agency dedicated specifically to the Disney and Universal theme parks. "Much of their menu features skewers, one of the most popular being the Bayan Beef Skewer, which costs $5.49 in 2020 and now is up to $6.99 in 2022."
Spirit Jerseys
The Disney-focused blog MiceChat noted that at Disneyland Resort spirit jerseys for adults are now $79.99, up from $69.99. These comfy pieces of merch are now also more expensive for kids, priced at $54.99 instead of $49.99. And just when you thought it couldn't get any crazier, spirit jerseys for pets are also more expensive, going for $39.99, up from $36.99.
Loungefly Mini Backpacks
These cute little backpacks sold at Disney parks used to cost $75, MiceChat observed, but now cost $85.
Big Feet Plushes
The Big Feet plush line offers a fluffy spin on Disney, Pixar, Star Wars and Marvel characters. They used to cost $26.99. Now they go for $29.99 a pop, according to MiceChat.
Classic Princess Dolls
True love won't win you a Classic Princess Doll at Disneyland. These beauties used to go for $24.99 each. Now, MiceChat noted, they are priced at $26.99. 
Ball Caps 
A simple hat shouldn't cost too much, right? Not so if you're at a Disney park, where caps go for $29.99, up from $27.99, according to MiceChat. 
Folding Fans 
Waiting in line for hours in the summertime gets hot, which is why Disney makes a fortune selling folding fans. Alas, as MiceChat found, one of these long-line essentials will set you back $12.99, up from $9.99. 
Make Your Money Work for You
nuiMOs Plushes
These Disney fan favorites are oh so adorable. And oh so expensive. MiceChat found that they now cost $21.99. They were originally priced at $17.99.
Higher Prices, Longer Lines 
"With the advent of Genie+ at Disneyland — and its predecessor MaxPass — those who are already paying higher admission prices simply to get into the park are finding themselves waiting in longer lines if they choose not to pay even more to add on Genie+ or individual Lightning Lane access," said Jaimie Michaels, editor of Magic Guides. "And with prices for those services also being fluid based on demand, it's extremely easy to spend an additional $30 to $40 per person just to easily access the most popular attractions. It wasn't that long ago that these services were offered completely free."
More From GOBankingRates