Super Bowl 2023: 8 Items You Can Find at a Discount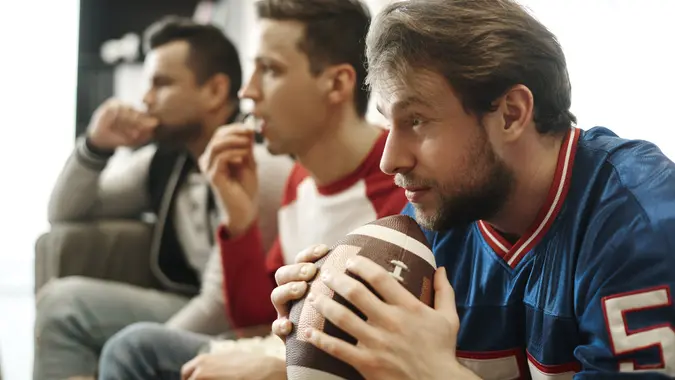 gpointstudio / iStock.com
The Super Bowl is one of the most anticipated sporting events of the year. In 2022, for example, nearly 100 million people tuned in to watch the Los Angeles Rams prevail over the Cincinnati Bengals. While viewership is down a bit for the Super Bowl compared to the 2010s, it remains a wildly popular event.
Costco's Best Deals? Employee Reveals 10 Standout Buys for Your Money
See: 3 Ways Smart People Save Money When Filing Their Taxes
Considering how many people watch the Super Bowl in the U.S., companies inevitably want to use the event to promote their businesses. That means there are various deals to help make your viewing experience cheaper. From TVs to party supplies, here are items you can find at a discount for the Super Bowl.
TV Deals
Are you looking forward to watching the Super Bowl but are sorely lacking in the TV department? Never fear because there are a ton of TV deals going on now. Whether you don't have a TV or simply want to upgrade, these TVs might be exactly what you need right now.
Samsung Neo QLED QN90B HDR Smart QLED TV — $300-$2,300 Off
BH Photo Video currently has steep discounts on Samsung Neo QLED smart TVs. There are six screen sizes to choose from, each with instant savings. The 43″ model is $897.99 ($300 off), the 55″ model is $1,297.99 ($600 off), and the 85″ model is $2,697.99 ($2,300 off).
Make Your Money Work for You
TCL – 65″ Class 6-Series Mini-LED QLED 4K UHD Smart Google TV — $300 Off
If you're locked into the Google ecosystem, this TCL 65″ class 6-series mini-LED smart Google TV might be for you. It's currently on clearance for $699.99 ($600 off) from Best Buy, and the website notes that customers rate it highly for picture, price, as well as Google features. It also includes three months free for Apple TV+ and FuboTV free for 30 days.
Amazon – 50″ Class 4-Series 4K UHD Smart Fire TV — $150 Off
If your budget is tight, but you still want a decent TV to watch the game, take a look at this Amazon 50″ Class Smart Fire TV. It's currently $319.99 ($150 off) from Best Buy, and customers like its picture and price. They also say it has an easy setup. This TV comes with the same free subscriptions as the TCL TV and adds four months free of Amazon Music.
Live Richer Podcast: You Might Be Losing Your Credit Card Reward Points: Here's What You Should Do
Food Deals
Whether you're hosting a huge party or flying solo, no Super Bowl party is complete without a big meal and maybe some snacks. Thankfully, there's no shortage of food deals to help you tackle your hunger — pun intended.
Buffalo Wild Wings: The restaurant chain known for its wings is giving fans the opportunity to score some free food. You won't be able to get free wings on Super Bowl Sunday, though. Instead, Buffalo Wild Wings will give fans six free boneless or traditional wings if the game goes into overtime. Offer is valid on Feb. 28 from 4 p.m. to 7 p.m. local time.
Chipotle: Nothing makes Chipotle's chips better than some queso sauce. Perhaps that's why Chipotle is giving customers a free side of queso with an entrée and code QUESO23 at digital checkout. Offer valid Feb. 6-12 on the Chipotle website or mobile app.
DoorDash: DoorDash currently has several coupons that are valid through the end of February. For instance, you can get 50% off any order plus free delivery. There is also a coupon for $10 off your entire order, plus free delivery. Another coupon gives you 35% off your next three orders and, of course, free delivery.
Make Your Money Work for You
Party Supplies
Pint glasses: Serving up some cold ones this year? This set of four pint glasses is normally $32.95 but is currently 46% off. After the discount, the price is just $17.95.
Pizza serving board: This quirky pizza serving tray currently has a huge discount. As noted on the website, the normal price is $139, but you can grab it now for $64.99. The tray lets you load up an entire pizza and then divide it up into individual slices.
More From GOBankingRates
Prices and availability are accurate as of Feb. 7, 2023, and are subject to change.
Make Your Money Work for You