8 Free or Low-Cost Hobbies To Take Up During January, National Hobby Month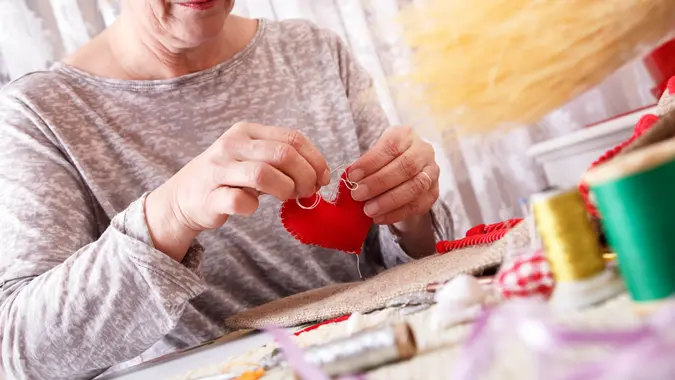 PointImages / Shutterstock.com
The weather outside is frightful, and there's also a pandemic, so laying low this winter is the right idea. The only problem is that hanging around at home can get pretty boring pretty fast. Moreover, it's all too easy to give in to the great temptation to just sit around on the sofa and succumb to binge-watching or mindlessly scrolling through social media. Part of what makes being idle so seductive isn't just that we're all burnt out from nonstop pandemic life, but it doesn't cost anything either. So, picking up a new hobby sounds like something that can easily rack up expenses. 
But some of the most interesting and engaging hobbies cost very little or possibly nothing at all. GOBankingRates consulted a number of experts and devoted hobbyists to learn their favorite pastimes, and what's involved (both price-wise and skills-wise) to get involved.
Knitting 
"Knitting is perfect for cold winter days because you can do it on your couch while you're covered up with a blanket and sipping tea or coffee," said Sam Zelinka, who runs Government Worker Fi, a personal finance website for federal employees. "I recently started knitting in December 2021 and taught myself how to knit by watching YouTube videos (I'm a big fan of RJ Knits on YouTube). While the price and amount of yarn varies depending on your desired project, you can easily get started for $10-$20. The best part — you can give your knitted creations to friends as thoughtful gifts (which saves you money in the future)."
Make Your Money Work for You
Geocaching 
"A fantastic free hobby to take up this year is geocaching," said Tana Williams, a personal finance blogger at Debt Free Forties. "It's a great way to spend time with your family, it's free, and it helps build your problem-solving skills. Plus, it gets you out of the house, gets some exercise in, and has little to no contact with others."
Williams explained that geocaching is similar to a treasure hunt. To partake, download the Geocache app to your phone and sign up for an account. 
"Once set up, you'll use your GPS to find hidden caches," Williams said. "Each cache is rated by difficulty, type of terrain, and size. Some include riddles to solve, though many do not. You'll find the cache, sign the log, and mark it as complete using the coordinates. Then it's on to the next one in this highly addictive game. You'll find yourself checking the app anywhere you visit, just to see what caches are nearby. It's a great way to spend a day without spending any money." 
Backyard Birdwatching 
"Backyard birdwatching is one of the least expensive hobbies you can take up in January," said Tammy Poppie, a backyard birding expert with On The Feeder. "In fact, wild birds are most active at backyard bird feeders during the winter when natural food is not available (e.g.  insects). You can get started with no money at all by offering birds a common pantry item: peanut butter."
Poppie recommends swiping a tablespoon of peanut butter on the side of a tree that is viewable from inside your house. After doing this, you should soon see nuthatches, chickadees and woodpeckers. For a fairly reasonable upfront cost, you can up your game by getting a feeder. 
Make Your Money Work for You
"For only $30 you can purchase a platform bird feeder ($20), a 5-lb. bag of black-oil sunflower seed ($10), and hang the feeder with a cup of seed from a tree," Poppie said. "You'll attract a wide range of species with this one food. Imagine the excitement of attracting a bright red cardinal against the backdrop of stark white snow." 
Indoor Vegetable Gardening 
"Indoor vegetable gardening is a great way to quickly grow fresh vegetables and herbs for your dishes with almost no effort," said Bryan McKenzie, a landscape designer, gardening expert and co-founder of the  BumperCrop Times. "All you need to do is purchase a hydroponic indoor vegetable growing kit, plant the seeds, and check out the water level every day." 
McKenzie estimates that an investment of around $60-$100 will provide you with fast-growing produce, adding that in the long run, a monthly supply of tomatoes, peppers, lettuce and herbs will cost you up to 50% less than produce from the grocery store.
Ice Skating
"If you want to do some exercise, you can pick up ice skating," said Sandy Yong, aka, The Money Master. "There are outdoor rinks where you can socially distance. For indoor rinks, you'll have to check with your local arena to see if they are currently operating and if they have certain capacity limits. You can buy a decent pair of skates for between $50 to $100. However, you may want to check out a second hand store or a sporting goods store that sells them at a discount. It's a one-time upfront cost but the skates should last you many years. Access to public ice rinks should be free as well." 
If you're not up for buying a pair of skates, keep in mind that you can rent them at most rinks. 
"A rental should cost between $5 to $10," Yong said. "This is an even more cost effective option if you don't want to commit to buying a pair of skates that you may not use that often."
Origami
"Origami can be a really soothing hobby, so if you're often feeling restless or anxious (especially now) then this might be the hobby for you," said Julie Ramhold, consumer analyst with DealNews. "The good news is that once you've learned, you can buy packs of patterned paper in 18 or 24 sheets for around $7 at craft stores. Try to find a kit for learning initially — Joann had one for around $16 that included a book of instructions as well as a variety of 68 sheets to get you started."
You can also look up origami learning guides online. 
"There are definitely YouTube tutorials to help you get started. You'll just need to take note of what type of paper you need, shop for that, and then follow along," Ramhold said. "The great thing about this hobby is that not only is it soothing to engage in the ritual of folding, but it's also a way to make neat little things to gift friends and family members, or decorate your home with."
Crocheting
"There are a ton of YouTube tutorials to help you get started, as well as plenty of free patterns on sites like Lovecrafts, Yarnspirations and personal blogs," Ramhold said. "If you aren't sure where to start looking for patterns, Pinterest is a good way to browse for a project that you like as well. As far as supplies, you'll need to purchase a crochet hook. If you aren't sure that you'll like it, I recommend going with one hook first rather than a whole set, and single hooks can be purchased for as little as $1.99 at stores like Michaels and Joann. Choose a hook that can be used for multiple projects so you don't get bored making the same thing over and over again — usually a 5mm or 6mm (these may also be called H-8 or J-10 hooks).
"You can also find 3 packs of common hook sizes for around $6 or so, if you want a little more variety but still aren't sure you want to go all in yet," Ramhold continued. "After that, you'll need yarn, and choosing that can seem overwhelming, but it's really not. Be sure to read the label of the yarn to see what size hook you should use, but remember it's a guideline, not a strict rule of thumb. Generally, the finer the yarn, the smaller the hook and the bulkier the yarn, the larger the hook. Michaels and Joann stores will often have yarn skeins for around $1.50 to $3 each."
 Scrapbooking 
"Scrapbooking is my go-to low-cost hobby for times when I'm forced to be inside more," said Dr. Nancy Belcher, CEO and co-founder of Winona, a female-founded anti-aging wellness center. "Throughout the year, I collect photos, concert tickets and other mementos that I can collage together during the winter months. I cut graphics, words and letters out of recycled magazines to help dress up my pages, so I'm not spending a ton of money at Hobby Lobby. When I look back on all of my scrapbooks from years' past, I'm always thankful that I took the time to create them."
More From GOBankingRates