1 in 3 Pokemon Go Players Would Turn Down $100 for This Poke-Perk
What would you turn down?
We get it, the Pokemon Go app is a big deal. So big in fact, the app has beat out Twitter in daily users and beefed up Nintendo's stock by a whopping 56 percent since the app's release last week.
To see if Pokemon pros are willing to put their money where their mouth is, GOBankingRates asked a series of "would you rather" questions, forcing players to pick: money or Mewtwo? Here's what we found.
Related: The 20 Highest-Grossing Video Game Franchises, From Pokemon to The Sims
Pokemon Go Users Would Give Up Vacation Days to Play
Our survey found that 43 percent of users would rather get the day off today to play Pokemon Go than get two days of vacation next year. What's that notion again about millennials being better with their money?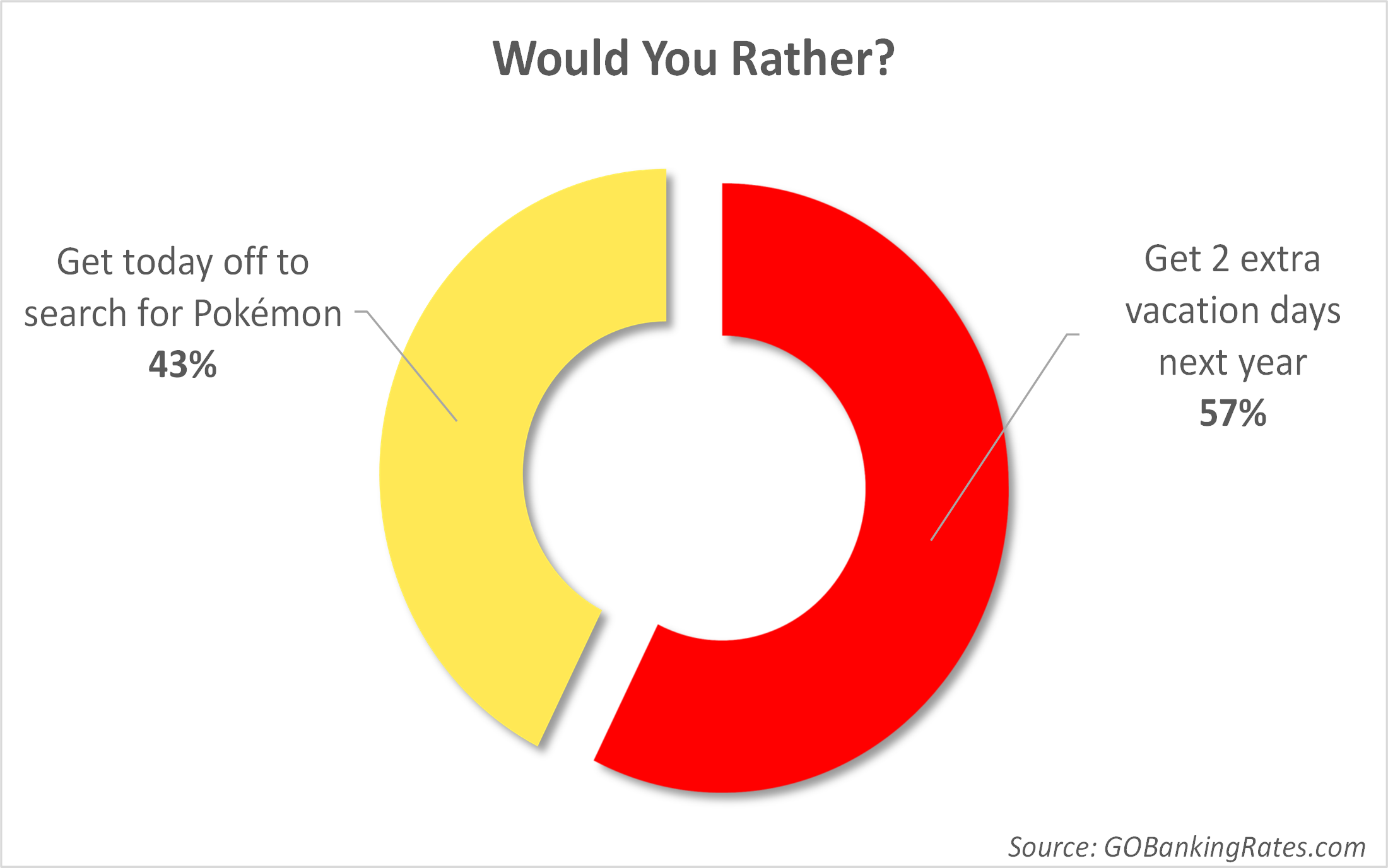 But Most Pokemon Go Users Prefer Cash Over Rare Pokemon
While players would give up future vacation days to play the app, the promise of Benjamins is just too sweet for most. The survey revealed 69 percent of players would rather receive a $100 check than catch a CP 1,000 Mew. Sorry, Mew, better luck next time.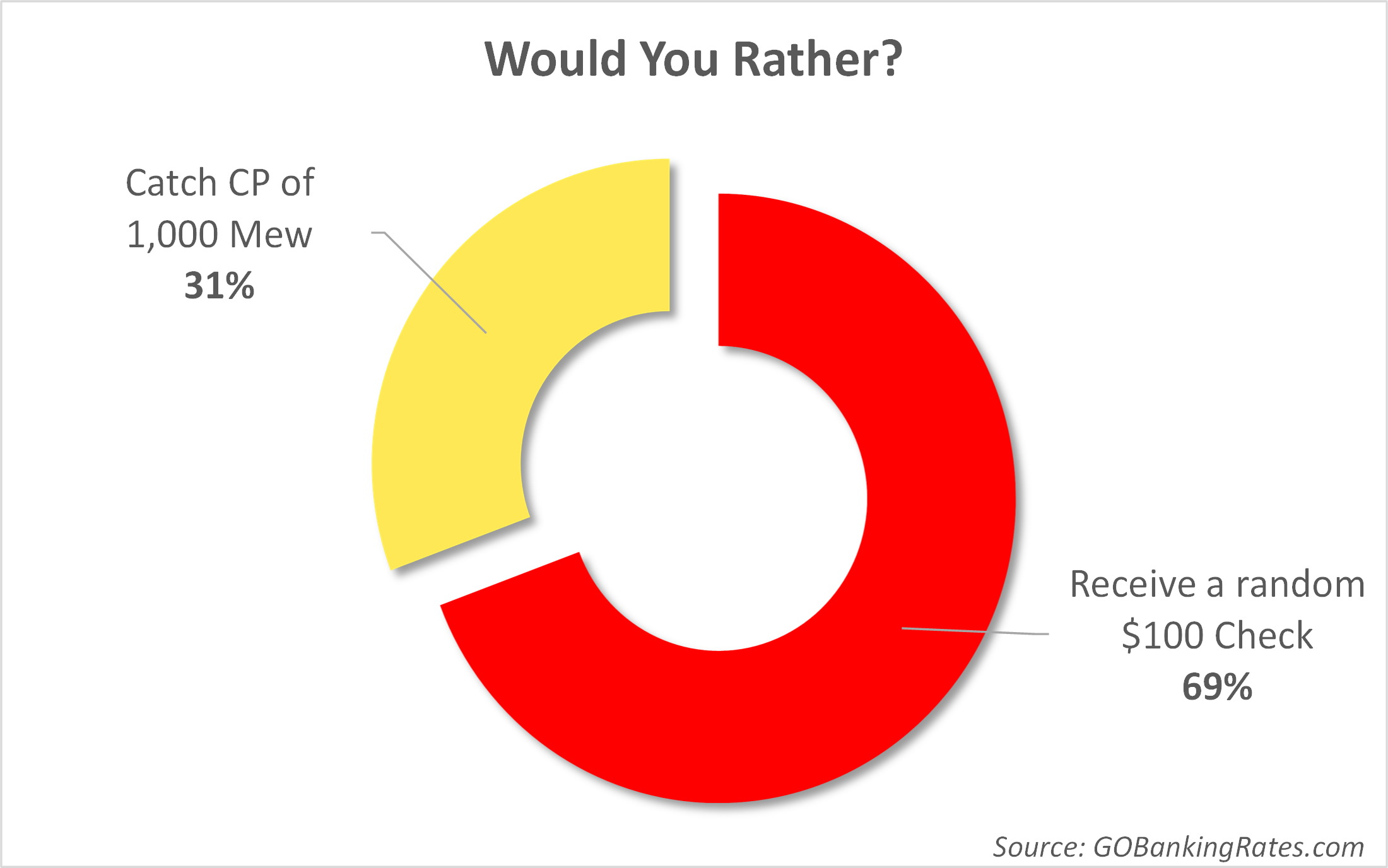 Almost One-Half Want In-Game Perks Over a Phone Bill Discount
Forty-seven percent of players would rather receive unlimited access to a Lure Module at home for one month than get $20 off this month's phone bill.
Wait, what's a Lure Module? Simply put, it's an in-game feature that attracts Pokemon to a specific location for 30 minutes. However, there's no such thing as a free lunch. Each Lure Module costs $0.99.
While some players are paying to become a Pokemon magnet, others are happy to support the app's built-in need for travel. Benjamin Ralston, a 30-year-old production designer based in Los Angeles, said the app has encouraged him to explore the city more:
"I'm participating in Poke-tourism, which means going to certain locations for PokeStops. This weekend I plan on going to the Santa Monica pier — which I would normally never go to — but there are rumors of tons of people gathering there for rare Pokemon because it is such a landmark."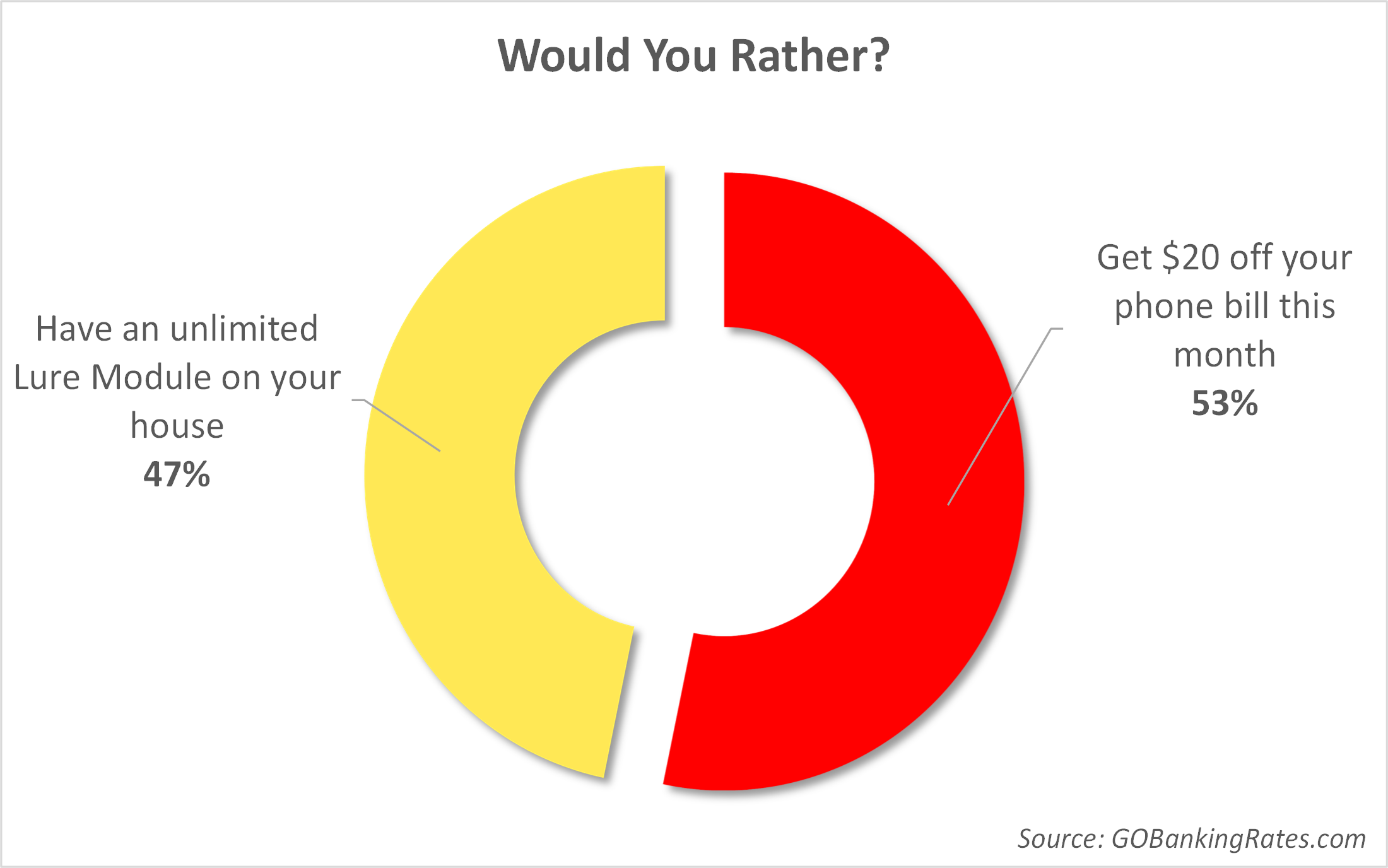 For Those Thinking, 'What Did I Just Read?'
Pokemon Go is an app for Android and iPhone devices that has merged the latest technologies with the fondest childhood memories of many millennials. The app has exploded due in large part to its unique ability to combine fantasy with reality, as players can track down and catch nearby Pokemon.
While the game is but an infant — having just been released July 6 — it's been downloaded to 10.8 percent of Android devices in the U.S., according to analytics firm SimilarWeb. Holy moly.
And for those lookin' for love in all the wrong places, consider this: Pokemon Go has more daily active users than the dating app Tinder. Who needs an awkward first date when you could capture a charming Charmander in your living room instead?
What's Next for Pokemon Go?
Owed to the popularity of Pokemon Go, Niantic's servers are overloaded, and the developer's said it's put the brakes on releasing the app to new countries — though that hasn't stopped some Pokemon trainers from picking up the app in less-than-legal ways.
Once Niantic's servers are squared away though, fans can look forward to trading Pokemon, a rumored new feature in the works.
Methodology: This survey was commissioned by GOBankingRates and conducted by Survata, an independent research firm. Survata interviewed 101 individuals ages 13 to 44 from July 12, 2016, to July 13, 2016. No monetary compensation was given.