One Year of COVID-19 Weddings: How the Pandemic Upended How We Celebrate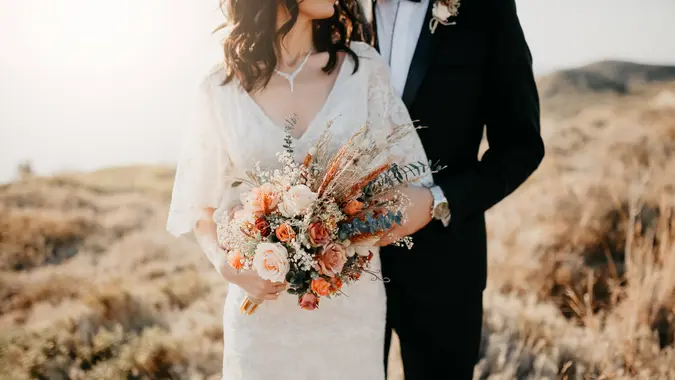 ozgurcankaya / Getty Images
The coronavirus pandemic upended every aspect of life as we know it, from how we work to how we shop to how we celebrate and socialize. With large gatherings banned for much of the year, couples who planned to tie the knot in 2020 had to readjust their wedding plans, or cancel or postpone their big day altogether.
COVID's Financial Impact After 1 Year: See All Our Coverage
The Knot's 2020 Real Weddings Study found that 96% of weddings had to be modified in some capacity due to COVID-19, but nearly 93% of engaged couples moved forward with their plans to get married in some way. As we hit the year-mark of living with the presence of COVID-19, here's a look at all the major ways weddings were different over the past 12 months.
Most Couples Did Not Have a Wedding Reception
Of the 7,600 couples surveyed by The Knot, only 43% had both a ceremony and reception in 2020. Thirty-two percent had a ceremony but postponed the reception, 15% postponed their whole wedding and 7% canceled their weddings.
Read More: Nearly Half of All Americans Missed Rent or Mortgage Payments Due to COVID-19, New Study Reveals
Make Your Money Work for You
Weddings Took Place Closer to Home
In 2019, 21% of couples had a destination wedding. Unsurprisingly, that number dropped dramatically in 2020 to 9%. On the other hand, the number of hometown weddings increased, from 25% in 2019 to 41% in 2020.
Discover: 22% of Americans Who Lost Their Jobs During the Pandemic Remain Unemployed, Survey Reveals
Overall, Wedding Costs Were Down
The average wedding cost in 2020 was $19,000, a drop from the year before.
"The disparity in cost from 2019 to 2020 wasn't the result of cost-saving adjustments, but rather from shifts made to weddings out of necessity due to COVID-19," said Esther Lee, senior editor and wedding expert at The Knot. "Most notably, these shifts resulted from restrictions placed on social gatherings set by local governments that required many couples who hosted a wedding ceremony and/or reception to downsize their guest counts."
Related: How We Save Money Has Changed Forever
The Knot study found that nearly 50% of all couples were forced to reduce and/or limit their guest count due to local restrictions, while 44% decided to reduce the guest size on their own accord for safety purposes. The study found that "approximately half of wedding receptions during COVID-19 had 50 people or less attending, with nearly a quarter having less than 25 guests. Overall guest count was down roughly 50% on average from 2019 (66 vs. 131)."
Although it was certainly difficult for couples to trim their guest lists, there are some advantages — cost-wise and otherwise — to having more intimate affairs.
Make Your Money Work for You
Find Out: Where Our Economy Is One Year After Life Changed, According to Experts
"With more intimate weddings, couples can focus more on the guest experience and devote more of their budget to certain elements of their day they wouldn't have been able to splurge on if their guest count was larger," Lee said. "For example, mini wedding cakes, one per person, may be able to be within budget for 50 people but not for 250. Or, the couple is able to hire additional entertainment in addition to a dance floor. Or a couple might even be able to add on an extra late-night snack for their guests to indulge in on their way home."
"Another advantage we've seen for couples is the ability to dive deeper into the details with their pros while having more control over the overall aesthetic," she continued. "For example, they could add more florals, décor options and premium services as opposed to what they may have originally budgeted for."
Couples Spent More To Keep Guests Safe
Although overall wedding costs were down, the cost per guest was up in 2020 compared to 2019. This is likely due to the added costs of implementing extra safety precautions. Couples surveyed by The Knot spent an extra $280 on average on health and safety measures for their guests.
Make Your Money Work for You
See: What Americans' Savings Look Like 1 Year Into the Pandemic
"Most commonly, couples provided hand sanitizers (the displays and options were very creative) and face masks for their guests last year," Lee said. "Catering options may have also influenced the overall cost of weddings, as couples added precautions when it came to their food offerings to ensure food safety at their celebrations, like opting for plated dinners over buffet options and selecting inventive new menu options such as personal-portioned hors d'oeuvres to mitigate risk."
One-Third of Couples Will Have a 'Sequel' Celebration
Of the couples who had a reception in 2020, 67% said they plan to hold a second celebration at a later date. This may be because they were unable to have the event at their original venue and had put a deposit down or because they want to celebrate with more guests. These celebrations can come in the form of a full sequel wedding, a vow renewal or an anniversary celebration.
"As so many couples have put down deposits, you'll certainly see an uptick in all sorts of celebrations," Lee said.
The Ripple Effects of a Year of COVID-19 Weddings
"According to our data, one out of every two couples (47%) who were to marry in 2020 rescheduled their receptions. What this means is it'll be very busy for weddings and receptions in the years ahead," Lee said. "We'll most certainly see an uptick through 2022 and potentially even in the years that follow given the influx of newly engaged couples from 2020 and now 2021 as well. Anticipating as much, we've seen eight out of 10 couples are getting started sooner than ever before on planning their weddings after getting engaged."
Read: How Our Businesses Will Continue To Move Forward Post-Pandemic
With so many people looking to get married in the coming years, expect to see a rise in weekday weddings, Lee said.
"Weekday weddings offer greater likelihood that a couple's desired vendor team is available," she said. "This is a trend we anticipate to continue even in a post-COVID world."
More From GOBankingRates
Make Your Money Work for You