Ranked: The Best Las Vegas Shows by Their Price Tags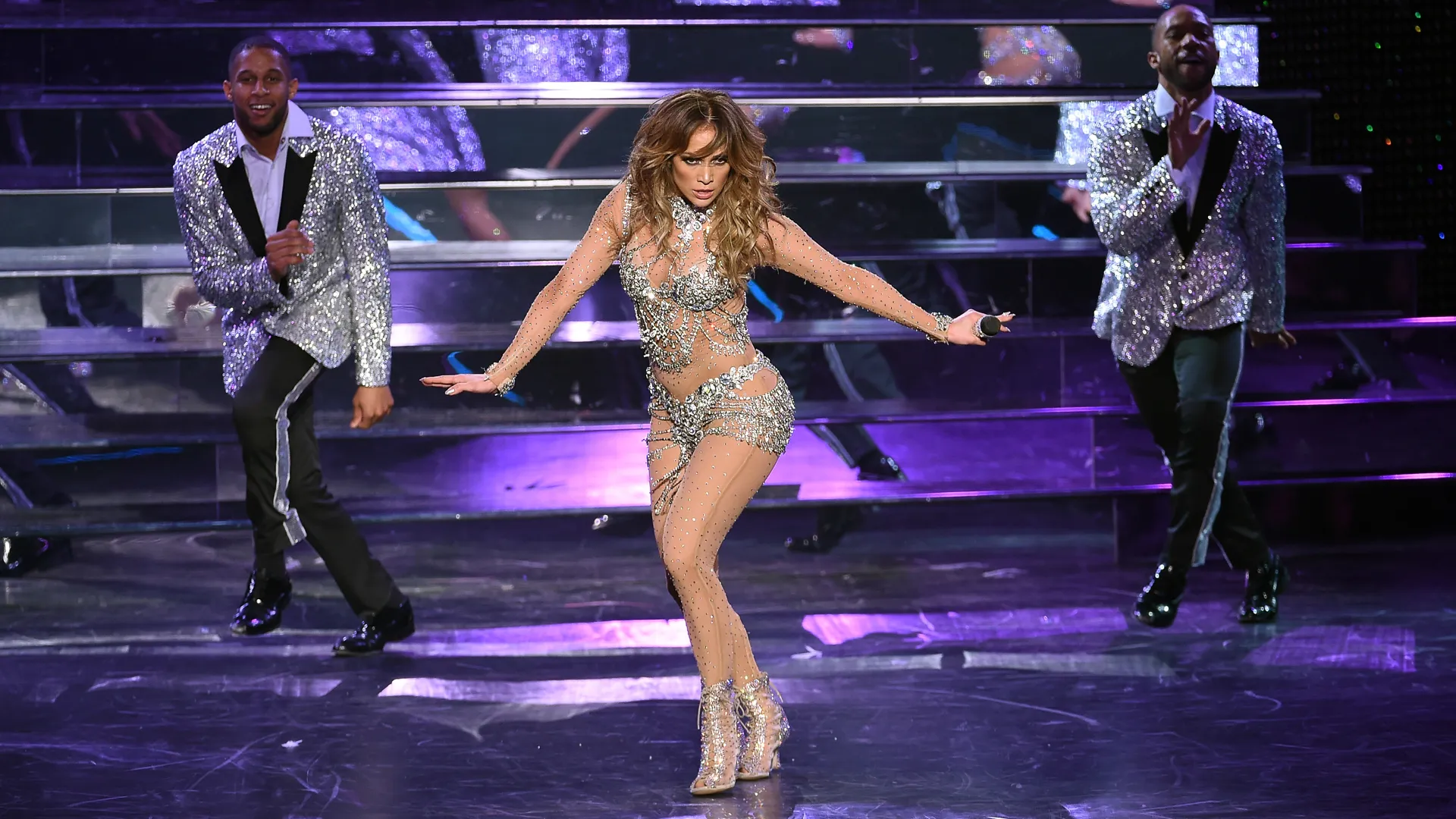 If you're planning a trip to Las Vegas, seeing a show is likely on your agenda. Many Las Vegas shows like Cirque de Soleil play year-round and others feature major celebrities doing a limited-time stint on the Strip. Some of the best La Vegas shows are nightly performances by top performers with residencies in the city — so there's always a musical performance you can catch by a world-class performer.
Las Vegas show tickets aren't cheap, so it pays to do a little Vegas research before spending your hard-earned cash. Take a look at 10 of the best Las Vegas shows currently playing to see if any pique your interest — and see how much it will cost you to watch.
1. Britney Spears: 'Piece of Me'
Spears has come a long way since her debut hit, "…Baby One More Time," was released in 1998, making her a star at age 16. Her first album came out one year later, debuting at No. 1 on the charts.
"The All New Mickey Mouse Club" alum released her second album, "Oops!…I Did It Again," in 2000. It sold one million copies in its first week and helped Spears set a new record for female artists.
She continues to make music and delight fans with her Vegas residency. The singer, whose net worth stands at $200 million, will be playing at Planet Hollywood on select dates through Dec. 31, 2017. Spears' Vegas show tickets range in price from roughly $89 to more than $619.
2. Backstreet Boys: 'Larger Than Life'
The five-member boy band hit the international music scene in 1996. The band's first U.S. hits were "Quit Playin' Games (With My Heart)" and "As Long As You Love Me."
The Backstreet Boys' 1999 album "Millennium" debuted at No. 1 and sold 40 million units worldwide. After releasing another successful album in 2000, the group temporarily disbanded but came back together in 2004. In 2013, they released the album, "In a World Like This," to celebrate their 20th anniversary.
The band — which boasts a group net worth of $200 million — is enjoying a Vegas residency at Planet Hollywood through at least Feb. 17, 2018. Certainly not one of the cheaper Las Vegas concerts, fans can catch shows with ticket prices starting around $100.
Make Your Money Work for You
3. Elton John: 'The Million Dollar Piano'
A megawatt celebrity, the Englishman has enjoyed immense success since launching his touring career nearly five decades ago. In fact, he had a Top 40 Billboard single every year between 1970 and 1996. Moreover, his song, "Candle in the Wind 1997" — rewritten as a tribute to Princess Diana — became the best-selling single of all time with 33 million copies sold worldwide. John's other top-performing songs include "Island Girl," "Lucy in the Sky with Diamonds," "Bennie and the Jets" and "Crocodile Rock."
The artist boasts a net worth of $500 million. His residency at The Colosseum at Caesars Palace includes dates into March 2018. Tickets for what will likely be one of the best Las Vegas shows you'll ever see start at $55, plus tax and fees.
4. Jennifer Lopez: 'All I Have'
The multitalented Jennifer Lopez can now add headlining one of the hottest shows in Las Vegas to her resume. Her 1995 role in "Selena" solidified her as an actress, and she launched her musical career in 1999 with her first album "On the 6." She has also launched fashion and fragrance lines and served as a judge on "American Idol," all of which helped contribute to her $360 million net worth.
Her Planet Hollywood show, "All I Have," has dates scheduled into October 2017. One of the best shows in Vegas for JLo fans, attendees can expect to hear hits like, "Jenny From the Block," "Love Don't Cost a Thing" and "Get Right." Tickets range in price from approximately $89 to more than $800.
5. Mariah Carey: 'All I Want for Christmas Is You'
Mariah Carey released her first album in 1990, which spawned four No. 1 singles. The two-time Grammy winner is the second singer ever to have a song debut on the charts at No. 1 and the first artist to have a top single every year throughout the 1990s.
Also a television star, she's appeared as a judge on "American Idol" and guest-starred on "Empire." All this success has boosted her net worth to $520 million.
Known as the "Queen of Christmas," fans can see her live at the Colosseum at Caesars Palace on select dates in December 2017. Think about taking that vacation to Vegas today: Tickets to what will likely be one of the top Las Vegas shows of the holiday season start at $55.
6. Celine Dion: 'Celine'
Celine Dion got her U.S. breakthrough from her "Beauty and the Beast" song with Peabo Bryson. The No. 1 hit won the Canadian-born singer a Grammy and an Academy Award.
She recorded six albums between 1992 and 1996. In 1997, "Titanic" hit theaters, along with Dion's song "My Heart Will Go On," both of which became instant successes. Other top hits by the singer include "Because You Loved Me" and "It's All Coming Back to Me Now." Decades of hits have brought her net worth to $800 million.
Dion's Vegas history started in 2003, when she launched a three-year residency. Arguably one of the best Vegas shows, tickets to "Celine" start at $55, and the show currently includes dates into January 2018.
Make Your Money Work for You
7. Reba and Brooks & Dunn: 'Together in Vegas'
Following a successful residency this past spring, three of country's best-known stars are joining forces again. Reba McEntire became a household name in the 1980s and 1990s, thanks to her 22 No. 1 hits and five gold albums. The "Fancy" singer is now a member of the Country Music Hall of Fame and the Grand Ole Opry.
Kix Brooks and Ronnie Dunn — Brooks & Dunn — became the best-selling country duo in music history with 30 million albums sold. The two-time Grammy winners have churned out a slew of hits, including "Red Dirt Road."
McEntire and Brooks & Dunn will perform six Las Vegas concerts at the Colosseum from Nov. 29, 2017 through Dec. 9, 2017. Tickets start at $59.50 and go up to $205.
8. Donny and Marie Osmond: 'Donny & Marie'
Siblings and child stars Donny and Marie Osmond have been headlining one of the best Las Vegas shows since 2008. They've both recorded multiple albums and they had their own variety show, "Donny and Marie," for four seasons in the 1970s.
A lifetime in show business has boosted Donny Osmond's net worth to $18 million and Marie Osmond's to $20 million. Tickets to the brother and sister duo's family-friendly performance in the Donny and Marie Showroom at the Flamingo start at $103.55, plus tax and fees.
9. Boyz II Men
Iconic R&B group Boyz II Men has been rocking the stage of the Terry Fator Theatre at the Mirage since 2013. The four-time Grammy winners had a variety of No. 1 hits in the early 1990s, including "On Bended Knee," "4 Seasons of Loneliness," "End of the Road" and "I'll Make Love to You."
The group currently includes Nathan Morris, Shawn Stockman and Wanya Morris. Each member has a net worth of $60 million.
Their Las Vegas show will go on through at least December 2018. Tickets to see Boyz II Men perform start at $39.99 — plus taxes and fees — making them some of the best cheap Vegas show tickets you'll find to see a big-name group live on the Strip.
10. Ringo Starr and His All Starr Band
Legendary Beatles' drummer Ringo Starr is hitting the Strip for what will likely be one of the top Las Vegas shows of the year. The nine-time Grammy winner enjoyed massive global success with the Beatles, but has continued to find success in the music industry since the group split in 1970. Being part of one of the most celebrated bands in music history has boosted his net worth to $350 million.
In its current form since 2012, Ringo Starr and his All Starr Band will rock the PH Showroom at Planet Hollywood with eight performances from Oct. 13 to Oct. 28, 2017. Tickets range in price from $69 to more than $321.
Net worth figures are indicative of assets versus liabilities. All net worth figures are according to CelebrityNetWorth.com unless otherwise noted.