Hot Dog Eating and 11 Surprising Sports You Can Still Bet On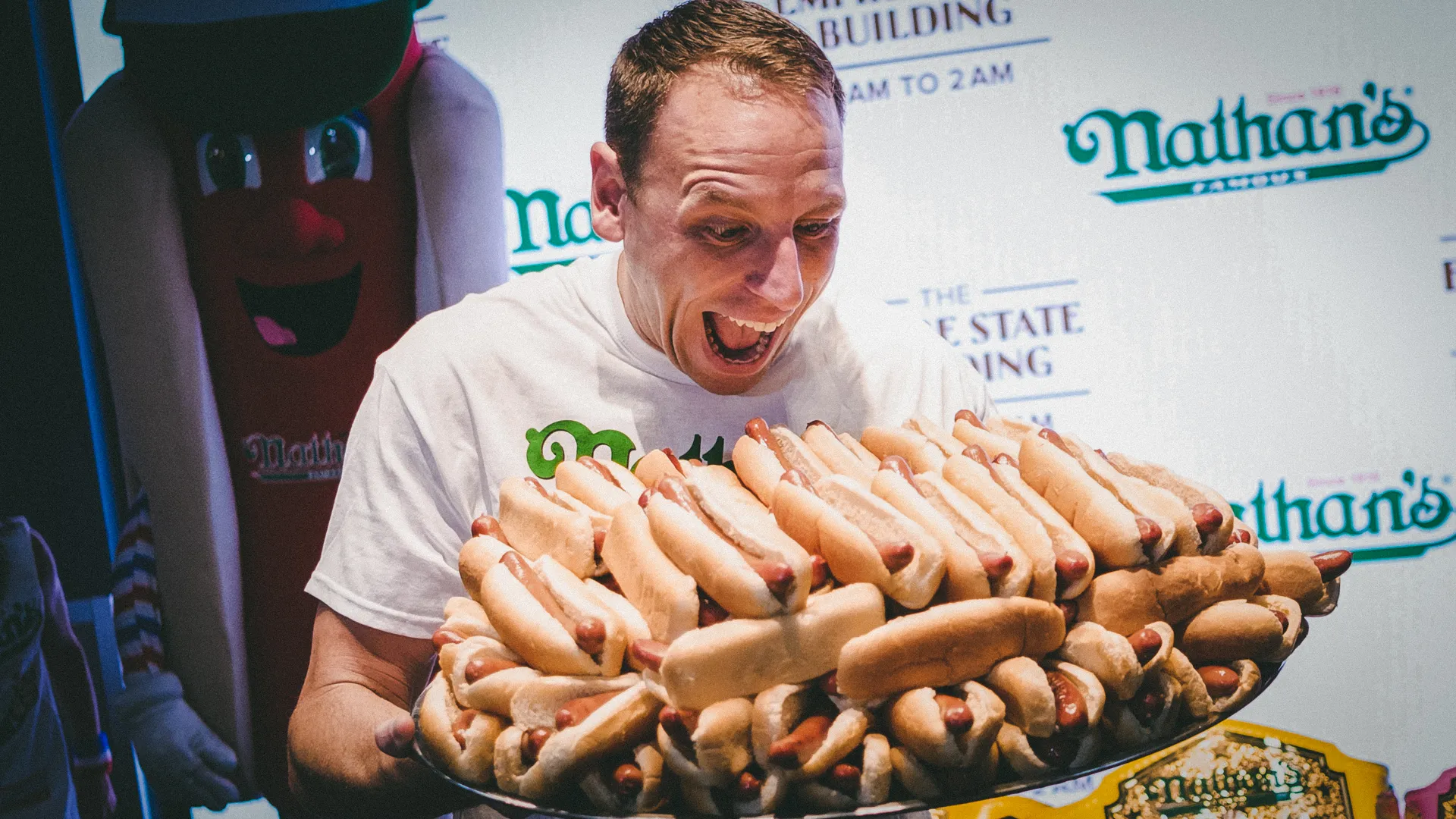 When the coronavirus shutdown squashed March Madness, the NBA, the NHL, MLB and Premier League soccer, it also froze in place the billion-dollar sports betting industry. Some leagues are already back in action, while others have plans to be. The MLB begins spring training on July 3; the NBA plans to resume its season at the end of July; several major European soccer leagues, such as the Premier League and Germany's Bundesliga, have resumed play; the NHL could return later this summer; and NASCAR and MMA both restarted in May. But even if the expected start dates for the sports that have yet to return don't go as planned, there are other, unconventional ways to get your sports betting fix.
The sports gambling industry has scoured the world for any competitions still taking place — and they've had to get creative along the way as many sports remained canceled.
Last updated: July 2, 2020
Hot Dog Eating
Three states — New Jersey, Colorado and New Hampshire — have officially approved betting on the annual Nathan's Famous Hot Dog Eating Contest, which takes place on July 4, Action Network reported. This year's competition will take place at an undisclosed location with fewer contestants than usual, and social distancing measures will be in effect.
DraftKings has partnered with Major League Eating — which organizes the competition — to be an official partner, so even people in non-betting states can take part in a free-to-play competition based around the contest.
Sumo Wrestling
If social distancing had an opposite, it would be sumo wrestling, which involves two enormous people bear-hugging each other while mostly naked. Somehow, Japan's national sport is still staging events, although maybe not for long after a sumo wrestler tested positive on April 15. As of now, however, it's still on, and bookmakers like William Hill are taking action on sumo wrestling simply because it's one of the few competitions you can bet on that wasn't canceled, according to Slate.
The next major wrestling event, the Nagayo Grand Sumo Tournament, is scheduled for July 19.
Make Your Money Work for You
Nicaraguan Sports
Nicaragua has health experts worried as sports of all stripes continue being played to packed stands as if there were no pandemic. Soccer, basketball, baseball and even marathons are still going on as planned, according to The New York Times. Baseball was temporarily suspended, however, due to the death of a coach. But games resumed in late June, the Daily Journal reported.
ESPN reports that you can bet on most of it, but bookmakers are struggling to convince bettors to wager on sports they aren't able to watch.
Baseball and Basketball in Taiwan
While the MLB will be returning for a shortened season stateside, baseball is going on normally in Taiwan — well, normal is an overstatement. Initially, when games restarted, they filled stadium seats with robot mannequins — complete with surgical masks — for what might be the creepiest stadium experience in modern sports. Since then, restrictions have been eased and fans are being allowed back into stadiums.
The country's Super Basketball tournament is also going forward as planned, and the Women's Super Basketball League is allowing fans to attend games. Taiwan also happens to be a huge gambling market — Betting News even created a gambling-on-Taiwanese-sports tutorial.
Russian Table Tennis
ESPN also reports that bookmakers are putting lines on table tennis tournaments in Russia, including live wagering, despite the fact that it isn't even broadcast online. It's so popular, in fact, that top players engage in several matches a day, with some bettors wagering for or against the same player all day long while keeping up with the action via online box score.
Esports
According to Forbes, esports tournaments and leagues are among the hottest tickets right now in online gambling. Many esports live events have been canceled, but others have been modified for online-only play. That has helped to transform what was recently a niche in online gambling — esports betting — into a juggernaut with the benefit of slim competition.
Find Out: 
Make Your Money Work for You
Simulated Virtual Sports
Despite the name, esports gambling deals mostly with tournaments based on video games like Call of Duty and League of Legends. According to ESPN, however, bookmakers have resorted to using Twitch to broadcast something more familiar to mainstream audiences. Most major sports leagues have video games, including NHL 20, MLB The Show 20, NBA 2K20 and Madden NFL 20. Without any players at the controls, bookmakers are broadcasting computer-generated simulated games that gamblers place wagers on while watching on Twitch.
Darts
The PDC (Professional Darts Corporation) Home Tour decided that the show must go on. Although there are no bustling bars or chanting throngs of onlookers, the pro darts world gathered for a 32-night tournament that featured some of the world's top talent. Although the Home Tour wrapped in May, there are a number of upcoming professional darts tournaments.
Despite the lack of palpable drama, darts is a competition of skill, which means people can gamble on it. Naturally, books that are taking bets at all are now taking bets on darts.
Chess
On March 26, a casino industry publication announced that bookmaker William Hill had secured approval for taking chess bets, but a major tournament had just been canceled, which put a damper on things. On April 21, however, it was announced that former world champion Garry Kasparov had agreed to join the brand new, six-team, fully online Nations Cup, giving gamblers something — anything — to bet on once again.
Upcoming chess tournaments you can place bets on include the Chessable Masters 2020 and Norway Chess 2020.
NFL Futures
While the quarantined country is bracing for a hard summer, it feels like the fall football season is a safe way off in the future — and it just might be. While the 2020 season is still hypothetical, you can bet on so-called NFL futures now. Categories include wagering on the winner of divisions, conferences and, of course, the Super Bowl.
Make Your Money Work for You
Greyhound Racing
Like horse tracks, dog tracks have taken a major hit thanks to the coronavirus shutdown. Also like horse racing, however, you can still place bets on the greyhounds. Even before the crisis, greyhound racing was in its death throes in the United States, thanks to relentless pressure from animal rights groups and a general waning of public interest. Internationally, however, some are still clinging to the sport — and you can still place wagers, mostly on races in Australia.
Politics
If it's true that politics is the greatest sport, you can still gamble on the goings-on in government. The lines are open, as they always are, on things like the Democratic vice presidential pick, which party will win the presidency and whether or not the election will even take place on Nov. 3.
More From GOBankingRates
Gabrielle Olya contributed to the reporting for this article.

BEFORE YOU GO
See Today's Best
Banking Offers