6 Sports You Can Take Up for Less Than $500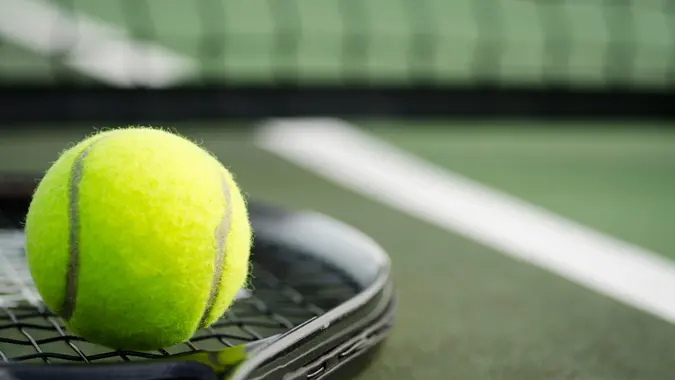 Brycia James / iStock.com
Taking up a hobby is good for your mental health, reducing stress, improving mood and much more, according to a study from Utah State University and various other studies. Although you can include almost anything as a hobby, from baking bread to playing checkers, GOBankingRates is specifically thinking about sports.
Explore: Advice: 
Taking up a sport can certainly provide physical and mental benefits, but it can also hurt your pocketbook if you're not smart about it. A survey of parents with kids in sports showed they can spend up to $2,500 per year.
That's why GOBankingRates has put together a list of sports you can take up for less than $600 annually, but you might have to get creative and be extra budget-conscious for some. Let's play.
Tennis
Tennis is one of the more affordable sports to take up as a newbie, because it requires a whole lot less equipment than — let's say — golf (plus, green fees to play golf can be jaw-dropping for some). We recommend at least two rackets, which can cost $100 each, plus $10/month or so on balls, depending on how often you play.
The other major variable is where to play. You can find free public courts in many cities and neighborhoods, whereas you might need to pay $5-$10 to rent court time in busy areas such as New York City.
Total: Approximately $300
Running
This is one of the least expensive options of all the sports. Throw on your shoes, shorts and shirt, and head outside, right?
Make Your Money Work for You
But wait! You'll want to make sure you have good shoes. You should plan to spend around $150-200 per set of high-quality running shoes, and replace them every 500 miles, according to RunnersWorld.com. If you run 30 miles per week, that's more than 1,500 miles in a year, so you'd need three sets of shoes.
If you're a beginner, you'll probably run a little less to start, so let's safely budget $400 for shoes, plus another $50 for clothing. That's still a good bargain.
Total: Approximately $450
Pickleball
Of course this list has to include the hottest craze in sports: pickleball. You need only two items to get started: a paddle and shoes.
You can buy a paddle for as low as $50 and as high as $150, but as a beginner, it's best to aim for the $50-$80 range, according to Pickleballkitchen.com. As you improve, you can consider upgrading your paddle.
A good set of shoes is smart, but if you have tennis shoes, you're on your way. If you need new shoes, budget $100-$150 for those. Pickleball courts and tournaments are easy to find these days, too, and they're often free.
Total: Approximately $200
Basketball
Basketball is another low-cost, low-frills sport. You need a ball, clothes, shoes and a court, and you're on your way.
There are numerous choices when it comes to picking a basketball, but the average cost should be around $25-30. Make sure to try out a few different types of basketballs to see what feels good in your hands.
Make Your Money Work for You
Unless you're playing on a team right away, you don't need to worry about a uniform. You do need a few good T-shirts and basketball shorts, though, so budget around $100 to get tricked out.
And don't forget your kicks. As Spike Lee said in those vintage Nike commercials, "It's gotta be the shoes." You don't need $500 Air Jordans, but you should budget roughly $100 for good shoes that will give you cushion and support.
As long as you have access to a court at your school or local park, you're ready to hoop.
Total: Approximately $225
Cycling
Cycling sounds like an expensive sport, but it doesn't have to be. You need a good bike and a sturdy helmet, but then you can get rolling.
Yes, a good road bike is expensive. There are many, many options, but you can aim for an average of $350-$700 for a quality road bike, according to BicyclingUniverse.com. Then, expect to spend around $25-$50 for a good helmet (it's a must!).
Of course you'll need to spend on maintenance for your bike, and you could include high-quality reflective clothing (around $100) as you get more experienced.
Total: Approximately $500 to start
Swimming
Lastly we come to the cheapest sport to take up — although it depends a lot on your access to water.
If you have a backyard pool or lake to dip in, then you're well on your way. If you need to spend for gym membership, that can cost anywhere from $10-$100 per month.
Make Your Money Work for You
Otherwise, all you need is gear: swim trunks ($50-$100), cap ($10) and goggles ($15-$60), according to wanderingswimmer.com.
Total: Approximately $125, plus gym membership if needed
More From GOBankingRates