6 Subscriptions That Are Not Wastes of Money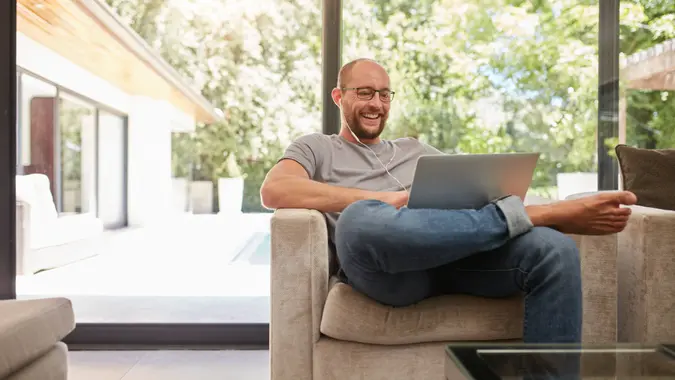 jacoblund / Getty Images/iStockphoto
Seems like just about every service these days offers a subscription — from streaming entertainment for your eyes and ears to food delivery kits that make planning meals a cinch. Not all subscriptions are made equal in terms of cost, however, and you might be looking at your bill trying to figure out which of the useless subscriptions you can cancel.
But not all subscriptions are dough down the drain! In fact, some are getting better and their prices are not soaring through the roof, which means that signing up or renewing might actually work out in your favor.
"There are so many subscription services out there and many of them eventually suck a lot of our time," says Sebastian Jania, owner of Ontario Property Buyers. "However, there are a few that make our time well spent. It is important to look at subscriptions through the lens of investments, to understand which are truly worth it."
GOBankingRates tapped Jania and some other experts for suggestions about which subscriptions are not a waste of money. Here's what they think you should be paying for:
Audible
Reading books is always a lovely way to pass the time, but do you have the time to pass? Audible makes it easy to consume thousands of book titles just by listening to them.
"Audible has made it so simple to learn new things and develop new skills," Jania mentions. "Whether one wants to learn about history or learn about buying their first rental property, Audible has it all. A subscription will cost anyone less than a dollar a day and that knowledge can eventually be used to build skills to get paid from it."
Make Your Money Work for You
YouTube Premium
Who among us has not gone down the Youtube rabbit hole in our day? The only thing that has stopped us are those pesky ads. You can upgrade your viewing pleasure without stopping the content stream by subscribing to YouTube Premium.
"YouTube Premium is a subscription service that offers ad-free viewing of YouTube videos, as well as the ability to download videos for offline viewing," says Michael Collins, managing director of SphereIT.UK, who points out that it only costs $11.99 per month.
5 Minutes for Me
Remember to breathe. And if you can't remember, take a breath and download the 5 Minutes for Me app for meditation practices that center your focus, recalibrate your thought patterns, and give you some peace of mind — all in 5 minutes or less.
"This app has provided me [with] bite-sized audio pieces for meditation, developing new knowledge, and hearing other people's life experiences; from their lowest points to their winning moments," Jania says. "Having an app like this has been an investment for me and has helped me to prioritize myself."
5 Minutes for Me is currently offering a 14-day free trial, then costs $13.49 monthly or $134.99 for an annual subscription.
Microsoft Office 365
Do you have legacy software and is that legacy outdated, buggy, and not really easy to work with? Try a subscription to Microsoft Office 365 to get your personal or professional workspace into the modern age.
"Microsoft Office 365 is a subscription service that offers access to the latest versions of Microsoft Office applications, as well as cloud-based storage and collaboration tools," notes Collins. "It costs $69.99 per year for the personal plan or $99.99 per year for the family plan."
Make Your Money Work for You
Regal Unlimited
A movie pass that actually rewards customers and comes with all sorts of discounts, perks and special offers? Yep, that's the full package with the Regal Unlimited Movie Subscription pass.
"With a subscription like Regal Unlimited, that sense of wonder is available any time you fancy," says Sonia Madaan of Earth Eclipse. "Plus, there's no need to wait for these movies to hit RedBox or keep an eye out for discounted codes. No more waiting around for free tickets or discounts, just the freedom to watch any movie that sparks their interest. Whether it's the latest superhero blockbuster or a lesser-known title…it's all within reach."
Regal Unlimited plans start at $18.99 per month and go up to $23.99 per month for Unlimited All Access, which includes all 450+ of its theaters. The theater chain boasts that the all-you-can-watch movie pass pays for itself in just 2 monthly visits.
Adobe Creative Cloud
Everything that you make needs to be able to pop with color, design and eye-catching detail. Having Adobe Creative Cloud as your go-to collaboration tool makes teaming up on projects a breeze. Plus, it's affordable!
"Adobe Creative Cloud is a subscription service that offers access to the latest versions of Adobe Creative Suite applications, such as Photoshop, Illustrator, and InDesign," says Collins. "It costs $52.99 per month for the single app plan or $79.99 per month for the all apps plan."
More From GOBankingRates
Make Your Money Work for You