The Hunger Games Investment Series — District 1: Luxury Goods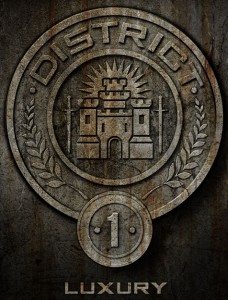 Image: Facebook.com/District1PN
When the citizens of Panem aren't busy watching their young adults battle to the death, how does their economy operate?
The Hunger Games may be a fictional tale, but now that the first book in the young adult trilogy by Suzanne Collins is being released as a film on March 23rd, we can't help but join in the Hunger Games fever and imagine what it would be like to participate in its stock market.
The country of Panem is divided into 13 districts under the Capitol. Each district is responsible for providing goods and services to the Capitol, as well as "tributes" (Hunger Games participants) who are chosen to fight it out while the country watches. Only one district's tribute will emerge the winner — and the only one left alive.
So we want to know: If Panem were a real country, and the districts were equivalent to today's modern industries, which investment would come out on top?
Each day, we will feature the next Hunger Games district and an examination of the highest and lowest performing stocks within that modern-day industry. Collins didn't explicitly state what all of the districts represented in the Hunger Games, so we have to use our best judgement and make a few educated guesses in some instances.
With that said, let the Games begin with District 1: Luxury.
The Hunger Games District 1: Human Tributes
The Hunger Games District 1 tributes are mostly career tributes, adolescents who have been training for the games for most of their young lives and actually volunteer to participate.
Glimmer: Glimmer is the female tribute in the 74th Hunger Games and is known for her beauty. Her weapon of choice is the bow and arrow.

Marvel: Marvel is the male tribute in the 74th Hunger Games (Dennis Quaid's son, Jack Quaid, has been cast for this role in the film).
Cashmere: Cashmere is the female tribute in the 75th Hunger Games, who, along with her brother (Gloss — below) won several previous Games.
Gloss: Gloss, the male tribute in the 75th Hunger Games, was the winner of a past game and was chosen from the pool of former victors to compete again.
The Hunger Games District 1: Luxury
Gold has taken the spotlight post-recession as the safe haven against market volatility, and has skyrocketed in value. While anyone who bought gold or invested in gold funds a few years back likely made one of the best investment decisions of their lives, the precious metal isn't the only commodity worth investigating as an investment option.
Especially considering that gold values probably won't continue to explode upward like they have in the recent past, today's investors looking for a "luxury" commodity to purchase might want a few options to consider.
That's where diamonds come in: Like gold, diamonds are considered to hold intrinsic value that's somewhat protected against stock market downturns. However, diamonds aren't just for engagement rings and tennis bracelets — they have many industrial purposes as well, with incredible hardness and heat conductivity, making the demand for these stones unwavering.
And since nothing says luxury more than diamonds, they make the perfect District 1 investment.
Diamond Stock Tributes
Top Performer: Tiffany & Co. (TIF)
Poor Performer: Zale Corporation (ZLC)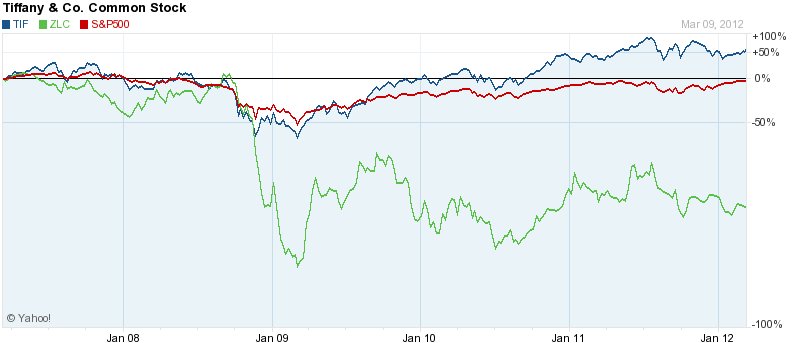 Tiffany & Co. ($8.7 Billion Market Cap)
Tiffany & Co. (TIF), one of the biggest jewelers in the world, boasts 60 stores in the U.S. alone and over 100 international locations. Tiffany was founded in 1837, and it was actually a Tiffany gemologist who developed the metric carat, which is used as a weight standard for gems today.
The company is reliant upon its global presence, especially in Asian markets, to successfully weather economic downturns and decreased sales in the U.S. Over the past 1-year period, the stock has returned a decent 8.8%, while it has gained a total of 61% over the past 5 years.
Profit margin over the past 1-year period was 12.4%. Quarterly revenue grew 20.2%, while earnings grew 62.8%. The stock also offers a respectable Return-on-Equity of 20.5%.
Zale Corporation ($100.1 Million Market Cap)
Zale Corporation (ZLC), another diamond retailer, is a direct competitor of Tiffany's. However, with a low market cap of just over $100 million and negative earnings, it stands as a much less attractive investment option.
For instance, operating and profit margins over the past 1-year period were -0.1% and -2.5%, respectively, while revenue grew just 6%. Just as alarming is the stock's beta at an extremely volatile 4.18. ROE is -20.4%
Finally, Zales's return over one year was -22%, and -88.7 over five years.
Stay tuned for District 2 tomorrow — Mining.