Tips and Tricks to See All the Movies You Want — On the Cheap

9 min Read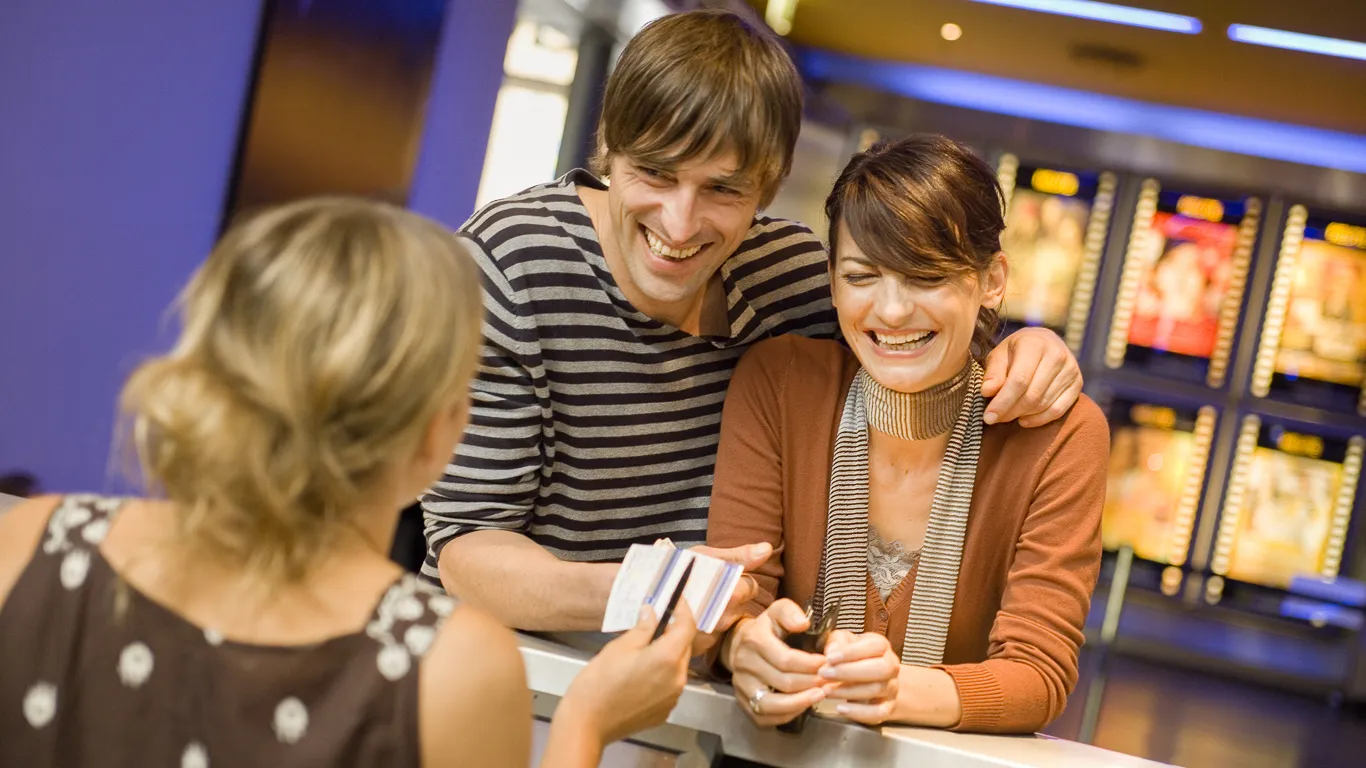 Love watching movies at the theater but hate paying the high ticket prices? That's understandable, given that the average price of a movie ticket is $8.65, according to the National Association of Theatre Owners.
For slightly less, you can stream all of the movies you want with a $7.99 monthly subscription to Netflix. Or you can watch videos on demand with an Amazon Prime membership, which goes for $99 a year, or $8.25 per month.
But it's hard to beat that movie theater experience. And if you don't want to wait months after movies are released to watch them on streaming services, you have to fork over big bucks to go to the theater. Or do you? Here are ways to ways to cut costs without cutting out the movie experience.
Make Your Money Work for You
Use Discount Gift Cards
You can score instant savings by using discount theater gift cards. "Discount gift cards are a great way to save on movie tickets and concessions," said Kendal Perez, a savings expert for CouponSherpa.com.
You can find gift cards for theater chains selling at less than face value on websites such as CardCash.com, Cardpool.com and GiftCardGranny.com.
"Current rates on GiftCardGranny show savings of up to 16.8 percent for Regal Cinemas, up to 17.6 percent from AMC Theaters and just over 5 percent for Cinemark," Perez said. "You can also buy discount gift cards for Fandango, the online movie ticket aggregator, for up to 17 percent off."
Related: 9 Sites for the Best Online Coupons
Use Online Rewards Programs to Score Movie Gift Cards
You can get free gift cards for movie theaters if you join online rewards websites such as MyPoints and Swagbucks and are willing to spend your spare time completing simple tasks.
"Earn points with activities like watching short videos, searching the internet, shopping and playing games," said Donna Freedman, a frugal living expert and author of "Your Playbook for Tough Times." "Then, trade in points for gift cards to AMC, Regal Cinemas or Fandango."
Buy Movie Tickets in Bulk from Warehouse Club Stores
You can take advantage of a membership at a warehouse club such as Costco to get discount movie tickets. "Costco, Sam's Club and BJ's Wholesale offer movie tickets in bulk, often for less than you'll pay per regular-priced ticket at the theater," said money-saving expert Andrea Woroch.
For example, you can buy a 10-pack of Cinemark Platinum movie tickets for $84.99, which is $8.50 per ticket, Woroch said. Depending on where you live, the bulk pricing could save you several dollars per ticket.
Make Your Money Work for You
Join Theater Loyalty Programs
"Frequent moviegoers should sign up for theater loyalty programs for discounts and perks," Woroch said. These programs are free to join and offer members savings on tickets and concessions.
For example, Regal Crown Club members earn 100 credits for every $1 spent on tickets and concessions and can redeem credits for free popcorn, drinks and tickets. Members also get 25 percent off candy on Mondays and 50 percent off popcorn on Tuesdays.
Sign Up for Disney Movie Rewards
If you're a fan of Disney movies, you can score savings by signing up for the free Disney Movie Rewards program. This loyalty program lets members earn points for buying tickets to Disney movies at participating theaters and uploading a picture of their ticket stubs. Members also can earn points by purchasing Disney DVDs and music. You can redeem rewards for movie ticket and concessions gift certificates, among other things.
Download Theater Apps
Downloading theater apps can help you save money on movies, Woroch said. "For example, Cinemark's app offers coupons and discounts in exchange for keeping your phone on silent — or "Cinemode" — during the movie," she said.
Regal Cinemas offers monthly coupons through its mobile app. A recent offer was 15 percent off a medium drink, medium popcorn and pretzel when purchased together.
Get Movie Theater Coupons
In addition to getting coupons through theaters' loyalty programs and apps, you can find them online at coupon sites. For example, moviegoers can find coupons for movie ticketing site Fandango at CouponSherpa.com. Previous deals have included $2 off three or more movie tickets, Perez said.
Follow Theaters on Social Media
"Follow your favorite theater on Facebook and Twitter for access to exclusive savings like ticket discounts and concessions," Woroch said. For example, you can get weekly coupons to Regal Cinemas when following or liking their page, she said.
Make Your Money Work for You
Get on Theaters' Email Lists
You might be able to get exclusive discounts by signing up to receive emails from theaters. For example, Cinemark sends weekly concessions coupons and a special birthday concession coupon if you sign up for its weekly email.
See Free Movie Screenings
You might be lucky enough to live in a city where an advanced screening of a movie is being shown. You're even luckier if you can get a free pass. "Often unannounced to the general public, they're available to those in the know," Freedman said.
You can find out about advance movie screenings and get passes on sites such as AdvanceScreenings.com and gofobo.com, she said. Or follow @screeningticket and @screenings on Twitter.
Watch Movies on Discount Days
You can beat the crowds and high prices by going to the movies on a weekday. Some theater chains offer discounted admission on certain weekdays — "typically on Mondays or Tuesdays when theater traffic is traditionally light," Perez said. "At my local theater, my husband and I can get tickets for a show at any time of the day on Tuesdays for just $5.50."
Check the websites of theaters in your city to see if they offer discount days. The discounts and days on which discounts are offered can vary by theater.
Catch a Matinee
Going to the movies during the day typically means saving money at the movie theater, at least compared to going at night. For example, the matinee price at one of the AMC theaters in the Nashville area is $5.50 less than the evening show price.
However, matinee prices vary from theater to theater. Check online before going to find the best deals in your area.
Skip the Premium Formats
Don't pay extra to watch movies in 3D, XD or Imax formats. "Generally speaking, it's not worth it," Freedman said.
For example, a recent check of ticket prices for Cinemark showed that the XD version cost $3.50 more than the standard format. For two tickets, that's $7 in savings if you skip the premium format.
Make Your Money Work for You
See Free Kids' Movies
Parents can save money during the summer when theaters show kids' movies for free or just $1, Perez said. Schedules are typically posted in May with movies starting in June, she said. The showings are in the morning — around 10 a.m. — and usually are popular films but not new releases.
Theater chains that host summer kids' movie series include Bow Tie Cinemas, Cinemark, Marquee Cinemas and Regal Entertainment Group.
Take Advantage of Your Age
Save With a Student Discount
You might be able to pay less than the average moviegoer if you're a student, Woroch said. In most cases, you'll need to show your student ID to get the discount.
You might also be able to get deals on concessions. For example, AMC Theatres recently offered a downloadable coupon for students with an ID to get a soda and popcorn for just $5.
Use Your Military Status for a Discount
Some movie theaters offer discounts for military personnel and veterans. For example, one AMC Theatres location offers special military pricing starting at 4 p.m. daily, Woroch said. At Showcase Cinemas, active duty personnel can get tickets for just $7.50 and their children can get tickets for $5.50 — with a valid service ID. Check with your local theaters to see what discounts they offer.
Get Savings Through Other Memberships
Club and association memberships might pay off at the movie theater.
"You may be entitled to discounts that you aren't even aware of through your various affiliations, from AAA to your credit card and credit union," Woroch said. "For example, National Education Association (NEA) members can save up to 35 percent on movie tickets from major theaters, while AAA members pay as little as $8.49 per ticket at select theaters when you book through the member portal."
Make Your Money Work for You
Watch for Movie Promotions
You might be able to score free movies when brands offer special promotions. For example, Freedman got a free ticket for admission up to $12 after buying four 9.9-ounce bags of M&Ms. She's also scored tickets through promotions from Minute Maid and Kellogg's cereals. "Keep your eyes open for these things," she said.
Get a MoviePass Subscription
If you see several movies per month, you can save money on tickets with a MoviePass subscription. Subscriptions range in price from $14.99 to $49.99 per month. You might just break even with a lower-priced subscription because you're limited to seeing only a couple of movies per month with the pass.
But the higher-priced unlimited plans let you see one movie every 24 hours. Given that the average ticket price is $8.65, you'll save money with a $49.99 plan if you see seven or more movies per month.
Look for Second-Run Theaters
If you like the movie-theater experience but don't have to see new releases the day they come out, you can save money on tickets by going to a second-run theater.
"A still-hot movie might get busted down to the cheap house to make room for newer blockbusters," Freedman said. "You'll pay as little as a couple of bucks this way." CinemaTreasures.org has a list of these gems where you can see movies for less.
Rethink the Refreshments
What's a movie without popcorn and a soda? A lot cheaper. Refreshments can "put a real hurt on your budget," Freedman said. So you should consider skipping snacks at the movies to save money. Plus, it will free up more cash to go to the movies again.
"If you're on a strict budget, foregoing the treats means you'd be able to go to two or three times as many movies," Freedman said.
Up Next: 50 Mindless Ways You're Burning Through Your Paycheck
About the Author