7 Ways To Find the Best Amusement Park Deals Happening Now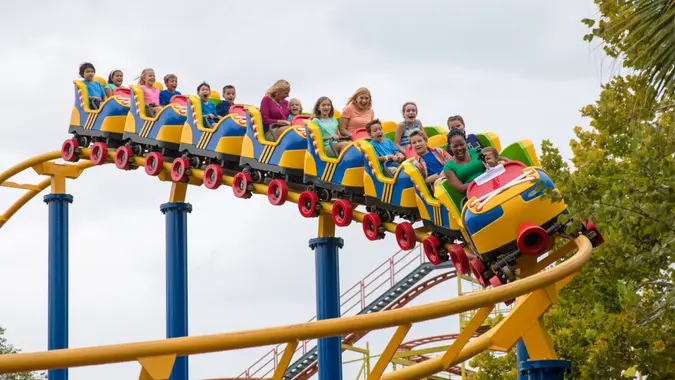 Jessica Lynn Logan / Wild Adventures Theme Park
Searching for amusement park deals at the end of the year isn't an easy task. Many amusement parks increase ticket prices during the holiday season as there are big crowds and peak foot traffic.
Take a Look Back: 2022 Year in Review
Advice: 3 Easy Tips To Turn Your Credit Woes Into Wows
The good news is there are several ways to find deals and discounts to lower your overall ticket and entry prices. These helpful strategies can help you find ways to save without sacrificing the holiday fun for the whole family. Here are some of the best ways you can find amusement park deals happening right now.
Find Discounts Via Existing Memberships
If you're a member of the following organizations and clubs, you may be eligible to receive discounts on theme park and attraction tickets:
AAA. Members of AAA can receive up to $35 off Disneyland Resort multi-day tickets and up to $80 off Walt Disney World resort gate prices. There are opportunities to save up to 30% at Knott's Berry Farm and up to 30% on one-day general admission at Universal Studios Hollywood and up to $65 on Universal Orlando Resort tickets. AAA members receive savings up to 55% on Go City passes and can receive additional steep ticket discounts when visiting LEGOLAND Parks, Six Flags Theme Parks, SeaWorld Parks and Busch Gardens.
Costco. If you're a Costco member, visit the Costco Travel department to learn more about vacation packages where you and your family may receive a discount. With the help of Costco Travel, you can book trips to theme parks and specialty vacations with clear pricing upfront. Costco Executive Members also earn an annual 2% reward after completing their travel.
Sam's Club. Visit the Sam's Club Travel & Entertainment department where members may receive up to 60% off on theme park and attraction offers. Some special offers are currently available for Gatorland, the Kennedy Space Center, Busch Gardens Tampa, Jurassic Quest, LEGOLAND Parks and Universal Orlando Resort. 
Union Plus. If you are a current or retired union member, you may be eligible for savings and benefits as a Union Plus member. Some of these include the opportunities to receive major discounts off admission tickets to water and theme parks along with attractions and tours. You can see what you're eligible to receive by visiting the Union Plus website for more information.
Make Your Money Work for You
Search Groupon
No matter where you live, you can find the best deals on amusement parks near you through Groupon. Some of these savings can be anywhere from 50% to even 90% off in admission tickets! Search Groupon for the activity or destination you and your family want to visit and see which deals you can snag for much less.
Take Our Poll: How Do You Typically Split the Restaurant Bill?
Check CityPass for Discounts
Obtaining a CityPass is usually one of the best ways to see top attractions throughout the country and save some extra money on entry fees. 
What you may not know, however, is your CityPass may help you receive extra discounts at theme parks. The Southern California CityPass offers pass holders the chance to receive ticket savings at Universal Studios Hollywood, SeaWorld San Diego, LEGOLAND California Resort, the San Diego Zoo and the San Diego Zoo Safari Park.  
Utilize Student Discounts
Are you a college student? Chances are you may be eligible for a discount at a local theme park or another space like an aquarium, zoo or museum. Use your student ID and you may be able to receive a discount on tickets purchased through your college or university.
Make Your Money Work for You
Utilize Military Discounts
Active members of the military may be entitled to receive discounts at various amusement parks. Reach out to the park you plan to visit to find out which types of discounts are available to you. These may include discounts on tickets or entry fees and on meals or drinks purchased throughout the park.
Ask Your Employer if They Offer Discounts
The company you work for may offer discounts to theme parks or other fun attractions and you may not realize it! Check in with HR to see if any such discounts are available to employees and how you can take advantage of them. 
Take Advantage of Being a Local
This is one of the easiest ways to save on amusement parks. If you're a local resident, consider purchasing a ticket or annual pass based on your residency in the same state as the theme park you plan to visit.
More From GOBankingRates
Make Your Money Work for You
Make Your Money Work for You