8 Ways To Save on Your Next Trip to the Movies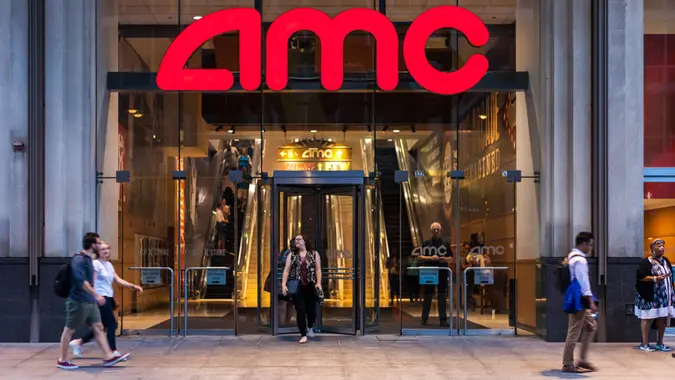 Moab Republic / Shutterstock.com
Going to the movies used to be a cheap way to pass the time, but over the years that has changed. The cost of a movie ticket has doubled since 1996 — in 2021, the average price was $9.16.
Dollar Tree: 5 High-Quality Items To Buy Now
More: This Credit Score Mistake Could Be Costing Millions of Americans
Throw in overpriced popcorn, a drink and some candy and you've spent well over $20 without even adding kids into the equation. But don't worry, you don't have to call cut on going to the movies. Here are some ways to catch all the action without spending blockbusting prices.
Eat Beforehand
Yes, movie theater popcorn is yummy, but it can add up in costs. At AMC, the smallest size of popcorn starts at $6.09 and a large costs $9.09. Candy also starts at $4 apiece, which is twice as much as it will cost you at the grocery store.
If you eat something at home before you go to the movies, you'll be less tempted to fork over the cash when you smell that buttery aroma. Plus, whatever you cook might offer a little more nutrition than the carbs and sugar available at the theater. 
Make Your Money Work for You
Take Our Poll: Do You Believe in Quiet Quitting?
If You Can't Resist the Popcorn, Get a Deal
At the same time, popcorn at the movies is hard to pass up. It's a tradition for a reason. But make sure you take advantage of some of the promotions movie theaters offer on their popcorn.
For example, AMC sells a refillable popcorn bucket for $20.99, which gets you popcorn for $4.99 each visit. You're getting a deal on popcorn, plus you're sparing the environment by using a refillable container.
Join a Movie Theater Rewards Program
If you're a frequent movie goer, you'll get a lot of value out of joining a movie theater's rewards program.
With Regal's program — the Regal Crown Club — you earn 100 credits for every dollar you spend at one of their theaters. Those points can be used to get free tickets, concessions and movie swag. The Regal Crown Club rewards you for going to the movies frequently, so the more you go, the better perks you receive. You also get access to weekly specials like 25% off candy on Mondays and 50% off popcorn on Tuesdays.
Make Your Money Work for You
Go To a Matinee or on a Discounted Movie Day
At most theaters, you can get a cheaper ticket when you go see the movie during matinee times, which are usually between 12:00 p.m. and 4:00 p.m., depending on the theater. Additionally, theaters will sometimes offer deals on tickets on slower days.
AMC offers $5 tickets on Tuesdays, but you'll need to be a member of their Stubs club. AMC also offers $5 on movies they call "fan favorites," which are films that aren't necessarily new, but are huge hits that people love to see on the big screen. Check your local AMC theater to see what movies they're offering right now. 
Buy at the Theater
Did you know it's cheaper to get tickets directly from the box office? When you order online, theaters tack on a "convenience fee," which is usually anywhere from $1-$4. You can avoid those fees by going straight to the movie theater to buy your ticket. 
You may want to do so at less-busy times, though, since you won't be able to pre-select your seat.
Make Your Money Work for You
Find Discount or Second-Run Theaters 
Discount theaters are also sometimes known as second-run theaters, which just means they run movies after they've already left mainstream theaters. If you can wait out the buzz of seeing a movie opening weekend, you can save a lot of money by visiting your local discount theater.
Plus, you'll have a chance to read reviews to see if you really want to see something or not. These theaters also sometimes show older movies, so you'll have a chance to see some of the classics. 
Look For Group Deals
Sites like Groupon offer discounted movie tickets when you buy more than one at a time. Using these sites, you might also be able to find year-long discounts on tickets and concessions as well. 
Join FandangoVIP
The cool thing about joining FandangoVIP is that you don't get perks at just one theater. As long as you can get tickets through Fandango, you'll get points in your VIP account.
Perks include discounts on movies to stream at home as well as other deals on movie theater goodies. If you're a loyalty member at another theater, you can get extra points on all your ticket purchases by joining FandangoVIP.
More From GOBankingRates
Make Your Money Work for You