40% of Parents Are Stressed About Covering Basic Living Expenses — Why Are So Many Struggling?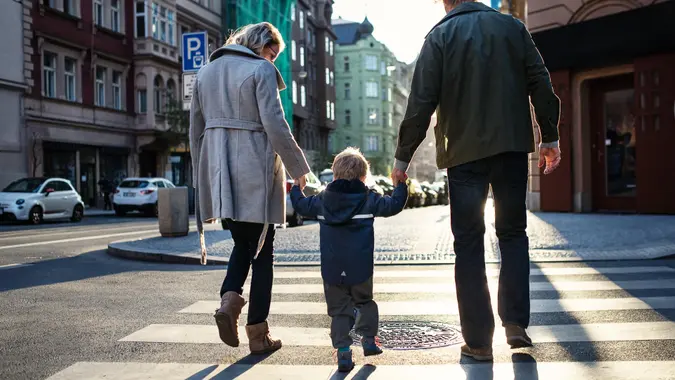 Halfpoint / Getty Images/iStockphoto
Being a parent can be costly, and many are currently struggling to make ends meet, a recent Chase survey found. Forty percent of parents of children ages 17 and younger cite affording their family's basic living expenses, including food and utilities, as their top financial stressor.
Cut Costs: 21 Items That Are Always Cheaper at Costco
Save More: Unplug These Appliances That Hike Up Your Electricity Bill
Here's a look at why are so many parents are stressed about simply getting by.
The Pandemic Has Dealt a Devastating Financial Blow to Many Parents
"The past two years of the pandemic have put significant stressors on family finances," said Matt Gromada, managing director and head of consumer banking product development and innovation at Chase. "While some families have gotten some relief in the form of stimulus checks and the child tax credit, many are still struggling to recoup what they may have lost."
Make Your Money Work for You
Helpful: Budgeting Tips for Single Moms
In just the first two months of the pandemic, 51.7 million Americans who live in households with children under the age of 18 said that either they or someone in their home experienced a loss of employment income, CNBC reported.
"Additionally, supply chain issues are making basic necessities more expensive and harder to come by," Gromada said.
A loss of income combined with higher prices for essential items like groceries is sure to have led to financial stress for many families. Between November 2020 and November 2021, the real average weekly earnings for Americans dropped by 1.9% while the cost of goods as measured by the Consumer Price Index jumped 6.9%, according to the U.S. Bureau of Labor Statistics.
Good To Know: 35 Useless Expenses You Need To Slash From Your Budget Now
What Can Parents Do To Stay Afloat?
Although many parents are facing challenging financial times, there are steps they can take to get into better shape — and many are optimistic that they will. According to the Chase survey, 60% of parents believe that their financial situation will improve in the next year.
"Our survey shows families are actively working to improve their financial health as a top financial goal for 2022," Gromada said. "Parents of kids ages 17 and younger are focused on paying down debt and improving their credit scores, while parents of younger children (ages 5 and younger) are focused on saving for major life events, like buying a new home. Parents of older kids (ages 13-17) are focusing on saving for retirement."
Make Your Money Work for You
Find Out: Tips To Keep Your Finances in Order Without Sacrificing What You Want
For that 40% of parents who worry about covering basic living expenses, Gromada said that creating a budget is key.
"Parents should continue examining their budget, adjusting where needed, while monitoring their spending habits," he said.
Digital banking tools can help create a budget that works for a family's needs as well as work toward savings goals.
"Our study found that nearly half of parents are interested in digital banking tools to help them budget or save automatically," Gromada said. "These tools, and many others, are already available within most mobile banking apps."
More From GOBankingRates 
Make Your Money Work for You