8 Baby and Kid Items That Are Not Worth the Cost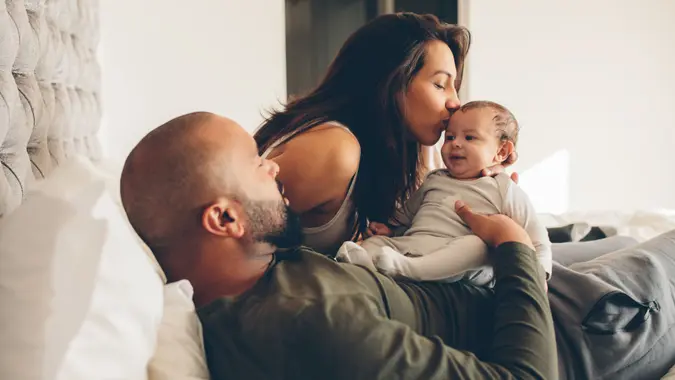 jacoblund / Getty Images/iStockphoto
Raising a child isn't cheap. Of course, if you're a parent, you already know that.
In fact, the average cost to raise a child is around $297,587.44, according to Expenditures on Children by Families, 2015, a report issued by the U.S. Department of Agriculture — adjusted for inflation to align with November 2022 costs.
Save More: 10 Things To Stop Buying in 2023
Find Out: How To Get Free Gift Cards From Your Everyday Purchases
Cut Costs: 11 Grocery Items To Buy at Dollar Tree
While parenthood comes with many unavoidable expenses, there are plenty of purchases you don't actually need to make. Specifically, many baby and kid items you think you need really aren't the best use of your money.
GOBankingRates spoke with several child care experts and parents to learn which products they believe aren't worth the cost. Here's what they had to say.
Make Your Money Work for You
Toys Tied to a Specific Story
When your child has a favorite movie or superhero, it can be tempting to purchase related toys, but Dr. Jody LeVos, chief learning officer at BEGiN, advised against it.
"Children may feel limited to the story when playing with the toy, versus creating their own narratives for the toy," she said. "For instance, some children struggle to play long term with dolls or action figures that are tied to specific back stories, as they feel beholden to 'stick to the script.'"
Instead, she recommended seeking out toys that offer multiple ways to play.
"Whether that's open-ended toys like blocks, or multiple 'levels' of play that can grow with your child over time," she said.
Knockoff Strollers
If a high-end stroller isn't in your budget, you might consider buying an off-brand that looks exactly like it — but don't.
"These strollers may look like popular brands, but they often need more important safety features, and their overall construction is usually far lower quality than the real thing," said Mark Joseph, founder of Parental Queries. "They may be cheap upfront, but you'll replace them sooner rather than later."
Make Your Money Work for You
Take Our Poll: Are You In Favor of More Inflation Relief in 2023?
Inexpensive Toys
"These plastic toys are often made with chemicals that can harm your child's health and don't last long before breaking or becoming dull," he said. "Spend a little more for higher-quality, age-appropriate toys that can grow with your child."
Disposable Baby Bottles
In the moment, they might seem like an easier option, but Joseph said disposable baby bottles just aren't worth it.
"Plastic bottles meant for single use can break easily, leak or cause health concerns if they need to be properly cleaned and sterilized between uses," he said. "Invest in high-quality, good-looking, durable bottles that can be reused repeatedly."
Expensive Diaper Pails
As a new parent, you might think you need a fancy diaper pail, but Carly Campbell, founder of Mommy on Purpose, said it's really not necessary.
"Sure, they may have a fancy design and promise to lock in odors, but let's be real — all a diaper pail really needs to do is hold dirty diapers until trash day," she said. "Save your money and opt for a simple, budget-friendly option."
Make Your Money Work for You
High-Priced Cribs
When it comes to cribs, Campbell said it's important to prioritize safety, but you don't need to break the bank to purchase a quality option for your child.
"Some of the cheapest cribs on the market meet all safety regulations and are just as good as the more expensive options," she said.
Designer Baby Gear
You want the best for your baby, so Campbell said it can be tempting to splurge on high-end items — but don't.
"Babies don't care about labels," she said. "They just want to be comfortable and happy."
Instead, she advised that you save your money and opt for practical, high-quality items that aren't attached to a designer price tag.
Expensive Baby Carriers
You only have two hands, so babywearing can be a great way multitask, but Campbell said you don't need to spend a fortune to get a good carrier.
"In fact, some of the cheaper carriers on the market are just as comfortable and functional as the more expensive options," she said.
Ultimately, when purchasing items for your little ones, she emphasized the need to concentrate on the right things.
"Overall, it's important to prioritize practicality and value when it comes to baby and child products," she said. "Don't be swayed by flashy marketing or high price tags — focus on what will truly benefit your child and your family."
Save Money by Renting Baby Items
If you're not sure a certain item will work for your baby or you know you'll only need it for a limited time, consider renting instead of buying.
"As a baby gear rental company, we hear from parents frustrated by their baby gear all the time," said Natalie Poston, co-founder & COO of JoyLet. "Oftentimes parents are surprised that their baby doesn't like a piece of gear, even if everyone they know recommended it."
For example, she said some babies love motorized swings and are immediately soothed by them, but others hate them and prefer to be held.
"Baby gear is so expensive, but babies grow out of it so quickly and it's impossible to predict whether your baby will like something without trying it first," she said. "That's why parents love renting baby gear — they save money, get the flexibility to try different pieces of gear and when baby quickly grows out of the gear they can give it right back without worrying about storage or long term disposal."
Whether you opt to rent or avoid certain pieces altogether, being informed is the best way to avoid spending your hard-earned cash on baby and kid items that aren't worth the investment.
More From GOBankingRates
Make Your Money Work for You