Fall Family Fun: 11 Cheap and Cool Ideas

6 min Read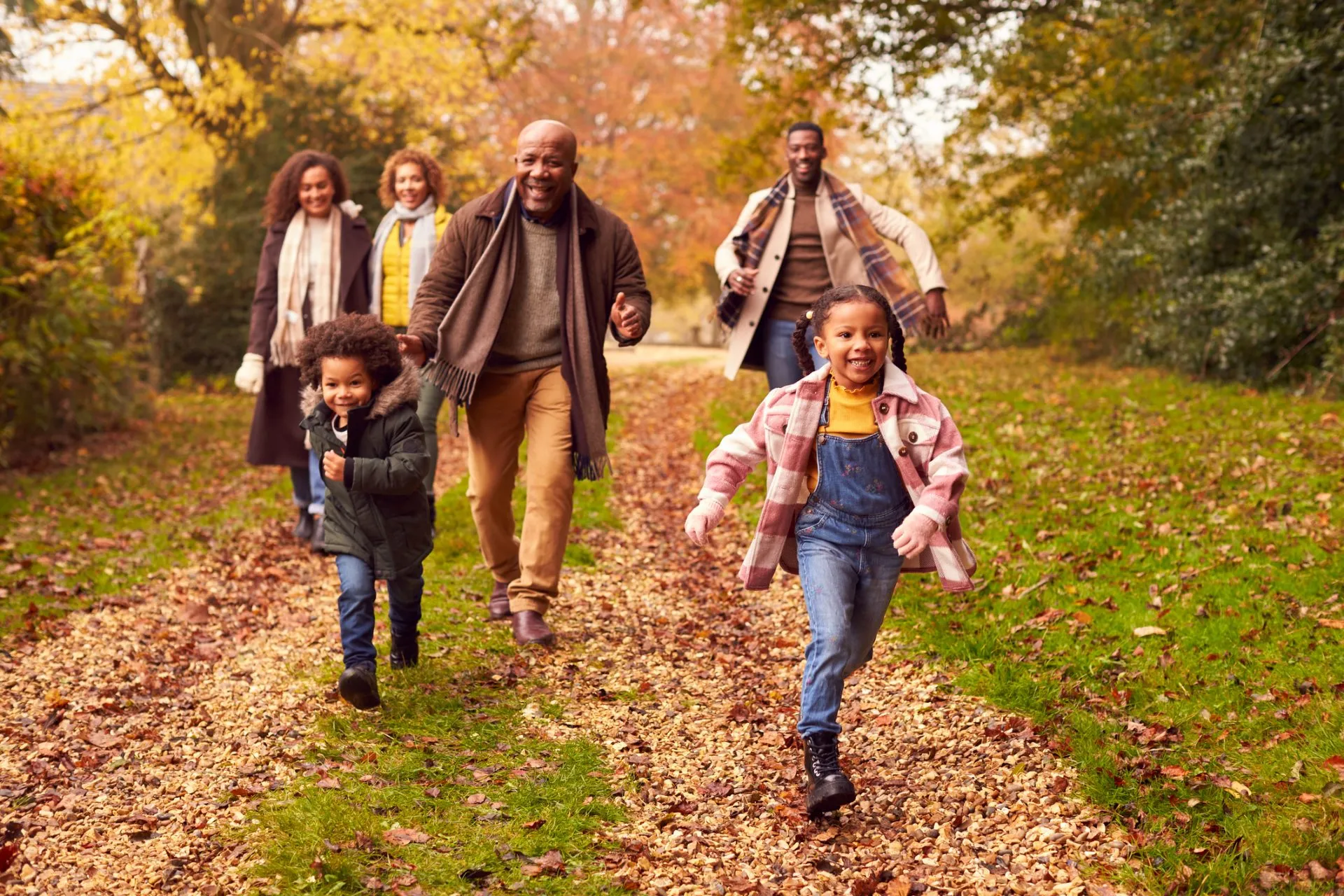 The days get shorter, the weather cools down and the trees start to transform from green to a rainbow of yellow, orange, and red. Fall is just a few weeks away and for many, this one is a particularly meaningful one. 
The Future of Finances: Gen Z & How They Relate to Money
Explore: Your Biggest Money Etiquette Questions Answered
"This year, fall seems to be more memorable than in others," said Mo Mulla, a father and the founder of Parental Questions. "There is the feeling of anticipation for something good to happen, and we all seem to want our family and friends back at home with us. This year has been a little different than the last few years, and I feel that a lot of excitement is circulating in my family, mostly stemming from the feeling of hope for their future."
How can we take advantage of this precious time and enjoy it with our families, without breaking the bank? GOBakingRates consulted parents and lifestyle bloggers to learn their favorite (often free) activities to celebrate autumn.
Make Your Money Work for You
1. Take a Hike
"All you need is a good pair of shoes and a bottle of water," said Holly Nordenberg, owner and parenting coach, I'm With Holly. "Find a place to really take in the beauty of nature in the fall. If you or your kids have an interest in photography, it's a great opportunity to practice this creative outlet as well! You don't even need to bring a camera. Almost all cell phones are equipped with cameras that will take great pictures of the beautiful reds and oranges of the season."
Take Our Poll: Do You Think Student Loan Debt Should Be Forgiven?
2. Visit an Apple Orchard and Then Get To Baking
"When you pick your own apples at an apple orchard, you usually spend less than in the grocery store," said Nordenberg. "Plus, it's a lot of fun to find the perfect apples.  
"Pick a few pounds of apples, then take them home and have fun in the kitchen," Nordenberg continued. "You could make apple pies to freeze for later (like Thanksgiving or Christmas!), make delicious apple crisps or turn your apples into science experiments."
3. Practice 'Hygge' 
"We'll be celebrating the fall by embracing the Danish tradition of 'Hygge' which essentially means, cozying around together," said Josie Cornhill, parent blogger at Me, Them and the Others . "It costs very little because you'll already have most of what you need and fall is the perfect time for Hygge. The change in weather means we all feel ready to be warm and cozy in our homes."
There are a few different ways to embrace Hygge, with Cornhill opting to create a "nest" at home. 
"This involves gathering up cozy blankets and soft pillows and bringing them all to the sofa to create a cozy nest where we can be together," Cornhill said. "To make our nest really special, we like to use lighting. With slightly older children we use candlelight to create a cozy atmosphere but if you have younger children then fairy lights are really pretty and make a safer choice." 
Make Your Money Work for You
4. Decorate Your Home From the Inside Out 
"You don't have to spend a lot to give your home a touch of fall," said Nordenberg. "Use these fun activities that kids will love:
Get jack-o-lantern leaf backs and turn yardwork into outdoor decorations

Place mini pumpkins around your house

Make colorful leaf art to hang up

Make Halloween decorations like construction paper bats, cardboard gravestones and balloon/streamer spiders

Boil a cinnamon stick on the stove to give your house a pleasant fall scent."
5. Host a Halloween Dinner
"Growing up, my mom always hosted a special Halloween dinner," said Katie Clark, owner of Magical Family Travel Guide. "She would make foods that she would name spooky names, decorate the house and it was so special. She's continued this tradition with our grandchildren, and we all love and look forward to it. She's started doing BINGO with Dollar Tree prizes and candy and the kids always wear their costumes. We sometimes have fun music playing, too."
6. Make Waxed Leaves for Thanksgiving Decorations
"Go spend some time hunting through the piles of leaves in your backyard or the local park and choose only the most perfect ones," said Hillary Swetz, owner of HomegrownHillary.com, a frugal living website. "Then, take them home and layer them between two sheets of waxed paper, and two thin towels on top of those. Use an iron to heat the sandwich up and voila! Perfectly preserved fall leaves for table or wall decorations."
7. Go 'Reverse' Trick-or-Treating
"Reverse Trick-or-Treating is another fun idea to celebrate fall," said Crystal Garman, mom blogger, Simply Full of Delight. "Provide your kids with materials to create cards for elderly neighbors, family members or friends. They could be spooky Halloween cards or happy fall notes of encouragement. Place some candy in a bag to give to your recipient. Or, go all out and make some pumpkin muffins or cookies to share.  Let your kids dress up in costume to deliver the treats and cards. Not only will your kids have fun dropping off the treats, but they will bring some much needed joy to those who need it most."
Make Your Money Work for You
8. Hold a Family Photoshoot
"We have a family tradition of doing yearly photoshoots that we use for our family Christmas card," said Amara Uche, family travel and lifestyle blogger at The Escape Manual. "Fall is the absolute perfect season for this as the weather is perfect for the outdoor shoot and the scenery is absolutely stunning. It's worth taking advantage of the vibrant fall colors and falling leaves for a fun family photo shoot."
9. Visit a Pumpkin Patch
"Nothing beats heading to your local pumpkin patch for some outdoor family fun," Uche said. "The kids will have a blast running around while you take in the fall colors, the crisp air and enjoy picking out pumpkins for all your fall needs. Pumpkin patches are also very (Instagram-worthy) and offer really fun backgrounds for family photos."
10. Go Leaf Peeping
"Fall foliage with so many reds and golds is a beautiful sight to behold, and it is free," said Cara Berkeley, blogger, Penny Polly. "Figure out a place close to where you live with the maximum number of trees and make a day trip to spend some time enjoying the season change. Maybe there's a cute small town surrounded by good hiking within an hour or two of you. Pack your own lunch for a fall picnic and save even more money."
11. Go Plant Spotting on a Nature Trail
"I recommend you download a free plant identifying app like PlantSnap and bring a notebook and pen," said Codey Stout, head operations manager at Tree Triage. "Challenge yourselves to find 15 different plants on your trail, including mushrooms. When you discover a new one, write it and its major properties down. (This is) an excellent opportunity to learn about nature and plants, even for the parents."
More From GOBankingRates
About the Author