4 Family Phone Plans To Consider To Save Big Money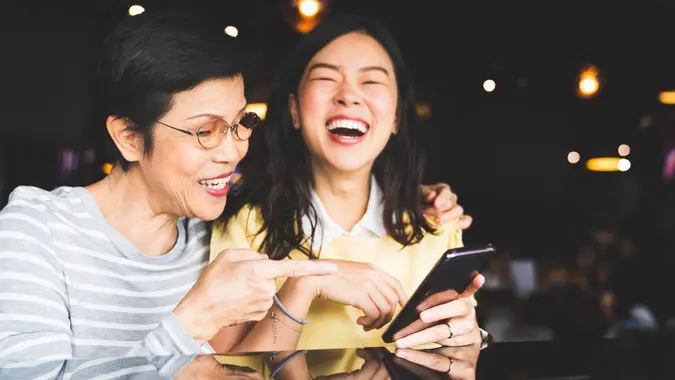 Alife / Getty Images/iStockphoto
One of the easiest ways you can save money on your phone bill is by joining a family plan. There are a wide variety of family plans to choose from, and sometimes it can be tough to determine which plans are the most cost effective or offer the right amount of data your family needs.
Discover: Unplug These Appliances That Hike Up Your Electricity Bill
See: Stimulus Updates To Know for Spring 2022
GOBankingRates took a look at the family plans that can help you save the most money, and how to figure out which family plans are right for you and your family members. 
The Mint Mobile Modern Family Plan
Money saving expert Andrea Woroch said many large carriers require a minimum of four family members to sign up as part of a family plan. Some carriers have even taken this number up to five and numbers as high as eight may be required to receive full family plan benefits. 
What if your family is a lot smaller than four members? Woroch recommends Mint's Mobile Modern Family Plan because it allows just two people in a family to qualify for a family plan. Using this plan allows you to receive the same rate as a single line for the whole family. 
Make Your Money Work for You
Take Our Poll: Do You Think the Government Should Increase SNAP Benefits?
T-Mobile Magenta
There are a few family plan options available through T-Mobile including the popular T-Mobile Magenta plan. 
Under T-Mobile Magenta, you receive unlimited 5G, unlimited talk and text, nationwide 5G coverage and exclusive perks with T-Mobile Tuesdays. Users may purchase two phone lines and get the third free through T-Mobile Magenta and Magenta Max.
In addition, T-Mobile offers discounts to a wide variety of generations and professions. You may receive a discount on eligible family plans if you are over age 55, in the military or a veteran or a first responder.
Cricket Core Plan
Families that worry about kids, or even adults, going over their data limit might look into the Cricket Core Plan from Cricket Wireless. 
The Cricket Core Plan allows each person's data usage to be separate from the other lines on the account. You may add up to five lines to the Cricket Core Plan and save up to $150 each month with five lines. Cricket Core Plan users receive unlimited calling minutes, and unlimited texts and picture and video messages for each member of the family. There's even access to select international features. 
Make Your Money Work for You
Verizon Family Mobile Plans
Verizon offers several family plans to fit everyone's needs. It's difficult to pick just one, so we rounded up their five most popular plans.
Get More Unlimited. This plan is $55 per line for four lines. It includes unlimited Premium access, 50 BG premium Mobile Hotspot data and up to 50% off Verizon Fios Internet, 5G Home Internet or LTE Home Internet. 
Start Unlimited. This plan is $35 per line for four lines. Perks include unlimited data, 5G nationwide, unlimited talk and text and international texting as well as Mexico and Canada talk, text and data.
Play More Unlimited. This plan is $45 per line for four lines. A few benefits include unlimited talk and text, mobile Mobile Hotspot data and 50 GB Premium network access. Apple Arcade or Google Play Pass are included as long as you keep the plan.
Do More Unlimited. This plan is $45 per line for four lines. Access unlimited talk and text, 50 GB Premium network access and more Mobile Hotspot data. Plus, you earn one TravelPass day each month.
Just Kids. This plan is $35 per line for four lines. Parents may use this plan to monitor content, track locations and control screen time for children.
Choosing a Family Plan: Considerations To Keep in Mind
Picking a family plan is about more than saving money. Before you start shopping around, take a moment to review previous billing statements. 
Check into the data usage of each member of your household. If some family members are heavy data users, you may consider signing up for a plan with extra data. Then look at the family plans available and determine which features you'd like to have and which features may not be worth the cost. This will allow you to better streamline your options and find the perfect family plan for everyone in your household.
Make Your Money Work for You
More From GOBankingRates
Make Your Money Work for You