Plan For Parenting Again: Financial Tips on Raising Grandkids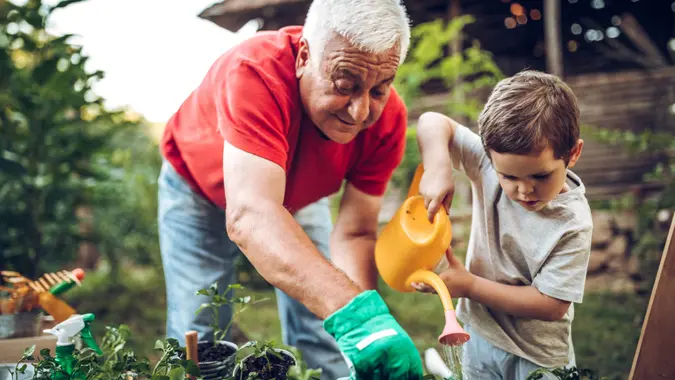 eclipse_images / Getty Images
President Jimmy Carter established National Grandparents Day in 1978 with a proclamation that that urged Americans to celebrate grandparents, give them an opportunity to show love for their children and help children understand the strength and guidance their grandparents can offer. Nowhere is that strength and guidance clearer than in "grandfamilies" headed by grandparents who are raising their grandchildren.
Discover: Need To Borrow Money From a Friend or Family? How To Approach the SubjectTheir Impact on Money: Gen Z: The Future of Finances 
Joan Rutherford is one of them. She unexpectedly became the primary caretaker for her 10-year-old grandson Tai Williams after her daughter contracted multiple sclerosis. "I felt that I really needed to step up more for her," Rutherford said.
She's not alone.
The U.S. Census Bureau's 2016 American Community Survey, the most recent available, showed that more than 2.5 million grandparents nationwide currently take on primary caretaker roles for their grandchildren. The same study revealed that 482,121 of them are living below the poverty income level. With the average annual cost of raising a child falling between $12,350 and $13,900, according to U.S. Department of Agriculture estimates, raising grandchildren can strain grandparents' budgets to the breaking point. But there are steps you can take to lessen the impact.
Read: I Moved Home During the Pandemic — Here Are the Financial Steps I'm Taking To Move Back Out
1. Organize Your Grandkid's Important Documents
You're probably aware that you'll need documentation to enroll your grandchildren in school and provide for their healthcare. However, documentation can also help to prove your eligibility for tax deductions and credits as well as need-based financial assistance. Here are some of the documents AARP recommends that you keep on hand:
Birth certificates for the children and death certificates for their parents, if deceased

Social Security numbers

Health records

Adoption or guardianship papers or power of attorney

Parental consent forms for school and medical care

School transcripts and evaluations

Proof of your and your grandchildren's income and assets, including trusts

Proof of your and your grandchildren's citizenship

Proof of your or your own children's military service 
Make Your Money Work for You
Also See: How To Set Money Boundaries With Your Adult Children
2. Create a Budget
Saving money is a real concern across socioeconomic lines. "Grandparents can deal with the financial strain by revisiting their budget or creating one to ensure they're able to maintain their new lifestyle with the additional expenses," Bashar Baraz, a financial professional with Coastal Wealth in St. Augustine, Florida, told MassMutual, as reported on its blog. "Depending on their situation, they can look for ways to reduce their expenditures and reallocate some of the funds."
Rutherford, a former teacher, learned to cut costs in various ways. "The biggest thing was Metro," she said. "Seventy cents round-trip in the middle of the day." Rutherford and her grandson also cook at home and grow produce in her backyard.
Take a Look: Here's How Much It Costs To Baby-Proof a Home
3. Keep Retirement Savings on Track
Raising grandchildren can cost you your financial security if you're not careful, so make a plan to protect your retirement savings. Senior contributor Bob Carlson wrote on Forbes, "It's important that you decide how much financial help you want to provide grandchildren and great-grandchildren. This should be a line item in your spending plan for retirement." You can always adjust your budget later, if your finances allow it.
4. Apply For Assistance
Don't let pride keep you from applying for public assistance. In some cases, you can apply even if you don't have legal custody of the children, according to AARP. Other programs require that you foster the child yourself or obtain custody or guardianship. Here are some programs to consider:
Temporary Assistance for Needy Families: Cash assistance based either on household income or children's income
Subsidized guardianship programs: State programs that provide cash payments to help care for children who've been in the foster care system
Adoption assistance: State programs that help provide for special-needs children who've been in the foster care system
Child care subsidy programs: State programs that help pay child care expenses for lower-income families
Make Your Money Work for You
For the Future: 7 Best Apps To Teach Your Kids About Money
5. Take Your Tax Credits
If you're still working or are collecting certain disability benefits, you might qualify for the earned-income tax credit even if you don't have legal custody or guardianship of your grandchildren. Depending on how many grandchildren you support, the credit can reduce your tax liability by thousands of dollars as long as your income falls within IRS limits.
The child and dependent care tax credit is also available to working grandparents and can help cover the cost of daycare and before/after-school summer camps and other programs.
You might also qualify for the child tax credit. The IRS has implemented changes to the credit due to the pandemic, but you can check your eligibility for the 2020 tax year using the Advance Child Tax Credit Eligibility Assistant on the IRS website.
Grandparents who are paying or saving for their grandchildren's educations might qualify for additional credits or deductions. Contact a tax advisor to see if you're eligible.
More: Necessary Budgeting Tips for New Parents
6. Secure Health Insurance for Your Grandchildren
You have a number of health insurance options besides expensive private insurance. Visit InsureKidsNow.gov to apply for Medicaid, the federal Children's Health Insurance Program and other low-cost insurance for children and teenagers.
7. Ask For Child Support
Child support can help ease the financial burden of raising your grandchildren, but it could have negative consequences for you and your grandchildren's parents. AARP recommends talking with a family lawyer about asking for support if you go to court for custody or guardianship.
Make Your Money Work for You
Discover: 'Pandemic Parenting' Has Reshaped the Workforce, Survey Shows
8. Seek Out Social and Emotional Support
The strain of raising grandchildren years after you've finished raising your own children can be isolating and overwhelming. Taking care of your own needs will help you  keep up with your new personal and financial responsibilities.
Rutherford set a diversified schedule while her grandson is at school. She volunteers at a hospice home on Mondays and Thursdays, line dances on Tuesdays, has friends over on Wednesdays and shops on Fridays. She emphasized working self-care into a daily routine. "When I feel overwhelmed, I'm fortunate that I have a yard, and I go out and I do meditative walking," she said. She recommended other grandparents do the same.
More From GOBankingRates
Last updated: Oct. 6, 2021