Here's What Your Mom Actually Wants for Mother's Day

Mother's Day is this Sunday, and it's sure to be one of the biggest revenue-generating holidays all year round.
Consumer spending on Mother's Day gifts is expected to total $21 billion, with the average shopper spending $170, according to the National Retail Federation's (NRF) most recent survey.
You probably already have an idea of what to get mom — but a survey shows that it probably isn't the gift your mother actually wants to receive. Here's a look at what she really wants (hint: it's probably not flowers) that you can afford while saving money.
Related: Shop These 21 Best Mother's Day Freebies and Deals for Mom
Mother's Day Gifts Moms Want to Receive
If you're the average shopper spending $170 on your mother, that's no small chunk of change — you'll want the money to count by making sure the gift makes her feel truly loved.
A 2013 survey from Credit Donkey outlined the gifts that moms most wanted that year: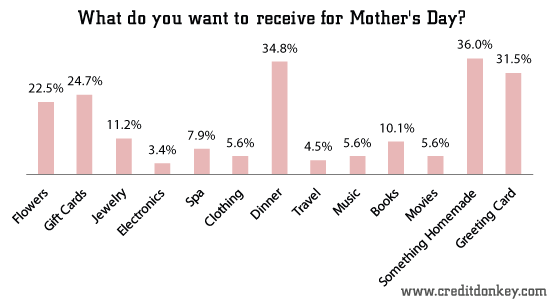 As shown, over a third of moms surveyed wanted to receive something homemade (36 percent) or dinner (34.8 percent). Other gifts in mothers' top five choices were a greeting card (31.5 percent), gift cards (24.7 percent) and flowers (22.5 percent).
But when these numbers were compared to what gift givers plan to get the mothers in their lives, the numbers didn't quite match up. For example, the NRF survey reports that two in three gift givers (67.2 percent) plan to give flowers as a Mother's Day gift, even though less than one in four mothers (22.5 percent) actually want to receive them.
Chart: CreditDonkey.com
3 Mother's Day Ideas That Show Love While Saving Money
Time magazine took a look at Mother's Day 2013 consumer survey data to help readers go "over and above the average, mathematically speaking, to honor your mother." Their suggestion? Spend more on your mom.
But the truth is, thoughtfulness goes a lot further than dollars do to show mothers what they mean to us. Most moms wouldn't want you to raid your savings account to pay for their gifts, anyway.
The good news is you can get your mom exactly what she wants for well under the $170 average. Whatever your budget, here are some affordable, sought-after gift ideas.
As stated above, one in three moms would love to receive something homemade for Mother's Day. Luckily for us, homemade items are often the perfect combination of thoughtful and thrifty, and are some of the most memorable items mothers receive.
"Some of my most treasured gifts from my girls are drawings, cards and crafts," said Faye Prosser, author of "The Smart Spending Guide," in a WRAL News article. "I also love when each year, my youngest daughter brings me breakfast in bed. It's the best cereal and juice ever made!"
You might be a little too old to expect your mom to ooh and aah over a macaroni noodle-plastered, glitter-bombed masterpiece — but that doesn't mean she wouldn't love something homemade. Here are some other gifts ideas of what to get mom:
Greeting card: All you need for a handmade greeting card is some paper, writing utensils and a little time. Or if you don't have a lot of artistic ability, most photo kiosks can turn your favorite picture of the two of you into a customized card. Include a personalized note and she'll love it.
Home-cooked meal: Thirty-four percent of mothers said they wanted to receive dinner as a Mother's Day gift. Why not combine that with something homemade and treat your mom to a brunch or dinner prepared by you? It's likely to be cheaper than eating out together, you can avoid the Mother's Day crowds at restaurants and it'll give you a chance to impress her with your culinary skills.
Even better, consider this brunch idea from Coupons.com's Savings Expert, Jeanette Pavini: invite some of your mom's friends and their children over for brunch. For just $25, Pavini created a brunch for six, using a number of money-saving strategies, that featured chicken and waffle skewers, a spinach and feta frittata, and cheesecake with blackberries. Make sure to even use coupons when grocery shopping to make a home-cooked meal for less.
Gift card: My mother is more practical than sentimental — she once almost broke my five-year-old heart when she threw away a glass bottle that I had lovingly paper-mâchéd into a hideous, poorly painted vase. But I've learned to give gifts that match her pragmatism, such as gift cards or certificates for personal services she would get anyway. For $20 to $50, I give my mom a great Mother's Day gift she'll actually use, and she gets her next hair cut or pedicure on me.
Other great, homemade gifts you could give include a photo album, a collection of your favorite memories of her written down, a poem or a mixtape of songs. It doesn't have to cost much at all; just choose whatever reminds you of her and expresses how much she means to you.