7 VA Benefits Every Military Family Should Know About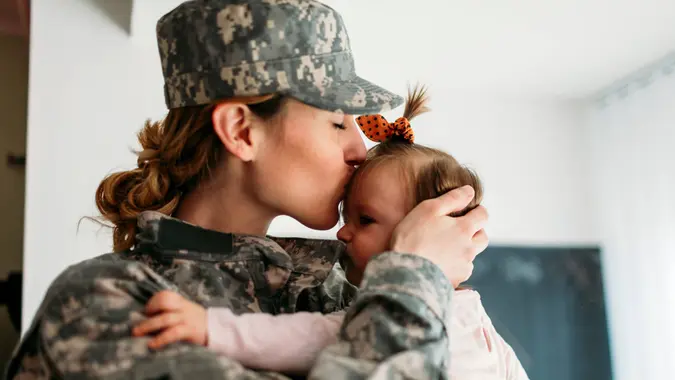 vgajic / iStock.com
The Department of Veterans Affairs manages a range of benefits for U.S. veterans and their families. For instance, it provides tax-free disability compensation for veterans with disabilities that are the result of their active military service.
Veterans who no longer serve might also able to claim VA disability benefits related to their military service. If you or a family member has served, make sure you take advantage of as many military perks as possible. Here are seven different types of VA benefits that you could be eligible to receive.
Click through to find out how much the members of the U.S. military make.
1. VA Disability Benefits
The VA compensates veterans who have become disabled due to a service-related injury or illness. Veterans with existing injuries that were aggravated during service — and those with disabilities that surfaced post-service — are also eligible for benefits.
Surviving spouses and children can typically collect dependency and indemnity compensation. All disability compensation payments are exempt from taxation. Take a look at the qualifications for benefits:
Who qualifies: Honorably discharged veterans who became at least 10 percent disabled through active duty, inactive duty training, or active duty for training are eligible.
What beneficiaries receive: Benefits graduate based on the nature of the disability; the VA compensation benefits rate table can help you determine what your benefits could be.
2. VA Education Benefits
The VA delivers education-related benefits for veterans. Here are qualification details:
Who qualifies: The Post-9/11 GI Bill covers any service member with at least 90 aggregate days of active duty service after Sept. 10, 2001. His status can be active duty, honorably discharged, or discharged with a service-related disability after 30 days.
What beneficiaries receive: Beneficiaries get up to 36 months of education benefits.
What's covered: A range of educational pursuits are covered, including entrepreneurship, flight, vocational and on-the-job training.
Make Your Money Work for You
Related: My Dad's Veteran Status Got Me Out of Student Loan Debt
3. VA Home Loan Programs
The VA puts homeownership in reach for veterans, service members and surviving spouses. Although the VA doesn't directly lend money, the VA guarantees a portion of loans issued by private lenders, which usually offer good terms.
Who qualifies: Duration and character of service — and duty status — figure into eligibility requirements. Special programs are also available for Native American veterans and veterans who were totally and permanently disabled through service.
What beneficiaries receive: Eligible parties can get competitive loans that can enable them to avoid paying for private mortgage insurance or a down payment. Beneficiaries also can qualify to refinance a current VA loan.
Learn: How to Get Your VA Home Loan Approved
4. VA Life Insurance
Because of the inherent risks of military service, the VA offers special policies for different groups of service members, veterans and their families, enabling them to save big on life insurance.
Who qualifies: Servicemembers' Group Life Insurance covers service members until they're 120 days out of service. It also offers the possibility of extending coverage if the service member is totally disabled at separation. Family Servicemembers' Group Life Insurance covers service members' children and spouses. Veterans' Group Life Insurance allows veterans to convert their SGLI to a program of lifetime renewable term coverage.
What beneficiaries receive: Benefits vary among plans. For example, the SGLI plan provides severely injured service members with traumatic injury benefits for an additional $1 a month. The current, basic SGLI premium rate is 7 cents per $1,000 of insurance, and the premium includes the $1 for traumatic injury benefits.
Make Your Money Work for You
5. VA Pension Benefits
The Veterans Pension and Survivors Pension benefit programs provide eligible vets with supplemental income. The programs are based on beneficiaries' needs, and there's a threshold for countable family income.
Who qualifies: Eligible parties include veterans age 65 or older who served at least 90 days of active duty that includes at least one day during a wartime period. Nursing home patients, Social Security Disability Insurance and Supplemental Security Income recipients, and those who were totally and permanently disabled from service are also eligible. Other eligible recipients include surviving spouses who never remarried, minor children, children who are permanently incapable of supporting themselves due to a disability before age 18, and children under 23 who attend a VA-approved school.
What beneficiaries receive: Eligible parties get tax-free money based on need and income, and they can receive VA survivor benefits for qualifying family members.
Find Out: How Social Security Disability Benefits Work
6. VA Health Benefits
With 1,240 care sites, the VA is the country's largest integrated healthcare system. More than 9 million veterans are enrolled in the VA healthcare program.
Who qualifies: Anyone who served in the military and was released under any circumstance other than dishonorable discharge might be eligible. The VA determines who is eligible after receiving individual applications.
What beneficiaries receive: Benefits and co-pays vary depending on factors such as service-related conditions and applicants' individual financial situations.
See: 14 Ways to Survive Rising Healthcare Costs
7. VA Death Benefits
If you served in the military, you might be eligible for VA cremation or burial benefits. Eligible veterans can receive a ceremonial funeral and grave in any of the VA's 135 national cemeteries with space. Services include — at no cost to the family — grave opening and closing, a burial flag, and government marker or headstone, perpetual care, and a Presidential Memorial Certificate.
Who qualifies: Veterans, their spouses and dependents might be eligible. Family burial benefits include — at no cost to the family — burial beside the veteran, perpetual care, and the spouse or dependent's name and date of birth and death inscribed on the headstone. Eligible spouses and dependents might qualify for these benefits even if they predecease the veteran.
What beneficiaries receive: VA burial benefits include $2,000 for burial expenses for a death connected to military service — or up to $1,500 for deaths before 9/11. Qualifying VA death benefits for death not related to service include up to $762 for burial and funeral expenses for deaths on or after Oct. 1, 2017.
Make Your Money Work for You
Click through to learn the best military banks and credit unions of 2018.