7 Ways To Make Assisted Living Facilities More Affordable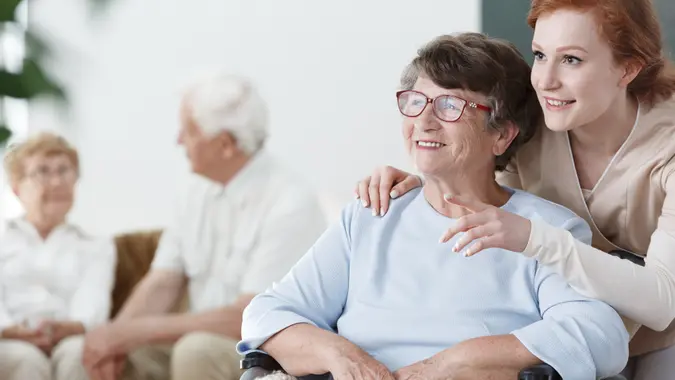 Photographee.eu / Shutterstock.com
Your golden years should be a time to relax and enjoy life. However, many seniors cannot afford assisted living facilities, which allow them to get the care they need while still enjoying their independence — and this is a problem likely to only get worse.
By 2033, more than 11 million middle-income seniors — ages 75 and up — may not be able to afford assisted living facilities, according to researchers from NORC at the University of Chicago. This same group will also not likely qualify for Medicaid to pay for their long-term care needs, placing the burden entirely on them.
As of 2021, the average cost of assisted living is $4,500 per month, according to Genworth. Considering the average monthly Social Security benefit is $1,693.88 per month — as of February 2023 — seniors would need to come up with around $2,800 per month out-of-pocket to pay this expense.
If you're struggling to afford an assisted living facility for yourself or a loved one, you're likely feeling pretty frustrated. The sky-high costs attached to these facilities can feel like an impossible barrier to entry.
Thankfully, there might be a few cost-savings ideas you haven't yet considered. Use this advice from Levon L. Galstyan, CPA at Oak View Law Group based in Glendale, California, to try make assisted living fit your budget.
Research Different Options
Sure, you've probably looked at the prices of several different assisted living facilities in your area. However, Galstyan recommended diving deep to determine which ones provide the services you actually need at the most affordable rate.
Make Your Money Work for You
"For example, one facility might offer more amenities like transportation or on-site medical care, but it might also come with a higher monthly cost," he said. "Another facility might have a lower cost but fewer amenities."
Consider Shared Living Arrangements
At first thought, sharing a room or an apartment with another senior might seem like a hard no, but Galstyan said it can offer social benefits — while allowing you to save money.
"For example, some facilities may offer shared apartments, which can be more cost-effective than a single-person apartment," he said. "Shared apartments can also provide the added benefit of socialization and companionship."
Look Into Government-Sponsored Programs
"Check with your state's Medicaid program to see if they provide assistance with assisted living costs," he said. "The Veterans Administration may also provide assistance to veterans and their spouses."
Galstyan noted that you'll need to qualify for any government-backed program by meeting certain income and eligibility requirements.
"For example, Medicaid provides financial assistance for low-income seniors who need long-term care," he said. "The Veterans Administration may also provide assistance to veterans and their spouses."
Consider a Reverse Mortgage
"If you own a home, a reverse mortgage can provide you with additional income to pay for assisted living costs," he said. "A reverse mortgage is a type of loan that allows seniors to use the equity in their home to receive additional income."
Make Your Money Work for You
Available to homeowners ages 62 and older, this is a unique way to tap into your home equity, without having to immediately sell the property. The amount you can borrow is calculated according to the amount of equity you have in your home.
"For example, if you own a home worth $300,000 and you take out a reverse mortgage, you may be able to receive a lump sum or monthly payments to help cover your assisted living expenses," he said.
Seek Out Nonprofit Organizations
If you're willing to conduct a bit of research, Galstyan said some nonprofits offer financial support with assisted living costs.
"For example, the National Council on Aging provides a BenefitsCheckUp tool that can help seniors find financial assistance programs that they qualify for," he said. "Some organizations may also offer scholarships, grants or other forms of financial aid."
Consider Moving to a More Affordable Area
Since the cost of living can vary in different parts of the country, Galstyan said moving to a less expensive area can be a game-changer.
"For example, assisted living costs in a rural area may be less expensive than those in a large city," he said. "If you're willing to relocate, you may be able to find a more affordable assisted living facility."
Look For Discounts
"Some assisted living facilities offer discounts for seniors who are veterans or who are members of certain organizations," he said
If you're interested in a certain facility, he recommended checking to see if any discounts you might qualify for are offered. "For example, a facility may offer a discount for AARP members. Be sure to check with the facility to see if you qualify for any discounts."
Hopefully, these seven ideas included at least a few actions that hadn't crossed your mind. However, Galstyan stressed the importance of continuing to conduct your own research and exploring all available options to find a facility that fits your budget and offers the type of care you need.
More From GOBankingRates