5 Ways To Rein In Halloween 2023 Costs as Spending Is Projected To Break Records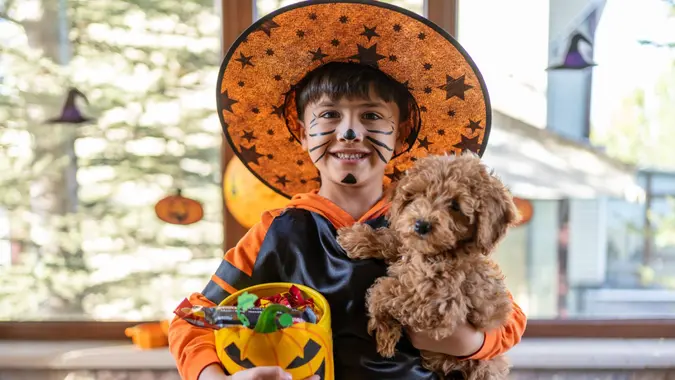 aquaArts studio / Getty Images
Halloween lovers have long-awaited their favorite holiday, riddling social media with festive memes since the summer. But hold on to your wallet — between candy, decorations and costumes, it's easy to splurge more than you want to while celebrating.
According to the National Retail Federation, the average American will spend $108 on Halloween items this year — a serious chunk of change. In fact, total Halloween spending is expected to reach a record $12.2 billion, exceeding last year's record of $10.6 billion.
Hidden Gems: Affordable Luxury Goods at Aldi
If you're worried about leaving a large dent in your family budget, planning ahead can help you find a more affordable way to celebrate. Here are five ways to cut costs without skimping on the fun.
1. Shop Dollar Stores
If you're looking for cheap decorations, look no further. Dollar stores are here to make your life easier with their roundup of basic supplies. Find anything from wall decals to window clings, banners and even tableware — all at incredibly low prices. They also have a great collection of costume accessories like wigs, hats, masks, makeup and jewelry. These items can help you put together a unique and creative costume without spending a fortune.
2. Get Creative With DIY Halloween Costumes
Kids' costumes can be especially expensive when purchased ready-made. That's why going DIY is a thrifty alternative. Making your own costumes can be a fantastic way to save money while allowing your creativity to shine. Design a unique and personalized costume that stands out rather than settle for a pricey mass-produced, generic one.
Make Your Money Work for You
3. Create Fun Memories for Free in Your Community
Hosting a full-on Halloween party is an easy way to break the bank. However, you can find loads of free activities in your community, like outdoor spooky movie nights, costume contests, fall festivals and community pumpkin patches. Make sure to research activities ahead by checking out local event listings, community bulletin boards and social media groups.
4. Scope Out Online Party Stores
If you do decide to throw a massive Halloween party, look to online party stores for some of the most affordable deals to deck out your home. Many offer discounts on bulk Halloween purchases or even run specials, so you end up saving more than if you shopped in person.
5. Organize Eerie Activities
Halloween is all about using your imagination, and what better way than to think up some spooktacular activities that don't require splurging. Create some mystery by setting up a trick-or-treat treasure hunt in your backyard or local park, host a spooky storytelling event in your living room or organize a scary movie night for the kids. The point is to make fun and lasting memories that won't end up haunting your bank account. 
More From GOBankingRates
Make Your Money Work for You