11 Delicious Recipes You Can Make on the Cheap With Your Pantry Staples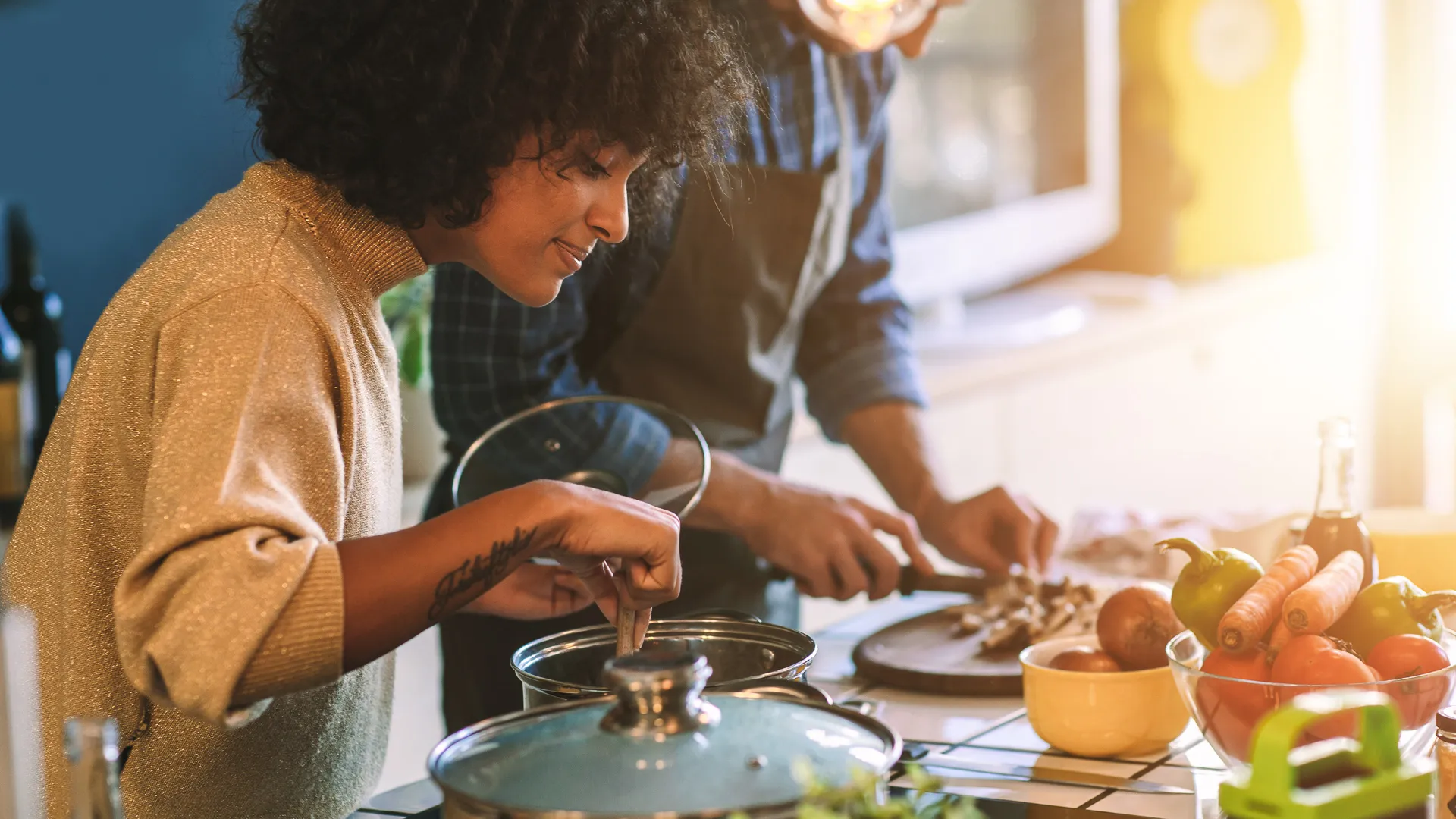 Food costs around the world are rising. Some of the world's most essential staples including grains, soybeans and sugar are more expensive than they've been in years. Consumers have already been bearing the burden of rising food costs. Last fall, C+R Research published a report finding that 85% of Americans were paying more for groceries amid the pandemic. Due to inflation of food prices, that trend can be expected to continue.
Read: 40 Supermarket Buys That Are a Waste of Money
Short of a global agricultural overhaul to reduce the waste and cost of food, there's nothing much consumers can do to navigate rising prices. As usual, the onus falls on us to cut corners, clip coupons and make every conceivable effort to save money at checkout. It's a lot of work, but fortunately, not all of it is difficult. In addition to scrimping and saving, consumers should also do some digging in their pantries. Troves of tasty and nourishing dishes can be made using not much else than what's already stocked in your cupboard. 
GOBankingRates consulted with a number of foodies to learn their favorite cheap, delicious meals that can be prepared with pantry staples you likely already have on hand.
Last updated: March 19, 2021
Make Your Money Work for You
1. Cowboy Chili Baked Bean Pie
Cost: $15 for 4 servings
Ingredients:
3 pounds potatoes

2 tablespoons butter

Black pepper to season

Handful fresh parsley finely chopped

Handful chives finely chopped (optional)

2 medium red onions

2 tablespoons oil

2 cloves garlic

2 tins chopped tomatoes

4 tablespoons tomato paste

1 teaspoon paprika

1 teaspoon garlic powder

1 teaspoon cumin

1/2 teaspoon mild chili powder

1 tablespoon apple cider vinegar

Juice 1 lime or lemon

Three 15-ounce cans of cannellini beans (Alternatively use kidney beans, butter beans or even baked beans. Just wash away the sauce first.)
Prep:
Cut the potatoes into same-sized chunks and boil until soft, then drain. Mash with butter, season with pepper then stir through the herbs. Reserve 500 grams of potato for lunch.

Finely dice onions, then fry in a pan with a little oil until they turn translucent. Crush in the garlic and fry for a further minute then add the tinned tomatoes and tomato puree.

Let the sauce simmer for about 12-15 minutes until it has turned lovely and thick then mix in the spices, vinegar, lime and beans and stir well. Reserve 400 grams of beans for lunch.

Pour the remaining beans into an ovenproof dish, then cover with the mashed potato. Use a spoon to flatten down, then a fork to fluff up the potato which will help it go lovely and crispy.

Bake at 180ºC/350ºF for 30 minutes. Serve warm.
Submitted by: Aileen Cox Blundell, bestselling author and family food blogger
Why it's great: "This recipe is super easy to make and a great way to use up ingredients that might be going off," said Blundell. "It is also great for the freezer too so make a double batch and freeze."
2. Daal-Lentils
Cost: $5 for up to 6 servings 
Ingredients: 
1 onion 

2 tomatoes (diced) 

3 cloves of garlic 

1 green chili pepper (optional) 

1 1/2 cup red lentils (washed thoroughly 3 times) 

2 teaspoons ground cumin 

2 teaspoons turmeric

2 teaspoons paprika

2 teaspoons salt

3 tablespoons chopped cilantro 
Prep: 
In a large sauce pan over medium-high heat, add oil then

sauté

chopped onions, chopped garlic and green chili pepper (optional) until softened (around 5 minutes). 
Add cumin, turmeric, paprika and salt to pan and

sauté

on a medium-low heat for 3 minutes. Once your dry spices are incorporated, add diced tomatoes (or canned diced tomatoes) into the pan and

sauté

on medium high heat for 5 minutes. 

Add washed red lentils into the pan, followed by four cups of water. Raise heat to bring to a boil, then reduce heat until mixture begins to simmer. Cook uncovered for 10 minutes on high heat then cover pan and reduce to low simmer for 20 minutes. Stir every 10 minutes to ensure daal does not burn.

Season to taste with salt. Add chopped cilantro as a garnish and enjoy with a side of rice or naan.
*Alternative method of cooking: Throw all ingredients in an Instapot and pressure cook for 15 minutes, then add salt to taste. 
Submitted by: Osama Alsaleh, fellow at Forbes and grad student at Harvard
Why it's great: "This dish is very low maintenance and so easy to make with everyday ingredients," Alsaleh said. "I like to interchange red lentils and black lentils — you can use whatever kind you have in your pantry. You can find red split lentils at Trader Joe's for $1.99. Lentils are often overlooked even though they are so inexpensive. These protein-filled seeds are filled with tons of B vitamins, magnesium, zinc, potassium and tons of iron. When I would make this inexpensive dish in college it would last me two days and give me enough energy for my daily three-mile runs (and get me through long study sessions)."
More Recipes: 10 Easy, Budget-Friendly Dinners That Will Last All Week
Make Your Money Work for You
3. Better Than Your Frozen Black Bean Burgers
Cost: $9 to make eight burgers 
Ingredients: 
1 cup cooked short-grain brown rice (short-grain will hold these burgers together better than long-grain)

1 cup raw walnuts (or substitute cashews or sunflower seeds)

1 tablespoon avocado oil, plus more for cooking (alternatively you can use veggie broth or water)

1 medium yellow onion, diced

1 tablespoon chili powder

1 tablespoon cumin powder

2 teaspoons smoked paprika

1 teaspoon garlic

1 teaspoon turmeric

1/2 teaspoon sea salt

1/4 teaspoon black pepper

1 BPA-free 15-ounce can black beans, drained

1/3 cup oat flour
Prep: 
Cook brown rice as instructed on the package and set aside. Time-saver: have rice ready to go ahead of time.

Heat a small stovetop pan over medium heat.

Once hot, add raw walnuts and toast for 5-7 minutes, stirring frequently, until fragrant and golden brown. (Keep an eye on them to prevent burning. You just want them toasted.) Set aside and allow to cool.

In the meantime, heat another small to medium stovetop pan over medium heat. Once hot, add 1/2 tablespoon oil (or veggie broth) and onion. Season with a bit of salt and pepper and sauté for 3-4 minutes, or until onion is fragrant, soft and translucent. Remove from heat and set aside.

Once walnuts are cooled, add to blender or food processor with chili powder, cumin, smoked paprika, turmeric, salt and pepper and blend to a fine meal. Set aside.

Add drained black beans to a large mixing bowl and mash well with a fork or potato masher, leaving only a few whole beans.

Next add cooked rice, spiced walnut mixture, sautéed onion, flour and mix thoroughly with a wooden spoon for 1-2 minutes, or until a moldable dough forms. Taste and adjust seasonings as needed.

Form 8 burger patties and set on a baking sheet or plate for grilling. If grilling, heat the grill and brush with oil to avoid sticking. Otherwise, heat the same skillet you used earlier to medium heat.

Once stovetop pan is warm, lightly coat the bottom of your skillet with oil then add your burgers, about 1/2 inch apart. If there is not enough space for all of them to grill evenly then grill half of the mixture at a time then cook the other half. Cook for 3-4 minutes or until browned on one side, then flip (gently). Cook for 3-4 minutes on other side.

Prepare any other toppings you'd like such as sliced tomato, avocado, sprouts, herbs or vegenaise.

Serve burgers as is, on toasted buns or as a lettuce wrap with added toppings.
Submitted by: Nichole Dandrea-Russert, MS, RDN, author of "The Fiber Effect: Stop Counting Calories and Start Counting Fiber for Better Health"
Why it's great: "These incorporate pantry staples like canned black beans, brown rice, walnuts (substitute cashews or sunflower seeds, which are even less expensive) and oat flour (grind some oats and you have flour)," Dandrea-Russert said. "It also contains everyday spices like garlic, chili powder and cumin. I love doubling the batch so that you have plenty for grab-and-go meals throughout the week and enough to freeze for weeks to come (freeze the patties by first grilling on each side, then placing parchment paper in between each one before putting them in an airtight container and freezing for up to three months)."
Find Out: 16 Ways To Save Money on Food
Make Your Money Work for You
4. Mushroom Shepherd's Pie
Cost: $2.78 per person 
Ingredients: 
For the filling:
1 ½ pounds portabello mushrooms, chopped

1 onion, diced

2 large carrots, diced

3 stalks celery, diced

2 cloves garlic, minced

6 ounces green beans, blanched and bias cut

1 tablespoon tomato paste

¼ teaspoon fresh thyme

½ teaspoon paprika

¾ cup to 1 cup vegetable broth

Pinch of red pepper flakes

Salt and pepper to taste
For the mashed potatoes:
3 large russet potatoes, peeled and cubed

Cold water as needed

1 cup oat milk

1 clove garlic, minced

Salt and pepper as needed

2 tablespoons clarified butter/ghee (use olive oil if vegan)
Prep:
Preheat the oven to 400 F

Heat a sauté pan over medium high heat. Add the mushrooms and cook 3-4 minutes until the mushrooms have begun to brown. 

Add the onions, celery and carrots. Season with salt, pepper, paprika, thyme and red pepper flakes. Cook 4-5 minutes until the vegetables are soft and slightly caramelized. Add the tomato paste, distributing throughout the pan.

Reduce the heat to medium, add the garlic and cook until fragrant (about 45 seconds). Add the green beans and ¼ cup of the stock, stir to combine. Taste and adjust seasonings as needed.

Begin to cook the potatoes. Add the potatoes to a large pot and cover with cold water by 2 inches. Add a generous pinch of salt and boil for 10-12 minutes until the potatoes are fork tender. As the potatoes are cooking, add the oat milk, garlic and clarified butter or olive oil to a small saucepan. Heat until the butter has melted and it is hot to the touch.

Drain the potatoes and return to the pot. Mash the potatoes while slowly adding the oat milk. Mash until desired consistency is achieved.

When ready to assemble, transfer the filling to a 9×9 baking dish or 12-inch round dish. Spoon over the mashed potatoes and spread evenly, smoothing the top with the back of a spatula or spoon. If desired, use a fork to create a swirl pattern in the potatoes. Dot with more butter (if desired, or brush with olive oil) and bake 30 minutes then broil for 5 minutes until the potatoes are golden brown.
Submitted by: Joshua Ingraham, founder, owner, GO Buddha Meals
Why it's great: "It's comforting and soulful and a little bit humbling," Ingraham said. "These are the simple dishes that make us realize that we don't need much in this world to be happy. Good food and a healthy, happy family."
Read: 11 Pricey Restaurant Meals You Can Make at Home for Less
Make Your Money Work for You
5. Slow Cooker Cabbage Roll Soup
Cost: $12 for 6-8 servings
Ingredients: 
2 tablespoons olive oil

1/2 chopped onion

4 cloves minced garlic

1 pound ground beef

4 cups beef stock

Two 14.5-ounce cans diced tomatoes

6 ounces tomato paste

1 teaspoon Italian seasoning

1 teaspoon paprika

1 teaspoon garlic powder

1 teaspoon onion powder

1 head sliced cabbage

Salt and pepper to taste 
Prep:
Heat first 4 ingredients until cooked through.

Drain beef and add to slow cooker.

Add remaining ingredients to slow cooker and mix well.

Cook on high for 4-6 hours. 
Submitted by: Pam Stultz, lifestyle and food blogger; owner, Housewives of Frederick County LLC
Why it's great: "It's ridiculously easy to make, low carb, healthy and requires most, if not all, ingredients you already have at home," Stultz said.
See: Best Prepared Meal Delivery Services During the Coronavirus Pandemic
6. Lemony Canned Tuna Spaghetti
Cost: $13.50 for 4 people
Ingredients:
6 ounces gluten-free spaghetti

1 can (5 ounces) tuna in olive oil, no salt added

0.4 ounces garlic, crushed or grated, about 1 large clove

Zest of one whole lemon

2 tablespoons lemon juice, about half of one whole lemon

??" cup olive oil

¼ teaspoon coarse sea salt

¼ teaspoon ground black pepper

2-3 teaspoons capers, drained

¼ cup fresh parsley or dill, chopped
Prep:
Bring a big pot of water to boil and lightly salt the water. Cook the spaghetti, following the package instructions.

In the meantime, in a large heat-proof bowl, lightly mash the canned tuna and mix with ingredients from garlic to capers. Set the bowl on the stovetop next to the pasta boiler pot. This will warm up the tuna and the spices in the bowl gently and the tuna will stay moist.

Add the cooked spaghetti into the tuna bowl. Toss and add the freshly chopped herbs. Season with salt and pepper to taste.
Submitted by: ChihYu Smith, founder of I Heart Umami
Why it's great: "This is a super easy and flavorful pantry meal, using accessible ingredients," Smith said. "With only five ingredients and about 10-15 minutes, you'll have this warm and comforting tuna pasta ready in no time. It's easy to make, easy on the budget and is absolutely delicious." 
Find Out: What These 20 Food Network Stars Did Before They Were Famous
Make Your Money Work for You
7. Easy Red Bean Curry 
Cost: Under $3.50 for 2 servings
Ingredients: 
1 tablespoon vegetable oil

1 teaspoon cumin seeds

2 teaspoons ginger-garlic paste

1 teaspoon medium hot chili powder

1 teaspoon turmeric

1 teaspoon garam masala

1 can chopped tomatoes

1 15-ounce can red kidney beans, drained and rinsed

Salt, to taste

½ teaspoon white caster sugar
Prep: 
Warm the oil in a frying pan, then add the cumin seeds and fry on a high heat for 30 seconds or until they go a couple of shades darker.

Add the ginger-garlic paste and fry for 30 seconds.

Add the chili powder, turmeric and garam masala, fry for a few seconds, then pour in a 5 of tablespoons of cold water. Cook until the water has evaporated and the oil separates.

Tip in the tomatoes and cook on a high heat for 4-5 minutes until they soften. Stir in the beans and salt to taste. Tip in the sugar.

Cover and bring to the boil, then reduce the heat and simmer for 3-4 minutes. Take off the heat and serve with rice.
Submitted by: Monisha Bharadwaj, Cooking With Monisha
Why it's great: "It's really easy and quite delicious. You can be eating dinner in 20 minutes, and it's healthy, too," Bharadwaj said. "You can swap the red kidney beans for any other canned beans."
More: These 16 New Food Companies Are Changing the Way We Eat
8. Fettuccine Alfredo
Cost: $6.84 for 4-6 servings
Ingredients: 
12-16 ounces fettuccine noodles

1 1/4 cup heavy cream, 2 tablespoons butter

1 1/4 cup finely grated parmesan cheese

Pasta cooking water

Salt and pepper to taste
Prep: 
Bring 1 cup heavy cream and 2 tablespoons butter to a simmer over medium heat. Reduce heat to medium low and let simmer for 12-15 minutes, stirring occasionally and until reduced slightly. Be careful not to let the cream scorch!

While cream simmers, cook pasta in heavily salted water according to package directions to al dente, or desired tenderness.

When the cream is reduced, remove from heat. Add ¼ cup reserved heavy cream and 1 cup grated parmesan cheese. Stir until the sauce is smooth. Add salt and pepper to taste.

When pasta is cooked, use a measuring cup to reserve ½ cup of the pasta water, set aside.

Drain pasta (don't rinse) then immediately put into a large serving bowl (you want the noodles to be slightly wet).

Pour the Alfredo sauce over the pasta, tossing to coat all the noodles. Add a few splashes of reserved pasta water (you won't use all of it) until desired consistency is reached. Top with reserved parmesan cheese. Serve immediately.

Sauce will continue to thicken as it cools so add a few more splashes of pasta water to the bowl if needed to loosen the sauce.
Submitted by: Nikole Berg, food blogger at The Travel Palate
Why it's great: "It's quick and easy to make in about 20 minutes," Berg said. "It's made with easy-to-find fresh and pantry ingredients (and is) the perfect comfort food that's filling and family friendly." 
Make Your Money Work for You
9. Masala French Toast
Cost: $1.04 give or take per 4-slice serving 
Ingredients:
2 eggs

2 tablespoons milk of choice

1 clove garlic, finely chopped

1/4 teaspoon ground cumin

1/4 teaspoon ground coriander

1/4 teaspoon turmeric

1/8 teaspoon ground black pepper

1/4 teaspoon salt

4 small slices of bread of choice (or 2 large), regular or gluten free; avoid any breads with added sugars

2-3 teaspoons oil of choice for cooking

(Optional) ½ to 1 whole fresh green chili such as birds eye, finely chopped.

(Optional) Fresh cilantro for garnish
Prep:
In a shallow baking dish, beat two eggs together with the milk, garlic, chilies, dry spices and salt.

Dip the bread in the egg mixture, flipping to coat each side. You will likely need to do this in 2 turns, depending on the size of your dish.

Heat a large frying pan on medium heat. Add 2 teaspoons of oil and tilt the pan to distribute it evenly.

Assure that the oil is hot, and then add the soaked bread to the pan (likely only 2 slices will fit at a time).

Allow to cook for around 2 minutes or until the egg looks cooked around the bottom edges of the bread.

Flip and cook for around 2 minutes more or until the underside is golden and dry.

Transfer to a plate and top with chopped fresh cilantro.

Continue cooking the other slices using the same method, adding an additional teaspoon of oil to the pan if needed.
Submitted by: Dr. Emily Ventura, Ph.D., MPH, co-author, "SUGARPROOF: The Hidden Dangers of Sugar That Are Putting Your Child's Health at Risk and What You Can Do."
Why it's great: "This dish is awesome, not only for its unique flavor profile, but because it is a healthy alternative to a normally sugar-filled breakfast staple," Ventura said. "Sugar is a notorious breakfast contender that leaves kids and adults alike craving sugar all day long. This recipe gives the satisfactory texture and experience of French toast with the savory, satiating flavors of masala."
See: 30 Celebrities Making Serious Dough in the Food Industry
10. Blueberry Baked Oatmeal
Cost: $2.50 for 8 servings
Ingredients: 
1 cup almond milk

½ cup maple syrup

¼ cup melted vegan butter

1 tsp vanilla

1 tsp baking powder

2 cups quick oats or blended regular oats

2 cups frozen wild blueberries

1 tsp cinnamon (optional)
Prep: 
Preheat the oven to 375 F. Mix together the almond milk, maple syrup, baking powder, vanilla and butter. Add the oats and mix. Then, fold in the blueberries. Pour the batter into a 9-inch by 11-inch casserole dish and bake for 45 minutes. Oats will be golden and berries will be bubbly.
Submitted by: Jillian Glenn, cookbook author of "Easy Low-Cal Vegan Eats" and owner of the vegan and gluten-free recipe blog Peanut Butter and Jilly
Why it's great: "This recipe is an excellent meal prep breakfast for families on the go," Glenn said. "It's healthy, gluten free and made with simple, wholesome and affordable ingredients."
11. Cereal Cookies
Cost: Under $10 for 13 cookies
Ingredients: 
1 cup all purpose flour

1/2 teaspoon baking soda

1/4 teaspoon salt

1/2 cup (1 stick) unsalted butter

1/4 cup granulated sugar

1/2 cup brown sugar

1/2 teaspoon vanilla extract

1 egg room temperature

1 cup cereal of your choice, plus extra ¾ cup for rolling

1/2 cup of chocolate chips, milk, dark or white (optional)
Prep: 
Preheat oven to 350 F

Combine dry ingredients: In a medium bowl, mix together 1 cup flour, ½ teaspoon baking soda and ¼ teaspoon salt. Set aside. 

Mix wet ingredients: Beat together ½ cup butter, ¼ cup sugar and ½ cup brown sugar together until it's smooth and creamy. Add in egg and ½ teaspoon vanilla and mix until combined. 

Slowly add in the dry ingredients into the wet ingredients. Mix together until just incorporated and you have a cookie dough. 

Using a spatula, stir in ½ cup chocolate chips (optional) and 1 cup of cereal (whole if cereal pieces are small, crushed if cereal pieces are large) until well combined without crushing the cereal too much. 

Line a baking sheet with a silicon baking mat or parchment paper. 

Scoop the dough into 1½ tablespoon sized balls and roll in the remaining ¾ cup crushed cereal so the cereal bits stick to the outside of the cookie ball. 

Place onto the baking sheet at least 2 inches apart. Bake at 350 F for 9-11 minutes. 

Remove from the oven and cool for 10 minutes before moving them onto a cooling rack.
Submitted by: Christina Wong, baker and chief chicken wrangler, Baking With Chickens 
Why it's great: "These are your favorite breakfast cereal smashed up in a cookie," Wong said. "It comes together in under 40 minutes, and it's a fun recipe to make with kids. I love how almost any cereal can be mixed in with the cookie dough: Fruity Pebbles, Golden Grahams, Cap'n Crunch, Special K. Feel free to experiment."
More From GOBankingRates
Photo Disclaimer: Please note photos are for representational purposes only.
About the Author