50% of Americans Say Their Biggest Budget Expense is Food Despite Inflation Slowing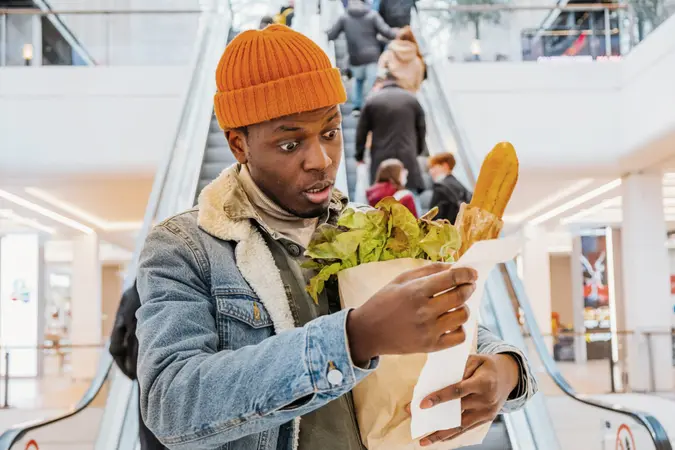 Elena Perova / Getty Images/iStockphoto
Inflation continued its steady descent in April, standing at 4.9%, and the overall food index remained unchanged for the month. Some food groups finally saw some decreases, according to the Bureau of Labor Statistics' (BLS) Consumer Price Index (CPI), released May 10.
This latest set of data will be welcomed news to consumers, as groceries take out a big chunk of paychecks every month. Indeed, almost half of Americans (48%) said their grocery costs are eating up most of their monthly budget, even before utility bills (38%) and credit card debt (37%), according to a survey conducted by OnePoll and UserTesting and reported by Talker. 
The survey also found that groceries are the top monthly budget spend across generations, with 48% for Gen Z, 55% for Millennials, 45% for Gen X and 47% for Boomers.
"Food is one of the easiest budget categories to overspend on. If you can get that under control each month, your entire budget can change," finance guru Dave Ramsey tweeted — a thought he shares on a monthly basis.
In April, the food index remained unchanged, while the food at home index fell 0.2%. While this is good news, prices are still up a whopping 7.1% over the last 12 months.
Food away from home increased 0.4% for the month — an 8.6% increase for the year.
In terms of specific items which decreased, prices for fruits and vegetables dropped 0.5% in April, and the price of bacon dropped 2.2%. Yet, while the prices of tomatoes dropped 2%, consumers paid more for lettuce, which saw a  3.5% increase for the month.
Make Your Money Work for You
Prices for meats, poultry, fish, and eggs also declined 0.3% over the month. Eggs, which have been a symbol of inflation with exploding prices, dropped 1.5% for the month — a 21.4% annual increase.
Eggs were one of the largest increases for the year, in addition to margarine, which saw a 23.8% increase; flour and flour prepared mix, with a 17.8% increase; frozen vegetables, with an 18.9% increase; and cookies, with a 15.9% increase. 
Take Our Poll: Are You Concerned About the Safety of Your Money in Your Bank Accounts?
 
The dairy and related products index decreased 0.7% in April as prices for milk fell 2% — the largest decline in that index since February 2015.
On the other hand, some products continued to be more expensive, with prices for cereals and bakery products increasing 0.2% over the month, while baby food and formula saw a steep 4.3% increase.
More From GOBankingRates