7 Ways To Save Money on Groceries Thanks to Your Credit Card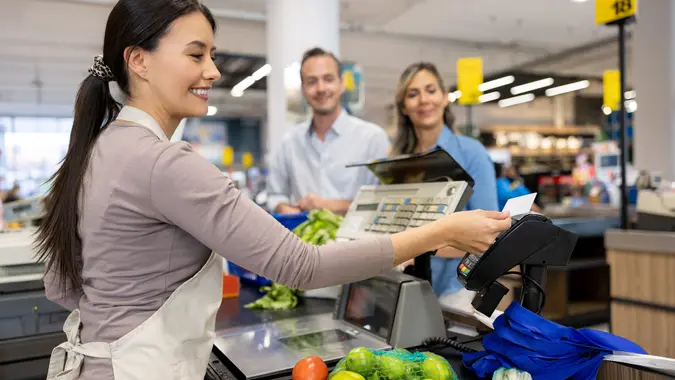 Hispanolistic / iStock.com
All information about American Express card offers have been collected independently by GOBankingRates and have not been reviewed or approved by American Express. These offers are not available through GOBankingRates.
Groceries continue to be exceptionally high for most Americans. According to CNN, rising prices of items like eggs, milk, and bread have caused people to spend more and buy less. As noted in the article, eggs increased by 48.2% from May 2022 to May 2023. Bread rose 12.7% during the same period.
While there may be slight relief in sight, grocery prices are projected to remain high throughout the year. Luckily, there are ways you can save significantly without sacrificing the food you love. Here are the seven best ways to save money on groceries thanks to your credit card.
Cash-Back Opportunities
Today, credit cards offer more perks than ever before. Many card companies allow you to earn cash back just for shopping at the grocery store. As reported by Forbes Advisor, cards like the Blue Cash Preferred® Card from American Express give you 6% cash back when you shop at supermarkets in the United States. The offer is good up to $6,000 per year. It's like getting paid to shop.
American Express isn't the only card company giving away these deals. Citi, Target, and Visa are also offering significant money back for shopping at stores. If you are a loyal customer of a particular company, such as Target or Amazon, you can save even more while you shop. All you have to do is pay with your card when you check out, and the cash back is usually applied directly to your account.
Make Your Money Work for You
Rewards Galore
Cash back isn't the only way you can save when you use your credit card at the grocery store. Some credit card companies offer rewards for paying with plastic when you shop. CNBC notes that, on average, Americans spend over $5,000 per year on groceries. With that much money being spent, you can often earn big rewards by paying with the right card. As noted by CNBC, the Chase Sapphire Preferred® Card offers 3x rewards on select online grocery purchases. Rewards can be used towards travel and other perks.
The trick is that you need to use your card consistently and pay it off. If you try to use multiple cards, you might not spend enough to reap the rewards. Rewards are generally based on a "the more you spend, the more you get" system. Also, if you do not pay off your credit card, then you will be paying high interest rates on the balance you carry each month. Annual Percentage Rates (APRs) on credit cards tend to range from 17.99% to 29.99%.
Combine With Loyalty Program
Another way you can save is by combining your credit card spending with a store loyalty program. Most grocery stores offer some sort of loyalty program that incentivizes your spending. The loyalty program may include special offers, discounts or even cash back. Some also provide users with fuel points, so you'll pay less at the pump.
Double the Benefit With Store-Specific Cards
If you are a routine Target or Costco shopper, then you may want to consider a store-specific credit card. The Target RedCard, for instance, will save you 5% each time you shop and give you free shipping on most items.
Store-specific cards are ideal for people who are brand specific, meaning they regularly shop at the store. If you go to several different stores to complete your shopping, then you may want to consider a more universal card with a good rewards or cash-back program.
Make Your Money Work for You
Cheaper Payments
Using your credit card to pay for groceries will not only help you save more at the checkout lane, but it can help you save more everywhere. Paying with your credit card and then faithfully paying off what you have spent helps to build your credit.
A good credit score can help you in several areas. For instance, a higher credit score can help you get lower rates on car insurance, qualify for better credit card APRs, and get approved for bigger loans.
Easier To Track Spending
While paying for things in cash has some advantages, it may also be harder to keep track of your spending. Paying for groceries with a credit card can help you easily track what you spend each week, month and year. You can then set a budget and adjust your spending according to your financial goals. Ultimately, you can save a ton just by being more aware of how you spend money each month.
Sign-Up Offers
Lastly, most credit card companies offer new customers a sign-up or transfer bonus. Taking advantage of these offers can help you save a lot of money or receive cash back. It is important to read all the fine print since there may be requirements for you to qualify for the offer.
More From GOBankingRates