9 Everyday Foods That Could Get Even More Expensive Soon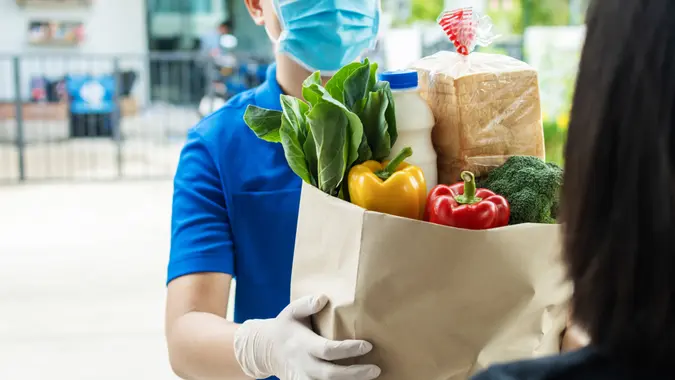 giggsy25 / Shutterstock.com
As we move toward the holidays, money is often on the top of our minds as we think about gifts and holiday gatherings.
Shopping: Shopping Mistakes You're Making and How To Stop
Budget This: 50 Purchases Buyers Almost Always Regret
This year, planning for your holiday meals and beyond might need to include a revision to your budget, as some foods are skyrocketing in price, now and for the foreseeable future:
Beef
If you're a lover of hamburgers and meat-based spaghetti sauce, beef tacos and so on, you can expect to be paying more for your meats right now. According to the Bureau of Labor Statistics (BLS) Consumer Price Index (CPI), the index for beef rose by 4.8% in September, which translates to a more than 12% price increase over this same time last year, according to NPR. Pandemic-related production issues may partially be at fault, but the beef industry is 80% controlled by only six big companies: JBS, Tyson Foods, Cargill, Smithfield, Hormel, and National Beef, which have an unfair advantage to manipulate prices in their favor.
Poultry, Fish and Eggs
What do fried chicken, cheese omelets, and grilled tilapia have in common? Making them will be more expensive. That's because your poultry, fish, and eggs right now are all more expensive, as the CPI for these items rose over 2.2% since last month. That translates to prices rising by more than 8% since April and more than 15% since before the pandemic, according to Marketplace.
Nonalcoholic Beverages
Not even your fruit juices, sodas, bottled waters, and more are escaping inflation right now. The CPI for nonalcoholic beverages increased by 1.2% in September, which marks four consecutive months of price increases for the things you love to imbibe.
Make Your Money Work for You
Read: 24 Ways To Make Money Off Your Shopping
Fruits and Veggies
If you're trying to get your family to eat more fruits and vegetables, it's going to come with an increased cost. The CPI for fruits and vegetables rose 0.6% in September, which is an even higher increase than the one it made in August.
Bakery Products and Baking Ingredients
From fresh scones to Special K cereal, you'll be paying more for your bakery items and cereals. Not only did the CPI jump 1.1% for your favorite cereals and bakery products, but you'll also be paying more for 49 of 50 of the top ingredients you bake with, including sweeteners and cocoa, according to the Washington Post. The American Bakers Association expects those costs to keep on rising, as well, another 5% to 10% through the end of the year. Some of this cost may have to do with recent hurricanes affecting sugar cane refineries in Louisiana, and drought affecting sugar beets in the Midwest. Prices of baked goods to rise another 5% to 10% in all categories between now and the end of the year.
Dairy
Your gallon of milk, your tub of butter, and your favorite cheese might start to be more expensive than usual. You can thank the dwindling number of dairy cows and consequently lower dairy production, for the increased price of dairy, according to Bloomberg. The CPI index shows a 0.7% spike in the cost of dairy and related products.
See: 19 Money-Saving Secrets Target Doesn't Want You To Know
Snack Foods
Your favorite snacks aren't getting any cheaper, either, unfortunately. The pandemic drove up people's urge for comfort and snack foods, pushing up the prices of snacks 1.9% in September. Candy and chewing gum prices increased 2%. Kraft, Heinz and Mondelez have announced price hikes for such snacks as Jello-O, Cool Whip and Sour Patch Kids, as well as others, according to KTVZ news.
Make Your Money Work for You
Discover: The 37 Mistakes We Make When Shopping at Costco, Amazon, Target and Walmart
Oreos
The manufacturer of Oreos and Ahoy, Mondelez, also reported price increases for the foreseeable future.  An initial  6% to 7% price increase goes into effect in the U.S. in January of 2022. So get your fancy Oreos, your peanut butter, your golden, your birthday cake now before they increase.
Kraft Mac & Cheese
Talk about your ultimate comfort food suddenly looking a lot less comforting, Kraft Mac & Cheese products will also experience a price increase. A couple of products with immediate increases are a 3.5% increase on EZ Mac to a huge 20% hike on the 7.25-ounce Kraft Big Bowl Mac & Cheese.
More From GOBankingRates