Aldi's 8 Best Food Deals in April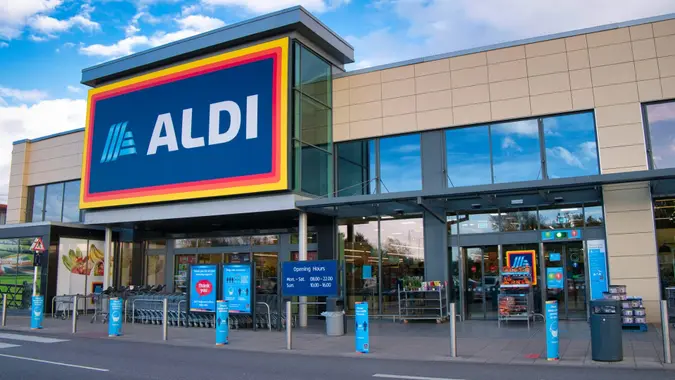 Alan Morris / Getty Images
Aldi's April deals are all about tasty, unique food experiences, as well as your regular staples. Look for sweets, upscale pizza, delicious snacks and items that you won't find at such great prices anywhere else.
Whether you're headed in to do your regular grocery shopping or looking for something new, Aldi won't disappoint with its food deals in April.
LesserEvil Himalayan Gold or 'No Cheese' Cheesiness Organic Popcorn
The brand name alone gives away the healthiness factor of this organic popcorn. Aldi has two flavors of the popcorn on special this month: Himalayan Gold, which is made with butter-flavored coconut oil, and Himalayan salt, or their "No Cheese Cheesiness" which is also made with coconut oil but designed to taste cheesy.
Both flavors will appeal to vegans, vegetarians or anyone trying to be more health conscious but not wanting to sacrifice flavor. Each 4.6 oz bag is just $2.98.
Make Your Money Work for You
Cattlemen's Homestyle Meatloaf
There's something for everyone at Aldi. Meat lovers can take advantage of this pre-prepared frozen meatloaf from the well respected meat brand, Cattlemen's. Satisfy the carnivores in your family without all the extra prep! It's only $8.49 28 oz of this beef and pork meatloaf, as good as your mama's, is just $8.49.
Mama Cozzi's Spinach and Goat Cheese Pizza
Mama Cozzi's makes it simple to cook Italian cuisine with almost no effort, according to Julie Ramhold, Consumer Analyst with DealNews.com.
Take Our Poll: Would You Move for a Job That Paid You a $10,000 Signing Bonus?
"This will only set you back $5.99 and can make pizza night much cheaper than ordering takeout," she said. "If you're feeling like mixing things up, this is a cheap but tasty way to go." Spinach and goat cheese pizza is a high-end specialty you might find in an upscale restaurant, but you pay less for the whole thing than a single slice would cost there, Ramhold added.
Make Your Money Work for You
Bake Shop Cheesecake
Are you craving a delicious treat for weekends or after dinner? How about cheesecake?
"Get four flavors in one container with this assortment, which makes it perfect for any gatherings you may have planned this month," Ramhold said. Choose from a chocolate assortment which includes chocolate, chocolate marble, brownie and turtle flavors, or the fruit assortment which has strawberry swirl, lemon lime, mixed berry, and peach swirl.
Ramhold explained, "Either way, you can get eight decent slices of decadent cheesecake for just $5.89 starting April 5."
Southern Grove Gochujang Almonds 
Aldi's variety of flavored almonds is extremely popular, Ramhold said.
"Their Snickerdoodle almonds are absolutely addictive and a fall staple in our household and their Wasabi almonds make a delicious savory snack as well." Though she hasn't personally sampled the new Southern Grove gochujang almonds, she said, "given the great balance of the flavors I have tried, I'm very excited to get my hands on these."
They're also just $5.69 a bag.
Berryhill Extra Hot Honey
If regular honey doesn't provide enough flavor for you, check out Berryhill Extra Hot Honey. Ramhold said, "Thanks to Mike's Hot Honey, plenty of other brands have realized this is a good way to spice up their selection (no pun intended)."
Make Your Money Work for You
You can pick up this bottle from Aldi for just $4.99 from April 21, and while it might seem pricey for a 10-oz bottle, a 12-oz bottle of bigger brands elsewhere will cost twice as much.
Sundae Shoppe Variety Pack Mini Ice Cream Bars
Ramhold said, "Pick up a box of eight mini bars for the perfect afternoon pick-me-up or post-dinner dessert that's just the right amount. It's $4.49 for the box, which you can get starting April 21, and comes with two white chocolate bars, two milk chocolate bars, and four milk chocolate with almonds bars."
Simply Nature Flourless Bread
Vegans and bread lovers rejoice! Simply Nature's flourless bread, made with a variety of grains and no dairy products, is just $4.99 for a 24-oz loaf. Ingredients include such hearty grains as sprouted oats, sprouted rye, sprouted barley, sprouted quinoa, sprouted amaranth and sprouted millet.
More From GOBankingRates
Make Your Money Work for You
Make Your Money Work for You