Aldi vs. Trader Joe's: Which Has Cheaper Groceries?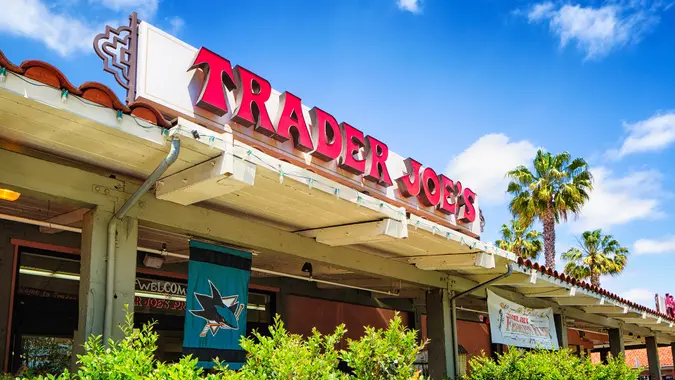 NicolasMcComber / Getty Images
With inflation still high, trips to the grocery store are probably painful on your wallet. To alleviate this, shoppers often start couponing, buying store-brand goods and comparing grocery stores to see which are cheapest. Trader Joe's and Aldi, specifically, are both go-to destinations for quality and affordable eats — but does one offer better prices than the other?
Take a look at the cost breakdown of groceries at Trader Joe's and Aldi.
Cheapest Groceries at Aldi
If you want to save the most money during your next Aldi trip, check out these groceries that come with big savings. 
Sliced Muenster Cheese 
Specialty cheese is expensive — especially in an era of inflation. But Aldi can help ease this pricey buy while satisfying your cravings. At Aldi, you can buy a 12-ounce bag of sliced Muenster cheese for a mere $2.09. 
Ground Beef Patties
Meat is one of the most expensive foods to buy, and every cent counts when it comes to saving on this item. Aldi can help you save in this category with their 80% ground beef patties priced at $4.29 per pound. Trader Joe's, by comparison, costs a steeper $6.49 per pound.
All-Natural Whole Chicken 
You can buy an all-natural whole chicken for just $2.99 per pound from Aldi. Even compared to other budget-friendly grocery stores, Aldi's price wins out. Trader Joe's all-natural heirloom whole chicken, for example, costs $3.99 per pound.
Make Your Money Work for You
Frozen Pepperoni Pizza
You can also save on easy frozen meals at your local Aldi. If pepperoni pizza is up your alley, you can't beat the low price of $3.85 for a 15.4-ounce frozen pepperoni pizza. This beats Trader Joe's prices by a couple of dollars, with pizza there costing around $6.49.
What Not To Buy at Aldi
While Aldi is known for its no-frills shopping experience that sells primarily generic and private-label brands for less, there are some things you are better off buying somewhere else. When it comes to gourmet frozen meals and many cheeses, for instance, you can't beat Trader Joe's quality and prices.
Cheapest Groceries at Trader Joe's 
Trader Joe's is a beloved grocery store among many Americans for its fun frozen section and one-of-a-kind grocery options. Not only is the store a fan-favorite for its unique options, but it also has some pretty great deals. Be sure to stock up on these items during your next TJ's trip to pocket the most savings.
Bananas
After high inflation hit the U.S., the prices of everything were affected — from the housing market to bananas. It comes down to just a few cents in savings, but shoppers just can't beat Trader Joe's price on bananas. With one banana coming in at $0.19, it's a pretty unbeatable produce steal. 
Italian Extra Virgin Olive Oil 
A staple in nearly every kitchen across the nation, olive oil is a necessity. While this product might be popular, it can rack up a pretty penny depending on where you buy it. If you're looking for budget-friendly olive oil, you can't beat Trader Joe's $6.99, 33.8-ounce Italian extra virgin olive oil bottle. Aldi's olive oil, on the other hand, falls at $4.95 for just 16.9 ounces, making it pricier per ounce.  
Make Your Money Work for You
Cashews
With the market for cashews averaging nearly $10 per pound, these nuts are one of the most expensive on the market. You can save by stocking up on the cashews at your local Trader Joe's for a mere $7.99 per pound. Aldi's deluxe whole cashews, on the hand, come in at $8.79 for the same amount.
Pasta
You can also save on pasta by stocking up at Trader Joe's instead of Aldi. At Trader Joe's you can buy a one-pound package of Italian fusilli for $0.99. However, if you choose to visit Aldi for your pasta needs, you will likely have to cough up a few more cents and pay $1.09 for penne.
What Not To Buy at Trader Joe's
While Trader Joe's offers remarkably low cashew and olive oil prices, to name a few, there are some items you are better off picking up elsewhere. Other than bananas, when it comes to fresh produce options such as eggs, vegetables, fruits and some meats, going to Aldi or another discount grocer is best for your wallet. 
Aldi vs. Trader Joe's: Which Has Cheaper Groceries? 
At the end of the day, the grocery store with cheaper groceries depends on who you ask and what types of foods you like to stock up on.
"From my experience, Aldi has cheaper groceries than Trader Joe's," said Nicole Miller from Finance + Freedom, a website helping people make smart financial decisions. "After analyzing shopping trips, there were more groceries bought from Aldi than Trader Joe's for about the same amount of money."
However, the cheaper store depends on the items you are planning to purchase.
"Aldi has more produce options at a cheaper price; eggs and even some meats that can normally be expensive can be found cheaper at Aldi," Miller said. "The best finds at Trader Joe's are the frozen meals that are not only delicious but have a good price. They can feed a few people so for what they cost, it is definitely cheaper."
Make Your Money Work for You
If you are looking for cheaper frozen foods and unique snacks, be sure to shop at your local Trader Joe's. However, if you are looking to stock up on meat, vegetables and fresh produce, you're likely going to pocket more savings by shopping at Aldi instead. 
More From GOBankingRates
Disclaimer: Prices at Aldi and Trader Joe's vary by store, so your local prices may be different than the ones listed. Prices are accurate as of March 21, 2023, and were sourced from the Aldi and Trader Joe's websites.